A special police team has been deployed to investigate the killing of Indika Prasanna Hadeniya (25), a Sri Lankan student, who was reportedly set on fire in Matale, when he returned to the country to see his mother last month, and succumbed to his injuries a few days ago.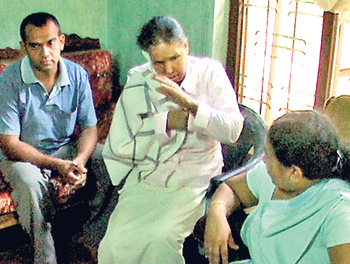 Indika's grieving mother with family members
Indika was studying at the University of California in the United States. Police are probing whether a Sri Lankan woman who currently resides in the United States is suspected to have been behind the killing.
The funeral was held yesterday in Inamaluwa, Dambulla.
The police team probing the killing was appointed by DIG Central Province Pujitha Jayasundara.
Indika, hailing from Inamaluwa, was a keen student from his young days, having received an award for his performance at the Year 5 scholarship exam in 1994 from then Labour Minister Mahinda Rajapaksa.
On April 3 this year, an unidentified group had thrown acid at Indika's mother. She was hospitalised following the incident and Indika came to Sri Lanka on August 5 to see her.
On August 15, two of his friends who were also related to him had reportedly taken him to a remote area in Matale on the pretext of taking him on a trip, thrown fuel on him and set him on fire. He had jumped into the nearby Amban Ganga and with the help of the villagers, admitted himself to hospital.
Based on a statement recorded from Indika the Naula Police arrested two suspects along with a motor car.
Indika, who was receiving treatment at the Colombo National Hospital for about a month, succumbed to his injuries on September 17.
Relatives of Indika said they were not satisfied with the way the Naula Police investigated his killing. They complained that the suspects were not handcuffed when they were being taken before a magistrate.