Foreign Minister Rohitha Bogollagama, whose recent official trip to Brazil cost an estimated Rs. 5 million, and included a vacation in beach resorts in Rio de Janeiro, is due to arrive in New York to join the Sri Lanka presidential delegation in time for the UN General Assembly sessions, which begin on Tuesday.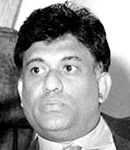 Bogollagama
The Foreign Minister is booked to stay at New York's Ritz-Carlton Hotel. According to reliable sources, the minister's public relations officer and private security officer, who have been officially designated separate rooms, will be sharing a room, and that the spare room will be made available to Mr. Bogollagama's daughter and her husband, who works for the Sri Lanka embassy in Washington. Neither the minister's daughter nor her husband is a member of the official Sri Lanka delegation. A room at the Ritz-Carlton is priced at more than US $400 a day.
According to Foreign Ministry sources, the minister has made arrangements with the hotel to ensure that his daughter and son-in-law's names will not appear in the hotel manifest. It is understood that similar arrangements had been made for the minister's daughter when she visited other world capitals.
Meanwhile, Presidential Adviser A. H. M. Azwer, who made an unsuccessful bid to join the Sri Lanka delegation, has succeeded in persuading the President that his presence in New York would be necessary in order "to help provide coverage" when the President met the Tamil media on his return to Sri Lanka.