Eighteen-year-old Nissanka Dinesh from Homagama was ambitious to become a hotel executive. His parents saved to pay his way to Singapore to learn the trade. But his dreams went up in smoke and the one time student ended up washing dishes in Paradise City.
It all began when Dinesh and his friend left for Singapore expecting to enrol in a hotel trade course. They are not the only Sri Lankans to have fallen victim.
Many young men and women are falling prey to a job racket masterminded by Sri Lankans who promise employment and college admissions in Singapore and then leave them in the lurch compelling them to find their way back home.
The Sunday Times learns that the youth who are mostly promised jobs in the hotel trade are issued visas on arrival in Singapore for a month and thereafter the visa is extended via internet or the prospective job seekers are sent to Malaysia for a month and on their return again they get the visa extended either by another month or additional 14 days.
But at the end of this period, as they cannot get further visa extensions, they are forced to return to Sri Lanka, while the local agents disassociate themselves saying they have exhausted all finances.
Some of those who had been duped told The Sunday Times that they got to know about these local agents through friends and not through any kind of advertisement. Those who had fallen into the trap were mainly from Kurunegala, Ratnapura, Kegalle and Avissawella.
They said they are initially asked to pay Rs. 100,000 to Rs. 150,000 which includes visa fee and money to find employment and in turn they are promised jobs with salaries over Rs. 100,000.
Once in Singapore they are found accommodation in crowded lodgings after being charged between Rs. 12,000 and Rs. 15,000. Money is extracted from the newcomers at regular intervals, on reasons ranging from obtaining green card to arranging temple poojas and vows to obtain jobs. "I paid nearly Rs. 260,000 to the agent expecting to gain admission to a hotel school, but ended up being back in Colombo after struggling for three months," Dinesh said.
He said on arrival in Singapore he was put up at a lodging and the agent continued to claim money from him citing food costs, lodging fees, travelling, etc. On suspicion, he had demanded that he be taken to the hotel school where he was due to be admitted and found out that the admission fee was Singaproean dollars 7,000 and not 4,000, as he was told.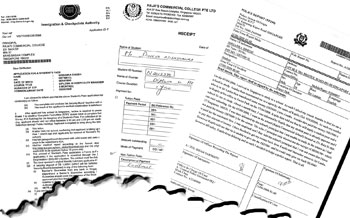 Application for Student Pass, College Admission Form & Singapore Police Report
"I said I didn't want to gain admission but wanted the money back. But the job agent refused to pay back. I had to then find temporary jobs for which I had to pay the agent about US dollars 300," he said.
He said he made a complaint with the police in Singapore but no action was taken to arrest those responsible.
On his return to Sri Lanka he lodged a police complaint here too, but had been advised that if he was to recover the money he would have to file a civil case. However, his family says they have already spent so much money they just cannot afford more expenses.
In another case, two Sri Lankans who had been promised employment in hotels in Singapore had been accommodated in a hotel room which had been booked for three days while the Sri Lankan agent disappeared from the scene after taking US dollars 2,400 from the two of them.
They too did odd jobs before finding their way back to Sri Lanka. The Sunday Times learns that two of the kingpins in this racket are known as "Kota" and "Chuti" aiya. The former is from Kegalle and the other from Ambalangoda.
Meanwhile, Ven Kegalle Gunarathana Thera, the Viharadhipathi of Lankaramaya in Singapore who has helped many Sri Lankans duped by conmen said it was a shame that little has been done to bring to expose this racket.
He said he had even expressed his concern to President Mahinda Rajapkasa when he had visited Singapore.
Some Sri Lankans, who fail to find employment in Singapore travel to Malaysia and have been arrested after falling into further difficulties.