A myriad of exciting attractions for everyone - both young and not so young; spectacular sights, endless shopping, fun getaways and tempting international cuisine. That in a nutshell would describe Hong Kong, which is an amazing experience as a tourist destination.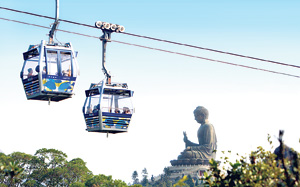 Panoramic view from the The Ngong Ping cable car
And it seems more and more visitors are discovering Hong Kong's charms. According to figures released by the Hong Kong Tourism Board as at July 31 this year, visitor arrivals to Hong Kong in the first half of 2008 have grown by 8.9% to 14, 185,504.
On a recent media familiarization tour of Hong Kong we were treated to a seemingly endless variety of things to see and do in Hong Kong. Picking the best would no doubt be an arduous task but here are some of the 'must-see' attractions for prospective visitors.
Ngong Ping 360
The Ngong Ping 360 cable car ride between Tung Chung and Ngong Ping cable car terminals is a breathtaking journey, that takes you to an exciting Chinese-style cultural village. Ngong Ping 360, as the name suggests affords a spectacular all-round view of the beautiful landscapes, the flora and fauna of the North Lantau Country park, Tung Chung bay, South China sea, the Hong Kong International airport and the world's largest outdoor seated Tian Tan Buddha statue. Covering about 3.5 miles, this cable car ride, which takes about 25 minutes, is considered the biggest cable-way in Asia.
Set against beautiful Chinese architectural designs and landscaped gardens, the Nong Ping Village built on a 1.5 hectare site itself is a great experience with several themed attractions such as Walking with the Buddha - a multimedia audio-visual experience depicting the life of Siddhartha Gauthama and the Monkey's Tale Theatre based on an animated Jathaka fable, Nong Ping Tea House that promotes Hong Kong's traditional tea culture and has Chinese tea demonstrations and Ngong Ping Nature Centre which provides an insight into the Ngong Ping environment, the vegetarian restaurant and a range of themed souvenir outlets.
Situated in the Ngong Ping village is also another cultural attraction - The Po Lin Monastery and the Giant Buddha blessed and built in 1993. The serene tranquil atmosphere in the Po Lin Monastery makes it conducive for meditation while the majestic giant bronze Buddha weighing 202 tonnes located on the Lantau peak adds much to the spiritual beauty of the compound.
Hong Kong Disneyland
Hong Kong Disneyland is yet another focal tourist point located on Lantau Island. It consists of four theme lands, Adventure land, Fantasyland, Main Street USA and Tomorrow land.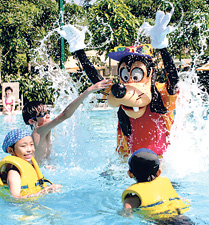 A splash of a time with a Disney character
The park features a wide range of attractions from grand musical parades of Disney characters, elaborate castles and lively pageants, fireworks, adventurous Disney train rides through the theme jungle, thrilling boat cruises, 3G animated magical orchestra, an enchanted boat ride around the Small World of colourful dolls, Disney characters, elaborate sets and musicals among a wide range of other treats.
Also in Lantau Island are the Disneyland hotels – the Victorian style family hotel, Hong Kong Disneyland Resort and the Hollywood type of Disneyland Hollywood Hotel all beautifully designed according to the Disney theme.
Peak Tram
The Peak Tram -known as the pride of Hong Kong is yet another major tourist icon in Hong Kong as it provides a breathtaking view of the Hong Kong city and beyond including the world renowned Hong Kong skyline. The most scenic transport route in the city, this cable pulled tram which travels between Central and the Peak takes the people up an incline so steep that buildings look like they are leaning at a 45 degree angle.
Hotels, restaurants and shopping malls
With shops, hotels, restaurants, and boutiques located at every street and corner of the City, Hong Kong is a hub of activity. Hong Kong's largest hotel Regal Airport, which has a total of 1,171 sophisticated bedrooms with all modern facilities is directly linked to the Hong Kong airport terminal. Among the various state of the art facilities this five star hotel offers are the 31 various sized meeting rooms to suit the demands of conferencing needs. Beautifully designed with classy furniture is the Regal Kowloon Hotel located in the heart of Tsimashatsui.
A hotel with a 95% occupancy rate it consists of 600 luxurious rooms and 38 suites. A visit to the giant floating Chinese restaurant in Aberdeen Harbour proved a unique dining experience in terms of food, service and presentation. Let alone the wide range of mouthwatering delicacies, the magnificent floating structure designed in the form of a ship and its equally sophisticated interior has a café, conference, banquet facilities, cultural attractions, a cooking academy and exhibits.
For those who wish to indulge in a great shopping spree, the Harbor City is one of the largest shopping malls in Hong Kong located in an extensive area of 2 million square feet with over 700 shops, 50 F&B outlets and some five cinemas. And if you're a bargain hunter, checkout the busy night market streets to grab amazing products at remarkably low prices. The Ladies Market in Tung Choi Street is the ideal spot for handbags, accessories, shoes, men's and children's wear and toys. Going around the city is quick and hassle- free with the highly developed transport system, be it by bus, tram, MRT or taxi.
Our group of journalists also visited the CX City- Cathay Pacific headquarters which was constructed in 1996. There is also the Cathay museum where the early Cathay Pacific uniforms from 1946- 1999 and information on the Douglas DC 3-the first Cathay Pacific aircraft are exhibited. The CX city also consists of well designed flight safety training centres and mock up centres. The writer was on a Cathay Pacific media tour to Hong Kong
Peak back in time
In the early days (1880) most people were transported from the Peak by a frail bamboo chair supported by two strong coolies. This was the most popular mode of transport until in 1881, an enterprising Scotsman sought approval from the Governor for a tramway running between the Garden Road and Victoria Gap at the Peak.
The tram was officially opened in May 1888. Between 1908 and 1949, the first two seats of the tram were permanently reserved for the Governor. Until 1926, there were three classes on the tram and the first was reserved for government officials and Peak residents, second class for policemen and soldiers, and the third for domestics of the Peak residents. The 49-year-old peak tram is now on display at the Peak Pizza.
A Disney treat
Cathay Pacific is offering a special Disneyland package for the Disney Hotels until December 20, where those purchasing three packages will be eligible for a fourth package free. Disneyland Resort & Disney's Hollywood hotels are the hotels on offer. However, passengers have the option of choosing a Disney Hotel and a Hong Kong hotel as well.
Included in the two-night, three-day packages are return air tickets to Hong Kong on economy class, hotel accommodation on room only basis, Disneyland stay & play ticket which offers a two day park ticket for a day's price, one extra magical fast pass ( one time use for express entry to any fast-pass attractions anytime during the day ) etc. One character breakfast at Enchanted Garden for passengers staying at Disneyland hotel and late check-out in Disney's hotels are among the other benefits included in the package.
More details can be obtained from Cathay Pacific Airlines on 2334145 or from your travel agent.
Cathay flies daily to Hong Kong, three days via Bangkok, four days via Singapore.