Among the many wildlife TV programmes we see on "Animal Planet", some are truly memorable because of the natural flair of the presenter. Austin Stevens' "Most Dangerous" show has long been one of my favourites. Viewers never fail to be amazed by Austin's extraordinary way of handling some of the world's most venomous reptiles.
Austin Stevens braves the wilds as he goes in search of his subjects.
He was in Sri Lanka last month to make a documentary about elephants for the Discovery and Animal Planet TV channels and the Nature Odyssey team of ground-handling specialists at Walkers Tours had the privilege of working with him.
We scouted the Minneriya National Park and tracked elephant movements on the plains of the Kalawewa.
The TV programme's natural style meant that Austin had to approach the elephant herds on foot.
This risky and challenging task was efficiently managed, with some herds just outside the national parks. The team spent 14 days on location, and was based at the Cinnamon Lodge.
Austin's natural ability with animals, including an aggressive rat snake and a five-foot cobra, was demonstrated on several occasions during the long shoot. When it comes to handling reptiles, Austin is like no one else I have seen. He is a genuine lover of snakes. His deep respect for all animals is obvious.
There were a few heart-stopping moments. On one occasion, while on foot, we encountered 30 wild elephants off Kekirawa.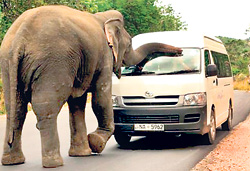 Close encounter with a jumbo
Then we had visits from a cobra and a venomous krait. And on another occasion, our vehicle bust a tyre when we were deep in the wilderness, surrounded by wild elephants.
A long encounter with a wild elephant that visited a wayside shop in Minneriya was a huge hit with the crew.
Finally it was off to Kandy to see the Esala Perahera where Austin Stevens and his crew were overwhelmed by the pomp and glory of the pageant. The programme on Sri Lanka's elephants will be telecast on Animal Planet in November.