The provincial elections are over. Billions of rupees have gone up in flames. Once again the reputation of our Paradise Isle is tarnished.
The criminal attack on the residence of UNP Anuradhapura district campaign manager Dr. Raja Johnpulle has shocked people here and abroad. A respected senior UNP member and one-time ambassador to Russia, Dr. Johnpulle is also a highly respected medical practitioner. Having a doctor of his calibre is a boon to the people of that province. His desire to serve the people kept him there. He could easily have gone abroad in search of greener pastures. He is a benevolent man, and has helped various causes and institutions, religious and secular, including Buddhist temples.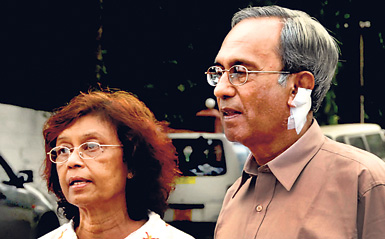 Dr. Johnpulle with his wife
Dr. Johnpulle's house, dispensary and office were attacked by 500 thugs who reduced the residence to ashes after looting. All this happened in the presence of policemen, including high-ranking police officers. The attack was allegedly instigated by two political figures.
This shocking incident highlights the complete breakdown of the rule of law in our country. Dr. Johnpulle's practice, painstakingly built over 40 years of hard work in the service of the people, went up in smoke. Precious documents, mementoes, albums, certificates and even IDs were destroyed.
Police officers, including some who had received free treatment from the doctor, turned a blind eye to the criminal attack on the property of Dr. Johnpulle. The police even prevented fire-fighting vehicles from reaching the place. One lone noble person risked his life to inform the doctor of the threat to his life, enabling the good doctor to escape in the nick of time only sustaining injuries.
The following day, when the doctor, accompanied by his wife, went to see what was left of his home, people from all walks of life, including religious dignitaries, flocked to Dr. Johnpulle's side to express their sympathy. While the emotional crowd sighed, cried, and even cursed the wrong-doers, the doctor was heard to utter words of mercy for his persecutors: "May they never experience what I have experienced."
This shocking incident has happened in a country that boasts of an ancient civilisation. The mob attack on the property of the doctor took place in the holy city of Anuradhapura.
The incident reveals the depths of degradation the country has sunk to, thanks to power-hungry politicos hell-bent on winning elections by any means.
This is a time to reflect on Lord Buddha's sublime teachings, which reveal the path to true happiness. Our country may be saved if our political leaders stopped to meditate on the shortness of life and the law of retribution.