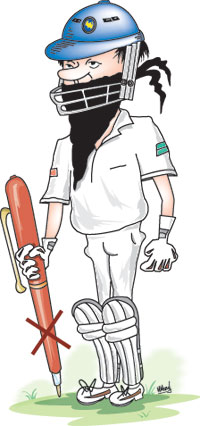 It is learned that one of the main issues between the national cricketers and the SLC Interim Committee (or a part of it) is the clampdown on players' freedom to contribute to the media. According to the new agreement no player can write their own columns to any newspaper or websites.
The players have agreed on principle that they would take part in all domestic cricket tournaments whenever they are free from their international engagements. One of the new stipulations was that the national players must at least take part in 75 per cent of the domestic tournaments to be eligible for selection.
However, another snag is that the agreement, which should have been signed on March 1, 2008, is now about four months adrift and IC is refusing to backdate the documents to the original date. This means the cricketers are in line to lose about four to five months remuneration given by the SLC.
In the past, it was customary to backdate the letters if there was a delay in signing the contracts.
The other snag is the turning down of the players' request for a hike in their match fees. At present, the players are in Pakistan taking part in the Asia Cup Tournament on a single tour contract basis.
Meanwhile the Sri Lanka Cricketers Association writes: The Sri Lanka Cricketers Association wishes to place on recorded that the annual contracts for the National and the A Teams in relation to the period of 2008/2009 are currently under negotiations between the players and Sri Lanka Cricket. Therefore the National Players who are currently participating in the Asia Cup signed the relevant tour contract prior to their departure on same.
A strange move
In another strange move, there is a funny potpourri of a delegation who will attend the 25th year celebrations of the Asian Cricket Conference, which will be held on July 5 in Pakistan. As the present President of the ACC, Arjuna Ranatunga who is also Interim Chairman of SLC will chair the proceedings.
Strangely another IC member who is also a Board Director of the ACC has been deprived of an invitation. However the strangest of them all is another issue. The Interim Committee consists of persons, which includes the names of Sidath Wettimuny, Aravinda de Silva etc. However for the Pakistan celebrations the invitations have been extended to only Guy de Alwis (IC member), SLC manager administration, B.H. Perera (who is in the centre of many controversies) and his wife (who has no affiliation to the SLC) and a person by the name of Suresh Edirisinghe (a transport provider).
It is also learned that the ICC has removed Sri Lanka as the alternate venue to the champions' trophy matches now scheduled to be held in Pakistan in October this year and named South Africa as the alternate venue.