1943 Royal College Rugger 1st XV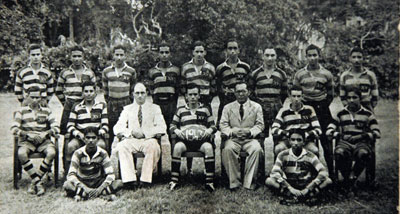 Standing: N. VanCuylenburg, C.L. Gunasekera, S. Wickremasuriya, M. Amerasinghe, F. Aldons, C.D.L. Fernando, D. de Moor, G. Rajapakse, A. Drieberg. Seated: E.V. Peiris, S. Navaratnam, Mr. E.L. Bradby (Principal), C.O. Foenander (captain), Mr. D.L. Anghie (coach), H.C. Aldons, A. Amarasinghe. On Ground: M. Rodrigo, St. E. de Silva. (pic copy by Saman Kariyawasam)
With "The Bradby" in the air, my mind reverse-passed down sixty-five years to 1943 when I was fortunate to be in the Royal rugby fifteen that created history. For the first time, this traditional one leg annual encounter was to stand on two legs, one in Colombo and the other in Kandy.
It was wartime and the Royal 'fields' were commandeered by His Majesty, so that we had no playing field and had to practice and hold the first leg of this encounter, on the Police grounds. B.C. Anghie our coach drilled us in the style of a seasoned British sergeant major, a drilling which was based on a strategy which BCA had worked out to the last detail. Everybody had to be fighting fit, and early morning practices began with a ritualistic jog-run-jog exercise after which we were put through our commando course. Falling on the ball to stop a dribble became second nature, and woe unto him who failed to drop down pronto. A tackle was a tackle – your feet left the ground and your arms grabbed your opponent's waist. In those days there was no question of going for your opponent's jugular! Both sides played the game and they played really hard, but always clean.
I took to the game very late, when I was in the University entrance form, so I was a fresher among seasoned veterans such as Larry Foenander (captain), Summa Navaratnam, Mahes Rodrigo, Hugh and Fred Aldons and Ernie Pieris. Summa, Mahes and the Aldons brothers later (if my memory is not slipping) played for All Ceylon. The others I recall are, C.D.L. Fernando, Sunil Wickramasooriya, Ana Amerasinghe, C.L. (Lena) Gunasekera, Van Culenberg, Drieberg and De Moore.
De Moore was an important, tough forward in the '43 group'. He had an enormous non-appeasable appetite and Anghie was so particular about fitness that before each match he said to me 'Markie, I want you to see that De Moore does not stuff himself before the match'. Of course, I did not succeed.
Lena Genesekara left for England sometime later, I think the following year, and his former team mates gathered at the old Colombo Jetty to see him off. There was Lena, sporting his blazer with the College crest (as a coloursman, he was entitled to do this) and his rugger boots slung around his neck, in lieu of the old-school tie!]
Now let's go over to the Police Grounds on Havelock Rd, for the kick-off of the first leg of the '43 encounter. Trinity was the cock of the rugger walk and they were quite sure that they could just wipe us off– it showed in their general demeanour. We, the underdogs, were clustered outside the pavilion just before 'kick-off', when we suddenly heard a war-cry and there were the Trinity boys sprinting out on to the field with the ball going down a long line, this way and that, reverse passes, swerves , side-steps and what not thrown in. BCA had not drilled us in making a stage entrance, So, we quietly trotted in and took our places.
With the blowing of the whistle, the fun and games started. The strategist BCA had trained us in every detail of a tactic we were to adopt. . 'Boys, if Trinity gets the ball out from the scrum, Mahes (scrum) yells, "Break!" One wing forward goes for the fly, the other runs down to cover the wing three, The other forwards disentangle themselves as fast as possible and spread out across the field behind our 'threes' forming a second line of defense. If we get the ball, hold the scrum as long as possible, to immobilize their forwards.'
Trinity, as was usual in those days, fielded a strong side. The names I can recall are Rudra Rajasingham, Malcolm Wright, Michael Kagua, Jenkins (not the '41 player) who played fly, Pilapitiya (scrum) and Lucien Blaze. Of the few names mentioned, at least two, Wright and Pilapitiya represented All Ceylon.
It was a tough battle, but the Trinitians, well coached by that other taskmaster, Bultjens (if I remember right, a one time Trinity rugby legend), were rattled by the strong attacking defense that the Royalists put forward and the Bultjens training could not cope with BC Anghies's master stroke. We won that leg and the Trinity battle-cry ended in a whimper.
Off to Kandy. Throughout the series, which commenced in 1920, a Royal win was a very rare event, and the occasional win occurred in Colombo. We had never beaten Trinity in Kandy, so Trinity was all out to regain their lost prestige. You must remember that for Trinity rugger was more than a game (as it was for us). It was religion!
In the hills, we Royalists faced an entirely different ball game. The Bogambara grounds, unlike the Police Ground, was rock-hard, and the entire Kandy crowd was naturally, solidly pro-Trinity and openly hostile to the Royalists, but that hostility was all in the spirit of the game, and never became abusive or violent. I recall our walk from Trinity (where we were lodged in the boarding) to the grounds. All the way, we were followed by a crowd of urchins, chanting: 'Ado, Royal parippu, Hoo.' What a rousing welcome to the city!
The second leg was also played hard. But once again, Royal out-maneuvered Trinity, thanks in particular to the Anghie tactics, and team stalwarts, such as Mahes (scrum)-Fred Aldons (fly), Ernie Pieris (inner three), Summa, the 'fastest man in Asia on one wing and Hugh Aldons (full-back). Nevertheless, I think it was altogether a real team effort. Larry Foenander was crocked and Summa captained for this match. You can imagine how effective Anghie's tactic of 'Break' was, when I tell you, that on one occasion, the scrum broke so fast, that one of the second row forwards squashed the fast-moving, nimble and quick-witted Pilapitiya, with the ball in his hands.
The crowd kept yelling all the time cheering and urging on their favourites, but their yells were drowned by the bawled out encouragement of two loyal Royal supporters, Sydney Soyza and 'Winston Serasinghe, who kept running up and down the line, shouting themselves hoarse. We were naturally jubilant, because not only had we won both legs for Bradby's Royal, but we had, in the process, created history. This was the first time that Royal had beaten Trinity in their highland fortress!
[A word about the crowd at those two matches. At that time the Royal-Trinity encounter was not a high class social event. On the touchline were gathered, fellow schoolboys, a few enthusiastic old boys who had played the game in their day and in Kandy, the pro-Trinity urchins. If there had been a skirt or saree in the crowd, I had not noticed, which was quite unusual for a young buck of 18!]So elated were our two staunch supporters, that they said to us. 'Boys when you get back to Colombo, we shall throw a party in your honour. And, what a party that was! Sydney S and 'Winston S had spared no expense. The highlight of the occasion was Winston Serasinghe's rendering of the ditty, 'Opiseragey Duva/ Officer's Daughter' To this day, Winston S's stentorian basso voice rings in my ears:
" Opiserage duva ellila maruna
Ellila maruna
Magey podi nono
Ellila maruna, ellila maruna (forte to fortissimo)
Ellila maruna, magey podinona ( piano down to pianissimo)
Officer's daughter, han-ged and di-ed (the bi-syllables are essential!)
Han-ged and di-ed
My small lady.
Han-ged and di-ed, hanged and di-ed (forte to fortissimo)
Han-ged and di-ed, my small lady. (piano down to pianissimo)
I have yet to hear a rendering of this song that can be as moving and dramatic as Winston Sera's.
That night was a fitting curtain drop on a memorable, unforgettable, historic event.