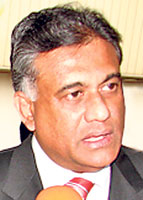 Foreign Minister Rohitha Bogollagama
Foreign Minister Rohitha Bogollagama yesterday took off on yet another foreign journey with an entourage, while Ministry sources were complaining of him already having exhausted his budgetary allocations for travel for the year in the first six months.
They said there was now an urgent necessity to obtain additional funding for future travel and this would have to be done through a supplementary vote in parliament.
In this latest trip he is expected to deliver invitations to heads of government of Bangladesh, Bhutan, Pakistan, and Nepal to attend the 15th SAARC summit in Colombo next month.
Last week the Minister delivered an invitation to Afghan President Hamid Karzai and in the previous week to Indian Prime Minister Manmohan Singh.