Power and Energy Minister John Seneviratne was absent at a crucial discussion between President Mahinda Rajapaksa and the Ceylon Electricity Board Engineers' Union last Sunday at which a series of issues relating to the engineers of the CEB were discussed. Among the issues discussed was the removal of the CEB Chairman Mr. Udaya Kariyawasam.
The President later directed Mr. Kariyawasam to handover his resignation with immediate effect.
The CEB engineers' union demanded the removal of the CEB Chairman on grounds of corruption and disruption of the Board's work. The engineers also threatened to disrupt regular operations unless the government replaced the chairman with a person qualified to head the public enterprise.
However last week Minister Seneviratne told The Sunday Times that the appointment of the chairman or his removal is the right and responsibility of the Minister and the engineers had no say in it.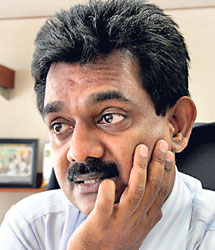 Mr. Udaya Kariyawasam
Following the chairman's resignation the Minister said, "Mr. Kariyawasam tended his resignation last week. He decided to do so as there was no point in remaining at the CEB which was not functioning properly with breakdowns not being attended to by engineers". He added that findings of the President's Investigation Unit stated he should not be appointed to the public position and therefore Mr. Kariyawasam had opted to step down.
Mr. Seneviratne said he was attending a meeting at Ratnapura and therefore could not be present at the meeting with the engineers. He added he had later met the President and discussed the issue.
Secretary to the Power and Energy Ministry, M.M.C. Ferdinando was appointed as the acting chairman this week.
The Minister said no decision had been taken on appointing a new chairman. President of the CEB Engineers' Union, Jayawilala Meegoda said that the union also demanded a suitable working environment be created."We asked for an environment that's suitable for work and the President assured us that this would be met", he said adding they also raised the issue of using private contractors for local projects which resulted in doubling the cost of these projects.