The Security forces yesterday captured the Parappakadathan area, described as a Mannar district LTTE stronghold from where one of its area leaders known as Bhanu was operating, a military spokesman said.
Spokesman Udaya Nanayakkara said the area was recaptured yesterday afternoon after heavy resistance during the past two days. He claimed the security forces did not suffer any causalities yesterday and were consolidating their positions last evening.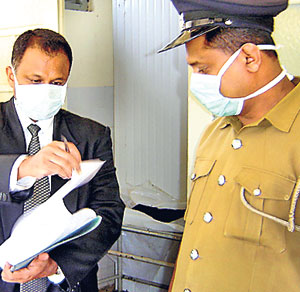 Magistrate Irshadeen conducting the inquest at Vavuniya hospital yesterday.
A hideout believed to be used by Bhanu, a firing range and fortified bunkers were found in the area captured. Meanwhile the LTTE was yesterday yet to respond to an ICRC request to take over bodies of 25 LTTE cadres killed in confrontations with the security forces and lying at the Vavuniya Hospital.
The post mortems on the bodies were conducted yesterday and the Vavuniya hospital was finding it difficult to keep the bodies as its morgue could not hold more than six bodies.
"We have no place to keep the bodies and have placed them in the open as the facilities to accommodate bodies are already full," a hospital official said.The army clamed that the LTTE cadres killed belonged to the Charles Anthony Brigade and 19 of them had identity tags.
The LTTE was informed by the ICRC on Friday night that there were 25 bodies at the Vavuniya Hospital. Vavuniya District Magistrate M.Y.M. Irshadeen visited the hospital and ordered that the bodies be handed over after the post mortems.