HARARE, Saturday (AFP) - Counting was under way in Zimbabwe today after a run-off election, with President Robert Mugabe assured of victory as the sole candidate following a boycott by opposition leader Morgan Tsvangirai.
The first results from the 210 constituencies were expected to be announced from around lunchtime, according to the Zimbabwe electoral commission, but the final outcome was unlikely to be confirmed until late in the day or on Sunday.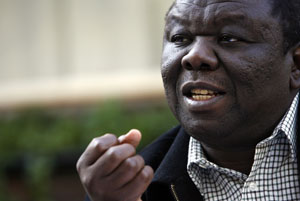 "I feel very fit and very optimistic." Mugabe
Tsvangirai, the winner of the first round on March 29, refused to take part in Friday's run-off after a wave of deadly attacks on his supporters. The Movement for Democratic Change (MDC) leader urged the international community to reject the outcome of a poll that was denounced by Western governments as a sham and regional leaders had earlier called to be shelved.
"We will announce the results as they come at constituency level and we hope we will start (the announcements) tomorrow," electoral commission spokesman Utloile Silaigwana told AFP after the polls closed on Friday evening. "After the compilation of all constituency results we will then announce the presidential result at national level."
Mugabe and his family voted in the Harare suburb of Highfields, the veteran incumbent beaming to reporters after casting his ballot. "I feel very fit and very optimistic," he said. Amid widespread reports that the electorate was being coerced into voting for Mugabe, Tsvangirai advised followers against futile gestures of defiance in what he derided as an "exercise in mass intimidation".
"If you must vote for Mr Mugabe because of threats to your life, then do so," he said. "If forced to cast your ballot for Mr Mugabe to avoid personal harm, then again I say do so." In some areas of the country, there were allegations officials were inspecting ballot papers before they were placed in boxes.
The simultaneous March 29 presidential and legislative elections saw ZANU-PF lose control of parliament for the first time since independence from Britain in 1980, although the outcome is being challenged in the courts.
Turnout was "massive" in the election, the official newspaper The Herald reported Saturday, but provided no figures. Numbers voting in Harare were well down on the first round, according to AFP journalists in the capital, although reports from rural areas suggested polling stations were busier there.
Mugabe said at his final rally he wants to continue as president, a post he has held uninterrupted since independence. While he would be willing to talk to the opposition, negotiations would begin only after he had won a sixth term.
In a press conference Friday, Tsvangirai said he was open to negotiations, but added: "Who do you negotiate with? Mugabe will be illegitimate."