UNITY, New Hampshire, Saturday (AFP) - With a kiss, a hug and a shared joke, Barack Obama and Hillary Clinton Friday presented a picture of unity -- almost, but not quite, consigning their five months of bitterness to history. "Hello Unity," cheered Clinton addressing the crowd at this aptly-named New Hampshire hamlet in a highly symbolic appeal to the "36 million Americans who supported us" during the primaries to elect Obama the next president.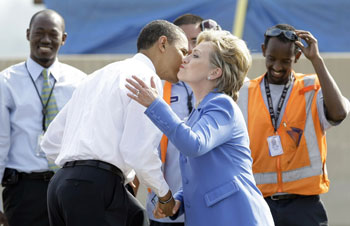 Democratic presidential candidate Sen. Barack Obama, D-Ill. hugs Sen. Hillary Rodham Clinton, D-N.Y., at Washington's Reagan National Airport, Friday. (AP Photo/Alex Brandon)
"Unity is not only a beautiful place ... it's a wonderful feeling, isn't it?" she said, as Democrats seek to heal the wounds and look ahead to the November 4 elections.
There were enthusiastic cheers, and some friendly rivalry from the crowd during the carefully choreographed event aimed at reuniting the party ready to do battle with the Republicans and their standard-bearer John McCain.
About 4,000 people attended the "Unite for Change" rally, more than doubling the resident population as buses arrived all morning from neighboring states.
"He's going to be a great change for America. I think he's a breath of fresh air," said Mary Beth Webb, who came from Newbury, Vermont, accompanied by her son, Timothy, who at 11 was frustrated that he's too young to vote for Obama.
"He speaks to what all Americans want, which is change," added Anne Wilson, from Craftsbury, Vermont.
Ken Hall, Unity's honorary mayor, was one of the warm-up acts and said how the event was a "real shot in the arm" for the town of 1,500 souls set in New Hampshire's rolling hills. Hall, a lifelong Republican, said he was caught up in the unity moment. "I voted for Senator McCain in this year's primary but I may be a part of this change," he said.
But in a sign of lingering divisions, counter-demonstrators gathered outside the rally area bearing signs such as "No Obama." "I think they have every right to stand over there and hold those signs," said Clinton supporter Carole Stone-Oks, from Cambridge, Massachusetts, who said she was currently backing McCain.
"A smart, cute boy does not a president make," she said scornfully of Obama, adding: "I don't think we have any proof that he knows how to manage international affairs or the economy." Other Clinton supporters also appeared reluctant to whole-heartedly embrace as their own the young Illinois senator bidding to be the country's first black president.
Wendy Thomas, from Merrimack, New Hampshire, agreed her heart was not really in Friday's rally, saying she had "never felt the love" that many express for Obama. "He can promise us the moon, and he does, but how is he going to get it to us?" she said, adding the event "felt strange to me, but I'm a little biased."
Both Obama, looking relaxed in rolled up shirt-sleeves, and Clinton, in a trademark blue pant suit, worked hard to present a united front. Clinton, standing behind a lectern with the banner "Unite for Change" and Obama's website address, drew the biggest laughs when, tongue-in-cheek, she commented that their primary campaign had generated a "spirited dialogue."
"But it was spirited because we care so much, and so do our supporters," she said, as the crowd took it in turns to chant "Obama, Obama" and "Hillary, Hillary." The Illinois senator also sought to appeal to Clinton's traditional women supporters, winning cheers as he assured them: "Women can do anything that the boys can do. And do it better."
When Clinton's speech was done, Obama embraced her and then offered her the high stool on which he had been perched. But after he warned her not to fall off, she chose to stand, rather stiffly, by his side.
Then the two were gone, departing to the strains of Obama's campaign staples "(Your Love Keeps Lifting Me) Higher and Higher" and "Only in America."