LONDON, Saturday, (AFP) - A star-studded cast of artists helped Nelson Mandela celebrate his 90th birthday with a giant concert in London on Friday in support of his 46664 AIDS campaign. Queen, Amy Winehouse, Will Smith and Annie Lennox were among the performers in Hyde Park for the gig, which was broadcast around the world.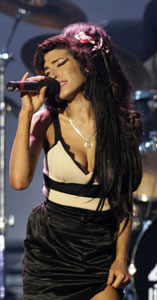 British singer Amy Winehouse performs during the 46664 concert in honour of Nelson Mandela's 90th birthday in Hyde Park, central London
The former South African president was received to rapturous applause from an emotional crowd, which fell silent when the global icon spoke. "Where human beings are being oppressed, there is more work to be done. Our work is for freedom for all," said a visibly frail Mandela, who had to be helped slowly on stage.
"It is time for new hands to lift the burdens. It is in your hands now. I thank you," added Mandela, who turns 90 on July 18. Mandela, who retired from public life nine years ago, is now expected to retreat further from the limelight. Anglo-Swedish rockers Razorlight got the crowd going, before Scottish singer Lennox gave an impassioned speech about combating the virus.
"We must do something to prevent a virtual genocide upon your people," she said, speaking of Mandela's fellow South Africans. She performed acapella with a choir from the Agape children's orphanage in South Africa, where most residents have lost their parents to AIDS.
Troubled British soul singer Winehouse, who has been battling drug and lung problems, was back on form with a powerful performance. Topping the bill, Queen and Paul Rodgers rocked the audience with hits like "All Right Now" and "We Will Rock You".
To close the show, Winehouse led the ensemble in a rendition of "Free Nelson Mandela", with the anti-apartheid anthem's writer Jerry Dammers on keyboards. Mandela did not repeat his comments on the Zimbabwe crisis, but Razorlight frontman Johnny Borrell, Ugandan artist Bebe Cool and Spice Girls singer Geri Halliwell did mention the troubled situation. British Prime Minister Gordon Brown told host broadcaster ITV that Mandela was an inspiration.
"You know when you go into a room and you meet Nelson Mandela you are in the presence of a great man -- the greatest man of our generation, the leader who ended apartheid and the man whose faith in the future was such that he risked execution, prison, intimidation, violence to serve the cause that he believed in," he said.
Ben Motsumi, 45, a nurse from Klerksdorp in South Africa, brought his wife and children.
"I'm here to see Nelson Mandela," he told AFP. "He's a hero to me. I've got all pictures of him in my house. I've been in Britain for nine years. This is an incredible occasion for us. If it wasn't for him, we wouldn't be here."
Other performers included Simple Minds, Josh Groban, Joan Baez, Leona Lewis, the Sugababes, Eddy Grant, Jamelia, the Sudanese "war child" rapper Emmanuel Jal and a host of other African artists.
Mandela said the giant 1988 concert in London's Wembley Stadium, which marked his 70th birthday and called for his release from jail, served to "inspire us in our prison cells."
Simple Minds frontman Jim Kerr told reporters: "At the original one, there was anger involved because of the circumstances. "This time, there's a lot more joy. It's a unique occasion."