By Dilshani Samaraweera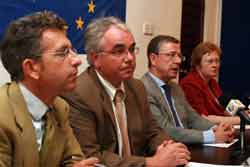 Picture by photographer J. Weerasekera shows the EC delegation briefing the media.
A visiting European Commission (EC) delegation said this week that the GSP+ extension – a hot topic in business circles -- depends on implementation of human rights, labour rights and environmental conventions.

It also raised serious concerns about human rights in the country. Sri Lanka is expected to show "effective implementation" of 27 international conventions on human rights, labour rights and environmental standards to have the GSP+ trade scheme extended.

While the EC team did not raise concerns about labour and environmental standards, it said it had "serious concerns" about the human rights situation.

"The government has ratified the 27 conventions but in some cases there are concerns regarding their transposition into local laws and there are concerns on implementation. For instance, there are very well known reports of abductions of persons, the treatment of journalists…," said Mr Joao Aguiar Machado, the deputy director general for external relations of the EC, at a press conference on Wednesday.
The EC also said the government needs to publicise, outside the country, measures taken to address these concerns, to change existing international perceptions.

"The government explained that it has taken a number of actions. I encourage the government to publicise these actions as they may not be known outside. They need to make these known so that people know the efforts taken, because these are very complex issues," said Mr Machado.
However, the EC also maintained that no decision has been made on the GSP+.

"When the time comes we will have to review the situation with regards to the 27 conventions, but we are not there yet," said Mr Machado.