Financial Times
---
British Council hunting for young fashion entrepreneurs
By Dilshani Samaraweera
This week the British Council announced its International Young Fashion Entrepreneur (IYFE) Award for the second year running. "The focus is on entrepreneurship," said the deputy director of the British Council, Duncan Wilson at a press conference on Tuesday.

"We are looking to identify Sri Lankan entrepreneurs that are able to move the industry forward," he said. The IYFE Award, which was launched last year, gives the final winner a cash prize of £7,500 and more importantly, access into the British fashion scene.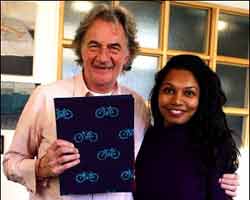 Darshi Keerthisena with Sir Paul Smith



Last year around 24 young people between the ages of 25 to 35 years, involved in various aspects of the fashion industry, applied for the award from Sri Lanka. The national winner was a director and a designer at Buddhi Batiks, Darshi Keerthisena.

Ms Keerthisena says the IYFE award process opened up many business opportunities, including the opportunity to introduce Sri Lankan batik into high fashion. "Usually batik is a tourist souvenir item.
This has helped to introduce batik into high fashion," she said. "I got a tremendous amount of publicity after the award and that made people sit-up and take notice of the batik industry and Buddhi Batiks. It gave me credibility to talk to the garment industry for ways to marry the garment industry with the batik sector," she said. Ms Keerthisena is already working with the Hirdaramani Group and the MAS Group, two of Sri Lanka's largest garment exporters, to incorporate batiks into export apparel designs. As the national winner, Ms Keerthisena also participated in the final award competition in the UK and was exposed to international fashion industry dynamics through a number of educational activities. "I got first row seating at the London Fashion week, which is a much sought after event in the fashion industry throughout the world. Tickets are not available for sale, one has to be invited to the event," said Ms Keerthisena. The Sri Lankan batik designer was able to meet international fashion icons like Sir Paul Smith, Ms Helen Storey and Ms Catherine Hamnette.

The young designers were also exposed to fashion industry dynamics through meetings with the London College of Fashion and with major retailers like Selfridges and Top Shop. This year the Sri Lankan national winner will be one of 10 international finalists and will compete in London for the title of International Young Fashion Entrepreneur 2009. This year's short listed countries are Brazil, India, Indonesia, Mexico, Saudi Arabia, South Africa, Sri Lanka, Poland, Thailand and Tunisia.
| | | | | | |
| --- | --- | --- | --- | --- | --- |
| | | | E-mail | | | views[1] | |
---
---