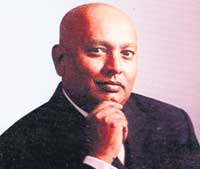 Ranjith Pandithage
The Hayleys Group on Friday exited from Diesel and Motor Engineering PLC (Dimo), the Mercedes Benz agent, saying it was selling off for strategy reasons while business circles saw the move as an effort to raise much-needed capital and reduce debt.
Separately, stock analysts say more and more companies are seeking to sell their portfolios in non core business areas. Hayleys Chairman N.G. Wickremaratne in the last annual accounts 2007/09 statement gave some clue to the current developments saying, 'The Group will look at divesting (other) non-core businesses and assets as well."
The mostly-manufacturing group, which ran into trouble with its consumer durables division and ended up exiting from this business, said in a statement it was divesting its 28 percent stake in DIMO following a 'strategic' decision taken by its Board of Directors earlier this year. "In accordance with a prior commitment, Hayleys agreed to sell the shareholding to Mr. Ranjith Pandithage and/or his nominees," the company statement said, adding that a share sale and purchase agreement had been signed on Wednesday. Hayley's is the single largest shareholder at Dimo. Its (Hayleys) Deputy Chairman Mohan Pandithage is also a member of the Pandithage family and has his own 1.28 percent stake in the company.
The Pandithage/Algama/Peries Group presently holds approximately 46% of Dimo and has both Board and shareholder control of the company. The Colombo bourse has been awash with rumours in the past week of the impending sale which was 'somewhat' denied by senior Hayleys Group officials. The company officially declined to comment on the transaction beyond what was stated in the press release and announcement to the Colombo Stock Exchange. Another business leader said Hayleys has been constrained for capital with their shareholding structure, etc and in the heavily, intensive manufacturing business that the company is in "they need to unlock capital and reallocate it."
He said the group also has a debt due of nearly Rs 8 billion (net) and needs to reduce this burden. "Most companies are constantly reviewing their portfolios and assessing whether to exit or not and the Hayleys move is not unusual given the current environment and rising costs of doing business," he said. Stock analysts said that apart from problems in the consumer durable sector, the company has also had problems in the fibre sector while its hand protection segment had some issues in the factory in Thailand, all of which are explained in the latest annual report.
One Hayleys source, who declined to be named as he is not authorised to speak to the media, said the company's portfolio of assets are and have been under review for a long time. "The market seems to be feeding itself into a frenzy. Some parties are interested in profiting and are driving the rumours to make a killing," he said, referring to rumours about powerful investor Dhammika Perera making a pitch for Hayleys and Tata's trying to buy the Hayleys stake in Dimo.
Mr.Perera, also Chairman, Board of Investment, bought a six percent stake in Hayleys this week with his Investment Advisor Nimal Perera saying the Vallibel Holdings chief was aiming for a 10 percent stake in the company. The stock moved from the Rs 90+ levels to Rs 125 in the Colombo bourse with some smalltime shareholders of the company placing sell orders at Rs 150 in the hope that the stock would rise.
"We bought up to one percent on the Bank of Ceylon quantity and 5.3 percent which Carson's (Carson Cumberbatch Plc) owned," Mr Nimal Perera said, rejecting speculation that they were eyeing acquiring Dimo's.
Dimo's AGM is to be held in June 20 while the Hayleys AGM is on June 27.