Majestic releases treat for the moviegoers
The next line up of movies at the Majestic Cinema, the Dolby Digital surround theatre in Colombo includes two movies that were filmed in Sri Lanka in addition to recently released Hollywood blockbusters.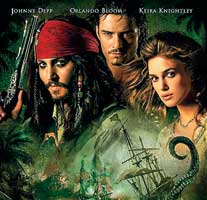 Coming Christmas and New Year seasons, the Sri Lankan moviegoers will get rare opportunities to see cinematic gems that were shot in Sri Lanka with the assistance of the crew here. Rudyard Kipling's 'Jungle Book-2- Mowgli and Baloo' shot entirely in Sri Lanka with the assistance of local talent will be released end of this year. Well-known producer Chandrun Rutnum played the role of associate producer while internationally acclaimed art director Errol Kelley became the production designer. Directed by Duncan Mclachlan 'The Jungle book' was played by Bill Campbell, Rooldy Mcdowel and Jami Williams. Imported by Film Location Services (Pvt.) Ltd the film is distributed by the National Film Corporation. This will be followed by 'Mother Theresa' another cinematic treat that had some of its major scenes in locations in and around Colombo.
'World Trade Centre' will be followed by 'You, Me and Dupree', the Universal Pictures comedy starring Owen Wilson, Kate Hudson, Matt Dillon, Michael Douglas, Amanda Detmer. Originally released on July 14, 2006, the Sri Lankan screening begins from November 1.
Directed by Joe Russo and Anthony Russo the film revolves around Carl and Molly are just starting their new life together, complete with a cute house, boring neighbours, stable jobs and the routines of newlywed existence.
There's just one unfortunate hitch in their perfectly constructed new world: Randy Dupree, Carl's oldest friend and perpetual bachelor, has been fired from his job and has nowhere to go - except Carl's couch.
'You, Me and Dupree' will be followed by "Pirates of Caribbean-Dead Man's Chest". Staring Orlando Bloom, Keira Knightley, Jack Davenport and Bill Nighy, the film is directed by Gore Verbinski and had its worldwide release on July 7, 2006.
Return of Captain Jack Sparrow starring Johnny Depp shows how he is caught up with another tangled web of supernatural intrigue. Although the curse of the Black Pearl has been lifted, an even more terrifying threat looms over its captain and scurvy crew: it turns out that Jack owes a blood debt to the legendary Davy Jones, Ruler of the Ocean Depths, who captains the ghostly Flying Dutchman, which no other ship can match in speed and stealth.
'Mother Theresa' Fabrizio Costa's film based on the winner of the 1979 Nobel Peace Prize and founder of the Missionaries of Charity depicts Mother Theresa's vision when she arrived in Calcutta and the trouble she ran into with the church.
Co-produced by Pete Maggi, Mike Cowan and Luca Bernabei the film had some roles played by some of our own actors and actresses.