Pakistan doping panel to decide fate of fast bowlers Akhtar, Asif on Nov. 2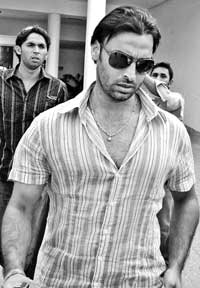 Pakistan's fast bowlers Shoaib Akhtar and Mohammad Asif, back, leave the Pakistan Cricket Board head office after facing the three-member Anti-Doping Tribunal in Lahore, Pakistan yesterday. -AP
A doping tribunal will decide the fate of Pakistani fast bowlers Shoaib Akhtar and Mohammad Asif next week, an official said Saturday.
The three-man tribunal, headed by senior lawyer Shahid Hamid, was formed after the two players were pulled out of the Champions Trophy in India on Oct. 16 following positive tests for the steroid Nandrolone.
Although Akhtar and Asif have said they didn't intentionally use the banned substance, the board has said that it will take any decision about the future of the duo on the recommendations of the tribunal.
On Saturday, Hamid, after hearing statements by Akhtar and Asif in the presence of two doctors in the eastern city of Lahore told reporters he had also summoned the team's coach Bob Woolmer, trainer Murray Stevenson and physiotherapist Darren Lifsun on Nov. 1.
Akhtar and Asif are expected to testify before the tribunal on Nov. 1 in the presence of their coach, trainer and physiotherapist, he said.