Asian Qualifier moved away from Sri Lanka
Asiad postponed, but venue not changed
The International Rugby Board slammed the door on Sri Lanka hosting the Asian Qualifier for the Rugby World Cup 2007. Their decision also resulted in the Rugby Asiad being postponed.
Hong Kong was the catalyst for the IRB's decision. They were to be one of three teams competing for the automatic spot at the World Cup along South Korea and Japan. Following the spate of terrorist attacks around the country, Hong Kong's players had voiced their concern to the Union about how safe it would be to play in Sri Lanka. The Hong Kong Rugby Union had forwarded their players concern to the IRB. The IRB in turn hired internationally renowned security consultants Rushmans to evaluate the situation. Rushmans report to the IRB stated that Sri Lanka was not a safe venue.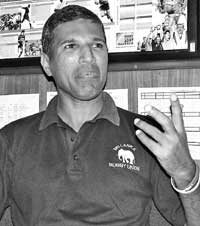 Dilroy Fernando - Executive Director of Sri Lanka Rugby Union
Pix by Berty Mendis
Executive Director of Sri Lanka Rugby Union Dilroy Fernando speaking to The Sunday Times said that an assurance of security was given by the SLRFU, the National Olympic Committee and the Foreign Ministry to name a few. "But it was of no avail. We pointed out the fact that no sporting event had come under attack in the long history of the conflict. We also added that foreigners are not targeted and none were injured in the recent attack. Rushmans' response was that the security forces protecting the teams could come under attack. As examples they pointed to the recent infiltration and attack on Trincomalee and Galle harbour. Their main point was that a terrorist was able to get into the Army camp to carry out an attempt on the Army Commander. They gave us no alternative," said Fernando.
Contrary to earlier reports, Japan did not have a problem in coming to Sri Lanka. Neither did any other nation except for Singapore and Hong Kong. "The rest of the countries are behind us. Thailand, Chinese Taipei, India and Kazakstan have pledged their support. In fact Chinese Taipei and Kazakstan had already bought their plane tickets to come here. They had also sent me their flight details. The various sponsers have been very understanding. We were planning on meeting yesterday to fix new dates for the Asiad. Unfortunately due to the security checks we are unable to do so. We are hoping to meet today to finalise the new dates," added Fernando.
Meanwhile the IRB is yet to announce a new host city for the Asian qualifiers. Japan is scheduled play Hong Kong in the lung opener on November 19. The top team will qualify directly for a place at the World Cup in France next year, with the second-place team going into a play-off.