Murder she said
He was banished from the international arena after he played his first Test match. Gloucestershire revived him for cricket. Now he faces the cricket guillotine once again. It is also curious to note that the only occasion that Bandara bowled in tandem with Muralitharan was at the last VB series that Sri Lanka came into the final with Australia leaving South Africa by the wayside. In this tournament Bandara captured 18 wickets to show how effective a combination of Bandara and Muralitharan would be. Ironically on one in our hierarchy have noticed this or do they want to ignore it willfully owing to other pressures?
On the eve of that Lankan tragi-comedy against South Africa I was on my "What's up down your garden path" call rounds when I decided to call this cricket insider who generally even has a foot inside the dressing room. While we were deep in discussion suddenly I happened to ask him if leg spinner Malinga Bandara was really in India on a sight- seeing tour armed with a tourist visa. The answer was a hail of laughter and at the end he blurted out "I can't agree with you more".
What prompted me to ask that question was that I just remembered about the Pakistani tour made by young Sumithra Warnakulasuriya of Royal College under the then custodian of Lankan cricket Abu Fuard way back 1985. Yes, in that tour he saw Peshawar, Rawalpindi, Sialkot, Faisalabad, Lahore and Karachi …. all on the account of the then poor Board of Control for Cricket in Sri Lanka.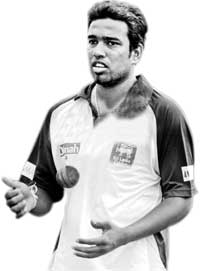 Malinga Bandara
Back to the eve of the tragi-comedy – we kept talking. We just spoke on the pros and cons of the Lankan team. We both agreed this is the best composition that Sri Lanka has had since the team that brought home the World Cup which shot Lankan cricket up in the upper echelon and thus being drawn into a very lucrative business. In the Batting department Sri Lanka has five seniors in Sanath, Mahela, Kumar, Marvan and Dilshan who count for a total of 312 Test matches, 1138 ODI's, 25,177 Test runs and 32,793 ODI runs. This puts Sri Lanka right up there experience wise.
In the bowling department championed by the greats – Muralitharan and Chaminda Vaas, the Lanka bowling department has the luxury of calling up Lasith Malinga, Ruchira Perera, Farveez Maharoof, Dilhara Fernando in pace along with Malinga Bandara as the other specialist spinner who bowls right arm leg spin. Then the Lankan captain could also request part time spinners Sanath Jayasuriya (left arm orthodox) and T.M. Dilshan (off spin) to bowl if the need arises.
Nine in the kitty and all have taken good wickets at international level. Who is the other captain who can boast of this type of choice in world cricket today? I was going on when my friend halted me. Yes, we have a very fine fourteen, but, we always get it wrong when we go into the selection of the final Xl, in spite winning some of the games. Now we are playing in India on Indian wickets. Are these tear away wickets like in Australia? No. These are slow wickets which generally help the up and down stuff and spinners. At the same time what is Sri Lankan bowling famous for and how have they been rattling the oppositions in the middle overs? Over the years we have been very successful putting the breaks on the oppositions with our spin bowling and at times we have gone along with them right into the final over. Then while playing on slow Indian wickets is it prudent to go in with four fast bowlers while a specialist spinner is side lined? Just imagine Murali and Bandara operating in tandem in the middle twenty overs, what an advantage it would give us? Then another ten or more by the part time spinners if needed will leave the captain with more options. Now what is happening is we so far is we have played with four fast bowlers and two of them or one them becoming a passenger who does not contribute anything to the game. For instance in the games leading up to this Dilhara Fernando who is the weak link in our bowling attack played in the first four games bowled five overs against Bangladesh, five overs against the West Indies, 6.1 overs against Pakistan. Against Bangladesh his economy rate was 7.80 and against Pakistan his economy rate was 5.19. He only had a good bowl against lowly placed Zimbabwe where he bowled nine overs to capture two wickets. But in none these games did the captain bowl him out for his entire quota of ten overs. At the same time Bandara has bowled his ten overs twice in his last five innings (leaving aside the games that he played in Netherlands) and three of these innings were in England, where he bowed 28 overs in three matches. But, come to India where he could be more effective on slower wickets, he is not even considered. Nevertheless I am sure the management will still opt for Dilhara for today's game in spite of him being the odd man out of the eleven and could not even find a place in the final Xl against New Zealand – the match we won in the 'big league'.
This roused me and I was intent on watching the entire game which I did. First we won the toss and invited the opposition to bat, taking the due factor into consideration. However during the match I also learned that the South Africans also had taken the due factor into consideration and also had gone to the extent of practicing with a damp ball prior to the match.
As predicted by my friend, Dilhara Fernando was drafted into the side once again. Once the match got under way Chaminda Vaas and Lasith Malinga reduced the opposition to 30 for three. In spite of Vaas coming up with a gem of a spell, Lasith Malinga went almost for six an over initially and Dilhara Fernando was brought in to stem the rot while Kallis and A.B. de Villers were still finding their feet. Fernando then bowls five overs for 24 runs and helps the two batsmen in and thus finishes any noteworthy contribution for the rest of the game and the rest becomes history.
Now with no contribution in the ICC trophy we have the strangest feeling that Malinga will not make the trip to New Zealand and will probably join the 'A' team to the West Indies -- a nice trip indeed. But, at the same time it is a nice way to kill the soul of a promising young cricketer. Who is responsible for this – Father Time will tell one day.