Ariyadasa-- that name will stay for ever in RCGC halls
K.L.Ariyadasa, started his humble career as a ball picker and caddie at the Royal Colombo Golf Club. It was a fairy tale beginning for "Ari", who hails from a less affluent family from Rajagiriya. He fought a battle of survival to eke out a living.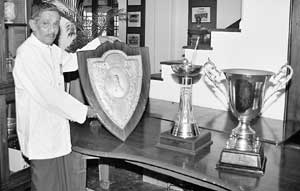 Ariyadasa served the RCGC for 40 years
As a lad, he started as a house boy in 1960. His honesty, integrity and loyalty to his superiors paid dividends in the end. Ariyadasa served the RCGC for 40 years. . He retired from the RCGC as tournament Coordinator. He won the hearts of the members for his humility.
Of course the RCGC overlooks the Cemetery. It is a constant reminder to the rich or poor of the ultimate end.
Ariyadasa was interviewed by The Sunday Times on a sultry morning at the clubhouse in the company of Chula de Silva, General Manager, RCGC.
When asked how he came up in life and who assisted, he replied; "I came up the hard way, maintained my dignity and honesty at all levels and life was never a bed of roses," he said.
The then Club Captain was Dr. Fauce Fernando. He was one of the pioneers of the RCGC renaissance. The amiable Dr.Fernando did an excellent job to further uplift the RCGC image at that time.
"The late Dr. Fernando, had a heart burning with love and even personally looked into the needs of the minor employees. I was one of the beneficiaries. In 1970, I was promoted to a waiter. Besides Dr. Fernando the past Captains, Presidents, contributed immensely," said Ariyadasa.
"The late. Pin Fernando was a legend in golf. He had no peer during my time. His wife Pam was one of the corner stones in the women's section. Be it as a golfer or promoter of golf among the poor Caddies. There were many others too. Be it ladies/men. They assisted the down trodden to go places in life," added Ariyadasa.Continuing he said; "During the past the Caddies had to face barriers. Even to enter the clubhouse. But I am happy. Times have changed. The RCGC gates are open to all. The Caddies have done proud for Sri Lanka golf. They are treated on par. But I have not forgotten my past. Nor from where I started my life, or the ones who helped me. The Caddies at present are given all the facilities to play golf. Even to become champions. One of them is K.H. Nandasena."
"Finally I am grateful to Chula de Silva. He was mainly responsible in looking into my personal welfare after retirement and to lead a contended life until my last breath. I am also thankful to the Captain (RCGC) and the general management in organising this felicitation for me today," said Ariyadasa in conclusion.