Aussies all out to bury England
`As the long awaited Ashes battlefront looms in the distance, Australian cricket and its administrators are busy with their strategies on how to conquer the enemy on home soil.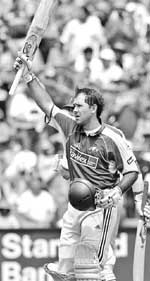 Australian skipper Ricky Ponting
Australia have been vainly trying to play down the hurt and embarrassment of being brought down to their knees by a rampant England in the last Ashes., but the fact of their real feelings could not be disguised with the evidence of an intense preparation being put in place to knock the socks off the visiting Englishmen.
The potential of being tipped off a pedestal they have commandeered and steadfastly stood on for over a decade in world cricket, has jump-started the Australia's feverish campaign to ward off potential challengers to their throne. In fact the writing's on the wall about how they plan to tackle the Poms with former heroes of the game, current players and administrators weighing in on the debate about their interaction with England while the series is in progress.
Former Australian skipper Allan Border who recently resigned as a selector with Cricket Australia citing business reasons, was most vocal about friendships having an effect on Australia's performance on the field. Border was joined by former greats Merv Hughes and Mark Waugh who implored Ricky Ponting's team to leave friendships at the door when the series begins on November 23 at the Gabba. Border said that all the camaraderie should be saved for after the tour, otherwise it has a potential to take the edge off the fierce and relentless competition that usually brings the best out of the players when these two foes meet. His sentiments were loudly echoed by current selector Merv Hughes who himself played the game with a tough confrontational attitude.
Border it must be recalled is the man that dragged Australia out of a period of uncertainty with a tough mental approach, particularly when the West Indies were the dominant force in world cricket, and molded the Aussies into the near invincible unit they are, up to this day. So intense has been the debate on the issue, that former Australian skipper Kim Hughes was involved in a heated exchange with Shane Warne about his very close relationship with England county team-mate Kevin Pietersen. The exchange through their media columns in England prompted Warne to respond by writing in his column that Hughes comments did not warrant a response as he had no respect for him as a player. It could not get more up front and personal than that.
Shane Warne believes that having a beer with a mate like Kevin Pietersen after the day's play is okay. Warne may not be wrong this time round because statistics after the last Ashes will back his claim that it did not have an effect on either his or Pietersen's performances, both enjoying starring roles for their teams.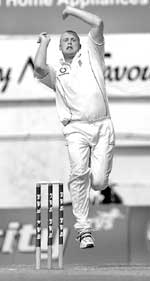 England skipper Andrew Flintoff
Waugh recalled the days when the West Indies were at their intimidating best in the late 1980's. He said "They were pretty scary at one stage. They weren't too friendly on the field. I'd like to see our blokes not be so friendly out on the field." He told Fox Sports 'Inside Cricket'. "You can play the game hard and fair. I think that's the best way we should play it."
Merv Hughes wanted the Aussies to adopt a hard nosed approach similar to that of Border's reign that sparked the team's renaissance in 1989. He said, "It was all too matey for me. Imagine if Shane Warne and Kevin Pietersen didn't have that friendship. Who knows what would have happened.
These theories were openly disputed by current players Justin Langer, Adam Gilchrist and skipper Ponting who said that at no stage of that tour were the Aussies over friendly pointing out that neither were the Englishmen. Gilchrist dismissed the claims of mateship as "rubbish" saying that the critics did not know what they were talking about and were not there and amongst it to know how fierce the rivalry was.
Ponting described last year's epic as the fiercest of his career saying; "It was on for the young and old all the way through." He said he wanted his team to play this series with a smile on their faces in a calculated bid to psychologically upset the opposition's expectations.
Actually reminiscing of that last series, it could hardly have been perceived as 'friendly" if one takes into account that the Aussies were confronted by a rampant English pace battery that accounted for Langer in only the second ball of the first Test when he was hit on the elbow by a rearing Steve Harmison thunderbolt. This was followed by injuries to Matthew Hayden who was hit on the helmet later in the first session and then Ponting required eight stitches when he mistimed a hook and collected one on his cheek. Both these deliveries were also from a fired up Harmison. Simon Jones, Andrew Flintoff and Matthew Hoggard completed a fiery line up that had the Aussie batsmen hopping like kangaroos during that ill fated tour.
Langer's input into the row was, "Imagine the Ashes contest played like a village game. That's the most ludicrous thing I've ever heard. We played good hard cricket on the field, and had a beer off it. That's how it should be."