Gamini had faith in Sri Lanka's potential
It is 12 years since Gamini Dissanayake, president's counsel and politician par excellence passed away. He was ruthlessly assassinated by an LTTE suicide bomber when campaigning for the executive presidency. The nation still remembers and misses this exalted son of Mother Lanka.
Ga as he was popularly called by his friends came from a deep rooted and very respectable family in the Kotmale area. His father was Andrew Dissanayake MP and Deputy Transport Minister in the 1956 SLFP government. His mother was Kanagaratne Kumarihamy Welagedare Samaratunge a lady of great humanness and kindness. Ga was their eldest son and they made it a point to send him to the most pre-eminent of educational institutions in Kandy -- Trinity College. At TCK, Ga equipped himself and enhanced his leadership skills. Very sociable and likeable he mixed freely with the rest of the students and showed great empathy towards them. At school he participated in extra curricular activities developed his personality and character.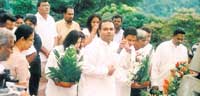 At a ceremony held yesterday at Kadadora floral tributes were laid at the foot of the statue of Late Gamini Dissanayake. School bags, books and school equipment were donated to 10 school children
At TCK the students had to participate in developing a common agricultural farm where the students had to mix with the villagers living near the farm. Ga took keen interest in the development of the farm and thus took great pains to get the other students to integrate themselves with farm activities. He had leadership qualities even at that young age and gave the impression that even as a student, he was a special person with leadership qualities.
He immersed himself with the latest political biographies of the great political leaders, namely Gandhi, Mao, Martin Luther King, Nehru and Charles De Gaulle.
His favourite political personality was John F. Kennedy of America. Gamini read and re read JFK's book "Profiles in courage" several times. He modelled himself on Kennedy, good looking, intelligent, articulate and extremely efficient and organized. He repeatedly told me that he did not want to be a typical politician namely a careerist but wanted to be a courageous political leader. If Gamini had become the president of Sri Lanka he would have turned this country around and made this country of ours truly a paradise isle.
Prime Minister Dudley Senanayake saw Gamini's potential. He wanted Gamini to contest his father's seat of Nuwara Eliya. Gamini contested the 1970 election and was one of the few UNPers who was able to secure his seat although the UNP was washed out.
After Dudley's death in 1973, JRJ as party leader nurtured a great team capable of delivering the goods. JR built the UNP, from a position of weakness, into a formidable force. When we look at the UNP now, one only gets a feeling of despair and sadness. Gamini was an excellent orator and could command crowds and people came to hear him speak.
After the 1977 election, President Jayewardene rewarded Gamini with a powerful portfolio. As Lands and Mahaweli Development Minister Gamini gathered around him a group of highly professional and talented men and motivated them to perform an impossible task. The Mahaweli Development programme was a remarkable achievement that harnessed the hydro potential of our country for energy and agricultural purposes. After the completion of the Mahaweli programme there was no 'dry zone' in Sri Lanka and doubled our energy output and even today nearly 42% of our power needs are generated by the Mahaweli programme. The country became self sufficient in rice. To the critics of the programme, I can only say go and see for yourself what has been done -- the new roads, towns and new civilizations, the fertile lands that have been unleashed for cultivation. Gamini repeatedly told us that this is in micro aspect what he wanted to do for the rest of the country. He believed in human beings, he believed in their potential and believed that the Sri Lankan people were a great people who only had to be given leadership to achieve great things for themselves.
After the election of President Premadasa, Gamini and his family went through a very difficult period. After he was dropped from the cabinet his so called friends deserted him. People who wanted to shake his hand looked the other way when he walked into a room. Gamini was a gentleman; he did not understand the art of double games and deception. He was a liberal democrat and voiced his opinions openly which was not taken too kindly by some people. I truly believe that we saw the best leadership qualities in Gamini during this time. With his political career in the UNP in doubt and so many conspiracies against him he fought back hard. He never gave in, never became a stooge (a good example for some politicians in the UNP today) always believed in what he was doing, took ridicule and state harassment in his stride and together with Lalith undertook a new political journey in Sri Lankan politics. The boy who read 'profiles in courage' by Kennedy thirty years ago became a profile in courage.
When Gamini returned to the UNP as the leader of the opposition and deputy leader of the UNP he becme not merely a politician but also a statesman. He was a 52-year-old grandfather. He was extremely charming, had a phenomenal memory of men and matters, and was a brilliant orator and extremely efficient and ruthless political organizer. He wanted things to happen and he was a tough task master. More importantly his political vision for the motherland was complete. He knew how to handle the LTTE, he knew how to handle the economy and got the private sector going.
Gamini had massive infrastructure projects planned and he hoped to bring far reaching changes to agriculture and education.
He wanted the presidency not for his own glory but for the glory of the mother-land.
Gamini was prevented from becoming the president by those forces that knew his capacity and vision. They wanted the status quo to remain, so they conspired against him. Gamini could have defeated these forces politically but he never expected them to murder him. Gamini underestimated the political forces working against him. He saw his campaign becoming stronger by the day and a demoralized UNP getting its old strength back. He was with the people. The crowd swayed him and he swayed the crowd. One man who could have made our country truly remarkable again was taken from us forever.

~ A friend