Acquitted police officer taking case to HRC
A Police officer who was accused of forcing a suspected TB patient to spit into the mouth of a suspect in custody and violating the human rights of the suspect has decided to take his case to the UN Human Rights Commission after he was acquitted by the Kalutara High Court.
Former Crime OIC of the Welipenna police in Kalutara division Sherwin Premalal Silva told The Sunday Times that some of the international NGOs were responsible for bringing false allegations against him which led to his interdiction for two years until the case was concluded.
Inspector Silva was acquitted and discharged by Kalutara High Court Judge Jayantha Perera after the allegations against the officer could not be proved.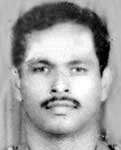 Inspector Silva
The officer was accused of assaulting a suspect and thereafter getting another suspect, believed to be a TB patient, who was in custody, to spit into the mouth of the suspect. Medical examinations on the two suspects revealed that neither of them was infected with TB. The suspect Palitha Tissa Kumara had subsequently made a complaint to the 'Janasansadaya' organization involved in human rights activities which eventually brought up the matter with the Human Rights Commission resulting in charges being filed against the police officer.
The main witness in the case Thummaya Hakuru Sarath alias Banja who has been sentenced to death and 67 years RI claimed in courts that he had been infected with TB and the police officer had forced him to spit into the mouth of the suspect Palitha so that he and his family would be infected with TB.
Hakuru Sarath had been taken into custody by Inspector Premalal Silva after he had escaped from the Welikada prison. The inspector told court that the suspect who was armed and in possession of a hand grenade was captured at great risk.
Earlier a fundamental rights case was also filed against the police officer, but the petition was dismissed.
Inspector Silva said he plans to protest to the Human Rights Commission against the NGOs which have taken up false allegations against him leading to his interdiction. He said he was forced to mortgage his house to spend for the case and eventually a garment factory owner who had read about his case in a newspaper had come forward to pay the mortgage and redeem the house. The officer is due to appeal for his reinstatement.
Attorney-at-law Rasika Balasuriya along with Shan S. Senanayake appeared for the police officer while the State was represented by State Counsel Dulinda Weerasuriya and Vajira Aserappuli.