Another year, another flood
Residents living in low-lying areas and marshylands cry out for a solution to a problem they have to live with year in and year out
The road leading to Yasmin Salim's house in Rajasinghe Mawatha at Wattala is virtually impassable. However, she slowly wades through the murky water and enters her home.
The stench of something rotting emanates from the area while lumps of garbage and cooking utensils can be seen floating around.
"This is my home . Last week when it started raining hard, I thought something might happen and I packed a few things and put them up in the attic. But last Tuesday, when we were preparing for the Ramazan festival, because of the continuing heavy rain water rushed into the house. We ran to our neighbour's house. We lost many things including a bag of rice and other food items," Yasmin lamented.
Many houses along Yasmin's lane are underwater and nearly 70 families are sheltered in a narrow hall of Sri-Siddhartha Vidyalaya.
The hall has no partition, but curtains and bedspreads have been drawn to demarcate the space of each family. The incessant sting of mosquitos keep the little children awake throughout the night.
Camillus Perera, 67 who has sought refuge here says, "We are living in the mud and every year this happens. Each year whatever we own or earned is destroyed by the floods. Although we rebuild our lives every time, we lose everything all over again. We plead with officials to raise the level of our property or to relocate us on a higher elevation."
Living close to the Dadugama River in Ja-Ela, 53 year-old Nalini Sriyalatha, was alert to the rising waters but she had no place to go to. Within a few days, the water raged in taking away most of her belongings.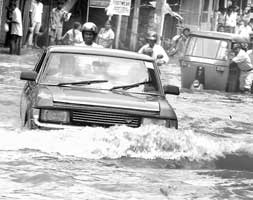 Our photographers Gemunu Wellage and Berty Mendis captured these scenes at Wattala, Ja Ela and Gampaha
"Everyone rushes to help when a major catastrophe occurs, but they don't seem to notice what we have to undergo year in and year out.
This place will be totally submerged within a few days. I have lost all hope and am waiting for my son to build a house on a higher elevation before I die," Nalini said.
Seven districts, Gampaha, Kalutara, Galle, Ratnapura, Kegalle, Kurunegala and Puttalam have been affected by the floods with Gampaha and Kalutara being the worst affected.
The officer in charge of the Disaster Management Coordinating Unit in Gampaha E.M.A.Bandara said the district had been badly affected with Welikada, Makawita and Kosowita which are considered to be in the safe zone also being badly hit.
" People affected in the Gampaha district have been located in five centres including temples, churches and schools . We are working with the Pradeshiya Sabha officials to clear the roads and provide a boat service for those who could not use the road to enter their homes. In Kalutara District nearly 5000 families have been displaced and many roads are submerged. "We have relocated the displaced families and are providing dry rations and cooked food. We are also ready to cut the estuary or river mouth to flush out water if the situation gets worse," D.R.C Perera, Additional GA of Kalutara District said.
Meanwhile Private Bus Owner's Association chairman Gemunu Wijeratne said many roads in Gampaha and Kalutara Districts were impassable. Meanwhile, commenting on the situation in Ratnapura the DMO of the Ratnapura district secretariat Priyanga Premaratne said 17 families have been relocated in Kuruwita due to the threat of landslides.
An official at the Kegalle District Secretariat said that his division was not only affected by landslides and floods but also by strong winds.
"Seven families have been affected and relocated in temples in Bulathkohupitiya Pradeshiya Sabha Division. In Deraniyagala five houses have been damaged and the people are living with relatives. We are providing them relief," he said.
In Dehiowita there have been cases of flash floods and eight houses have been damaged, he added.
Meanwhile, R.M.S. Bandara head of the Landslide studies and Sevices Division of the National Building Rehabilitation Organization has warned of landslides in the areas of Kalutara, Avissawella, Mathugama, Ratnapura and Kegalle.
"We have identified these areas as vulnerable and the people have to be vigilant," Mr Bandara said.
He said some of these areas are under threat because people indiscriminately level steep slopes for buildings which results in gradual soil collapse. And with the rains the situation gets worse leading to landslides.