Lanka at crossroads of war and peace
SLFP-UNP pact marks significant change of policy and direction
Govt. needs to take greater control of military establishment
Official casualty figures of security forces raise major questions
Diplomatic moves relating to mystery arms shipments from Indonesia, Ukraine
The battlefields of the North and the East remained relatively calm as delegations of the Government and the Liberation Tigers of Tamil Eelam (LTTE) faced each other at the negotiation table in Geneva. Yesterday, they heaped accusations on each other when articulating their respective positions.
A solution to the near two decades of war cannot be found in just two days of talks. But it marks a beginning. To many who are tuned into developments in Geneva, the hope is that the two sides will continue to talk more peace than wage war. Yet, there were powerful groups in Colombo who wanted the Security Forces to continue offensives until the military capability of the guerrillas was weakened. Those in essence seem the critical factors.
There are important reasons for the distinctly different backdrop in which the peace talks began yesterday. It is during a respite in Eelam War IV, notwithstanding a near four year long ceasefire. This phase of war in the past weeks saw battlefield gains shifting from one side to the other. At first, buoyed by the military successes at Mavil Aru, Kattaiparichchan, Muhamalai and Sampur the Government spoke from a position of greater strength. That gave them the resolve, despite the Ceasefire Agreement, to assert that troops would retaliate if they were attacked.
But the military debacle at Muhamalai on October 11, followed by the lone suicide bomber's attack on the largest wayside gathering of Navy sailors near Habarana (on October 16) and capped by the guerrilla attack on the naval detachment SLNS Dakshina in Galle (on October 18) were to undo all this. The debacle followed by the two attacks erased that great momentum.
The Commander of the Navy, Vice Admiral Wasantha Karannagoda, this week appointed two Courts of Inquiry. One to probe the incident near Habarana will be headed by Rear Admiral Wasantha Tennekoon. Other members are Commodore D.S. Molligoda, Captain Kapila Samaraweera and Commander Hewage Sumanasiri. The other court to probe the guerrilla attack on the SLNS Dakshina in Galle is headed by Rear Admiral M.R.U. Siriwardena and comprises Commodore G.E.C. Jayawardena, Captain Rohan Kulasekera and Captain Palitha Weerasinghe.
References to the Muhamalai debacle and the two subsequent guerrilla attacks are by no means to say all was lost. The bravery and valour of the troops led to the capture of Mavil Aru, prevented a guerrilla take over of Kattairparichchan, avoided the infiltration of Muhamalai defences to lay siege on Jaffna and led to the seizure of Sampur. The latter relieved the stranglehold the guerrillas had placed on the Navy's largest establishment, their Eastern area headquarters at the Dockyard in Trincomalee and the nearby Air Force base in China Bay.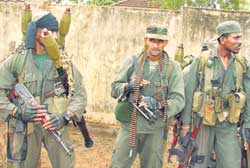 Troops on duty after the capture of Sampur. Photo: Berty Mendis
All these gains were the result of a highly laudable and the tremendous sacrifice by officers and men of the Army. During the period 6 a.m. July 31 till 6 a.m. on October 12, when these incidents (including some limited operations and day to day casualties involving the Army) occurred, official statistics show that 31 officers and 380 other ranks were killed. Whilst one officer and ten soldiers were reported missing, those wounded in action were 118 officers and 2081 soldiers. This is all during a period of 74 days. A document containing these official figures was seen by The Sunday Times. Here is a breakdown:
SECURITY FORCES HEADQUARTERS - JAFFNA AREA: 11th August to September 6 - Nineteen Officers and 202 soldiers were killed. Forty nine officers and 851 soldiers were injured. From 6 p.m. on September 6 to 7 p.m. on September 9 - Two officers and 32 soldiers were killed. Nine officers and 188 soldiers were wounded. From 7 p.m. on September 9 to 6 a.m. on October 11- A total of 46 soldiers were killed. A further 10 officers and 188 soldiers were wounded. From 6 a.m. on October 11 to 6 a.m. on October 12 - Eight officers and 53 soldiers were killed. Thus, the total casualties for SF HQ Jaffna area works out to 29 officers and 333 soldiers killed. A further 92 officers and 1718 soldiers were injured. An officer and ten soldiers were reported missing. NOTE: In respect of Jaffna, the official figures do not explain where the casualties occurred except to list them as incidents within SFHQ (J). Here again it is only from August 11 to October 12, a period of 62 days. Thus, a clear picture of the Muhamalai debacle on October 11 cannot be discerned from these official figures. Was it meant to be that way? However, details in respect of others are disclosed as shown below:
KATTAIPARICHCHAN/ MAHINDAPURA/ SERUNUWARA: From August 2 to August 30: Twelve soldiers were killed. Seven officers and 94 soldiers were wounded.
MAVIL ARU: From July 31 to August 25. Two officers and 15 soldiers were killed. Eight officers and 106 soldiers were wounded. On September 9, a further seven soldiers were injured bringing the total number of wounded soldiers to 113.
SAMPUR: From July 31 to September 26. Twenty soldiers were killed. Eleven officers and 156 soldiers were wounded.
Updated figures for Army personnel killed in the Muhamalai debacle, according to statistics placed before the National Security Council, stood at 18 officers and 128 soldiers. A total of over 616 were wounded. In addition, six battle tanks, and not five as reported earlier, were lost. Of this, two that lay damaged could be seen from the Army's defence lines in Muhamalai. Intelligence sources confirm one has been retrieved by the LTTE and is in working order.
Each battle tank was procured at a cost of around US $100,000 or Rs. 10 Million. Hence the loss battle tanks alone in Muhamalai amounted to Rs. 60 million.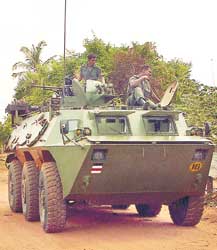 Army on patrol duty in Sampur
Whether the remaining three, said to be in guerrilla hands, are operational, is still not clear. The toll at the incident near Dambulla, as disclosed last week, stands at 116 sailors dead. More than 130 were wounded. One sailor and a civilian were killed in the attack on the naval detachment in Galle. It is now confirmed that eight guerrilla bodies were washed ashore after the attack.
Since the casualty figures in the Jaffna peninsula have been listed under the SFHq (Jaffna), it is not possible to discern where it occurred and how. For October 11, the day of the Muhamalai debacle, the figures speak of the deaths of only eight officers and 53 soldiers or 61 Army personnel. It places 24 officers and 491 soldiers as wounded and an officer and ten soldiers as missing on the same day. It is most likely the reference on this date is to Muhamalai though the figures are incomplete.
This is because the document containing official figures is only for the period July 31 to October 12. For this period, the total killed in action (in the North and East) according to the official figures, as pointed out earlier, is 31 officers and 380 soldiers or a total of 411 Army personnel. Of this number, if one is to reduce the 61 Army personnel (eight officers and 53 soldiers) presuming they are victims of the Muhamalai debacle and are included in the official figures, (to the exclusion of bodies handed over later by the Tiger guerrillas) the total for the period works out to 350 Army personnel killed.
If the figure of 146 personnel (18 officers and 128 soldiers), the last known official count in Muhamalai debacle, is thus added, the Army death toll works out to 496 officers and men. The deaths of 116 Navy sailors near Habarana and one in Galle bring the total of Army and Navy personnel killed to 613. The wounded would total 118 officers and 2081 soldiers, according to the official figures. Added to this would be the 616 soldiers injured in Muhamalai, 130 Navy sailors near Habarana and 11 Navy sailors in Galle. The grand total would be 2956. A sizeable number from this are walking wounded.
This is during a period of 72 days and works out to an average of over eight deaths and more than 41 injured per day. This is only for a specific number of incidents involving the Army and the Navy. The figure would be higher if all other incidents are taken into consideration. Soon after last year's Presidential elections in November, limited guerrilla attacks led to an average of three deaths per day.
Senior Army officials in the battlefront claim that Tiger guerrillas killed would be three times that of the figures for troops. Twice that number, they say, were wounded. The LTTE has been playing down its casualty figures. Independent verification of guerrilla casualty counts is not possible.
Another important reason is last Monday's signing of the historic Memorandum of Understanding between the ruling Sri Lanka Freedom Party (SLFP) and the main opposition United National Party (UNP). Opposition and UNP leader, Ranil Wickremesinghe, the chief architect of the February 2002 Ceasefire Agreement, has pledged to support President Mahinda Rajapaksa in the pursuit of a negotiated settlement to the ongoing conflict.
Even if he has agreed to oppose terrorism "in all its form", as the pioneer of the CFA and supporter of the call for a negotiated settlement, Mr. Wickremesinghe is not likely to endorse continued military offensives amidst the ongoing peace initiatives. Not even if they take the form of the new but illogical and contradictory terminology, "defensive operations," that has entered the lexicon in Sri Lanka's separatist war. He has now emerged as a catalyst in this regard endowed with a new ability, after the MoU, to influence both the Government and the Norwegian facilitators. This factor, weighed together with the Government's move to obtain a string of dates for future peace talks, clearly signals a move in a different direction.
That is an effort to shift from the battlefield to the negotiation table. But some thorny issues will continue to linger. The two sides have to clear many a procedural hurdle in the negotiation process before moving on to critical areas. Such a process is time consuming. It will have to entail a very difficult period of a de-escalation of tensions and the beginning of an almost difficult task of confidence building. During that period, any renewed activity in the battlefield could put the clock back.
Both sides could accuse each other of triggering off a battle that will lead to a renewed war. Thus, an escalation of fighting would threaten not only the peace process but the MoU too. Herein lay the dilemma for Government leaders. A clear cut approach becomes necessary. That would require their taking greater control over the military establishment and not allowing a situation that is vice versa to develop. It would also entail other tough decisions if in fact it is committed to ensure the peace process is on track. Otherwise, the Government will continue to be accused of duplicity. On the other hand, "the war on terror," as some senior military officials call it, is to be continued, how it will impact on the peace process remains a critical question. Equally critical will be the question of UNP's support for such a dual track approach.
Besides maintaining a high level of military preparedness to prevent any guerrilla attacks, the Government has also embarked on significant diplomatic initiatives. That is to thwart attempts by the LTTE to build a much stronger military machine by smuggling in hardware. This is particularly after ammunition stocks began to dwindle following their recent encounters with the government forces and attempts to acquire sophisticated weaponry including Surface to Air Missiles.
Prime Minister Ratnasiri Wickremanayake, who is also the Deputy Minister of Defence, went as President Mahinda Rajapaksa's special envoy to Jakarta this week. During the two-day visit as the head of a top level delegation, he held discussions with Indonesian President Susilo Bambang Yudhoyono and other leaders, among other matters, on an important issue. The Sunday Times learnt this is to seek Jakarata's support to crack down on illegal rings in that country involved in smuggling military hardware to Sri Lanka.
A leading Government source, who spoke on grounds of anonymity said, "President Rajapaksa's appeal received a positive response" but declined to bare details.
The detailed activities of such an illegal ring came to light during a sting operation by the United States Federal Bureau of Investigation (FBI). At the centre of a conspiracy to supply, a variety of military items to the LTTE was a retired Indonesian Marine Corps Brigadier General Erik Wotulu. The items included state-of-the-art firearms, machine guns, ammunition, surface to air missiles and night vision goggles.
Together with Wotulu, another Indonesian national Haji Subandi, Haniffa Bin Osman, a Singaporean and Thirinavukarasu Varatharasa, a Sri Lankan with links to the LTTE, were arrested in Guam, a US territory, during the sting operation. They are now indicted in the District Court in Maryland for conspiracy to export arms in violation of US laws. The four had been attempting to procure weapons from the US when their operations were busted.
Also arrested were two other Indonesian nationals - Reinhard Rusli and Helmi Soedirdja. Together with Haji Subandi, the trio are charged in the District Court of Maryland in a separate case for violating US laws and trying to import night vision goggles, Special Forces weaponry, communication devices, spare parts for helicopters and military aircraft, sonar technology, unmanned aerial vehicles as well as conventional arms and ammunition. The "end users" of these items were the LTTE in Sri Lanka and unidentified sources in Indonesia.
Indonesia's Vice President Jusuf Kalla, who reacted to the FBI findings, said in Jakarta that that the case involving Brigadier General Wotulu was the responsibility of the persons concerned. He said "The Government cannot control everyone. So (Eric's case) is his personal responsibility. The country's population has now reached 220 million. It is impossible to control everyone."
When he was serving as a Colonel in the Indonesian Marines, Wotulu was named as head of security in Otoria Batam, an Indonesian island, a special trading zone, near Singapore. The place is known to be rampant with smuggling and corruption. It is also known to be a haven for piracy. Born in 1947, retired Brig. Gen. Wotulu is a Minahasan, a predominantly Christian area in northern Sulawesi.
Another diplomatic initiative relates to Ukraine, where agents and manufacturers have supplied military hardware to the Sri Lankan Government. There were suspicions that the LTTE had in the past obtained weaponry from sources in Ukraine.
Sri Lanka's Ambassador to the Russian Federation, Udayanga Weeratunga, on October 13 wrote directly to Air Marshal Roshan Goonatillake (with copy to the Chief Purchasing Officer of the SLAF, Air Commodore T.M.P.D. Tennekoon) of his efforts to stop illegal trading or terrorist organizations importing defence items from Ukraine. It is not clear how the letter came to be sent directly to the Air Force and whether the Foreign Ministry or other related state agencies were also told. This is what his letter says:
'CONFIRMATION OF AUTHENTICITY OF END USER CERTIFICATE FOR SUPPLIES FROM UKRAINE
"I would like to bring to your kind notice that on my request, the Government of Ukraine has enforced a new special regulation with effect from 01st October 2006 for the Ukrainian companies which are involved in defence supplies/services to Sri Lanka. According to the new regulation, those companies have to get confirmation on the authenticity of the End User Certificate issued by the buyer, via the Diplomatic Mission of Sri Lanka based in Moscow. This regulation will apply to all pending supplies. My request was made with the purpose of avoiding illegal/terrorist organizations importing defence items from Ukraine.
"The State Services of Export Control, who issues the export licences to suppliers, hereafter will not issue the licences without confirmation of this Mission on the authenticity of End User Certificate issued by the relevant buyer of Sri Lanka.
"Therefore, please send me the copies of End User Certificates issued in respect of all pending supplies/services from Ukraine.
"A copy of the End User Certificate No. SLAF/JR-1668/06 of 10/08/2006 issued to Zaporozhye Regional Foreign Economic Association in respect of the supply of Auxiliary Power Unit (Preferably via e-mail as an attachment) is required urgently for confirmation on the authenticity, to enable the supplier to proceed with the order".
These developments come as Sri Lanka is at the crossroads with regard to both war and peace. A new approach has begun with President Rajapaksa joining hands with his one time political arch rival, leader of the Opposition and UNP, Ranil Wickremesinghe.
It comes at a critical juncture where the Government faces accusations of human rights violations, widespread abductions and disappearances. In this regard, the media has not only been subject to threats, intimidation and other insidious pressures. With the Government, knowing or otherwise, sections of the military establishment have declared their own war on the media, a move that would distance it further from the Government. It cannot prosecute both war and peace without a healthy dialogue with the media. That should be a priority for President Rajapaksa if he is to succeed in his efforts.