---
Undergrads in Oriental harmony
By Esther Williams
Step into the refreshingly cool lobby of the Trans Asia Hotel on a Saturday night and you are in for a musical treat of traditional Sri Lankan music, accompanied by the harmonium, flute, tabla, violin and guitar. Strains of the sitar can also be heard in the soothing yet scintillating music, adding an Indian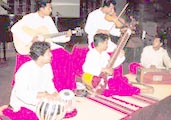 flavour.

The Samadhi Oriental Band that has been performing twice a week at the hotel for the past three months "adds a nice touch of authentic Sri Lankan music for the tourists coming in," says Richard Frot, Assistant Food and Beverage Manager.

Dressed in burnt orange sarongs teamed with kurthas, they blend into the rich backdrop of the hotel, drawing interested glances from the guests and the casual passerby. "We have received good comments from guests who like the Sri Lankan music they play which not many hotels in Sri Lanka can boast of," says Winston Pereira, Assistant Restaurant Manager. By providing them an opportunity to play, the hotel wishes to promote an indigenous group. But they are not just any musical outfit.

Nimal Dissanayaka, Ranjith Pallewela, Dhammika, Thushara Jayalanka and Sarath Chandra who make up the group are students reading for their BAs and B.Scs at Sri Jayawardhanapura University. All except Thushara who is from Kandy, are from Kurunegala.

Together for almost three years, they have played at College and other functions and also parties. While the entire group has had professional training in their respective hometowns, Nimal, the leader of the band has also done the Indian exam called Visharda in vocal music.

Having shown a keen interest in music since childhood, these talented artistes, all of whom play more than one instrument, play light and classical Sri Lankan music and have to their credit six original compositions. "Music is our soul, when we have problems, music clears our mind and helps us study better," says Thushara

"Traditional music is being destroyed," continues Dhammika. "Many of our youth do not know traditional Sri Lankan music as they are exposed to other forms," he says. As a group they would like to preserve the folk music of Sri Lanka like the Janakave Vannam. They appreciate songs done by Lionel Ranwala and Rohana Baddage who they think, make 'proper' Sri Lankan music.

Says Barna's Istava'n, a Hungarian Tour Leader and guest at Trans Asia, "For two nights I don't sleep, then I listen to the music and.....aah, it's fantastic, just fantastic." The gentle tones of music to him is a good stress reliever. Without any hi-tech equipment and modern gadgets, the Samadhi Oriental Band provides a relaxed and charming ambience that does not fail to impress all those who heave them.

While Thushara wants to be an accountant after graduation, all the others want to stay on in the field of music as composers, singers or tablists. To them, music is their hobby as well as their profession.