---
Reaching for hi-tech dreams
By Shelani Perera
Shanika Watovita was just 18, when The Sunday Times met her five years ago to write about this young girl who suffers a paralysing disability, but who, against all odds, had achieved success in the literary field.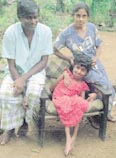 Enduring support from her parents
Today, she's 23 and we are back in her little village of Idamgoda in the Ratnapura district to meet Shanika again. Not much has changed in her physical appearance. Life is tougher, if at all, for the ailment that cripples her body, now extends to her hands as well. But her spirit is unbowed and sheer determination has seen her venture into new fields. Not content with literary success, she has now plunged into the entertainment field by launching her very own entertainment and IT company called "The Vengas".
Shanika is paralyzed from the neck downwards and cannot hold her head up. She has to lie in bed resting her head on a pillow. But she has learnt not to let that stand in her way.
Born with no sign of disability, she was the bouncing eight-pound first born of her parents.The first warning of a problem came when she showed signs of being a slow developer and was unable to hold her feeding bottle by herself. Her worried parents tried every method of healing they heard of, Western medicine, Ayurveda, but soon, it was apparent that their baby girl was not to have a normal life.

Five years ago Shanika was able to write (file photo), but not anymore
School was out of the question, but Shanika being the brave spirit she is never let that stand in her way. She learnt to read and write and by the age of ten, showed her parents that she was an independent and fast learner. Her love for writing and reading, extended to languages and not content with Sinhala, she soon picked up Tamil and Hindi as well, learning the former with the help of a teacher and the latter through postal lessons. Fluent in Sinhala, Hindi, Tamil and English, she was soon using her linguistic skills to translate books and even compose songs and poems.
A few years ago, fate threw yet another obstacle in her way; Shanika realised that she could no longer use her hands. But there was a silver lining to that cloud too.
A concerned well-wisher having recognised her talents decided to give her a computer, with Internet and e-mail access. The computer could not have come at a better time because Shanika was increasingly finding it difficult to write.
But for the girl who has never been to school, yet mastered four languages, grappling with the new technology became a problem.
"I did not know how to operate the computer, yet I was fascinated and wanted to learn. I knew my hands were becoming lifeless and I would not be able to do all the work I used to do earlier," she said.
Within two months Shanika was able to grasp the basics in computer with the help of a neighbour.
"After that I started reading a lot on the subject and also used to listen to radio and TV programmes on computer. I got my own web page and e-mail access and this helped me greatly. Although I can't use my hands any more, I dictate to my family and now in order to give some knowledge on computer to others, I get down schoolchildren in the village who follow my instructions and do my work on the computer. This way, I know they will also gain some kind of knowledge on the subject," she says.
While Shanika was adapting to the IT world, she was also making plans to launch into another very competitive arena.
"I have always been interested in music and during the past four years I started doing an in-depth study on Latin American music, with the help of a friend. I also studied Spanish through a foreign friend who helped me a great deal. It was during this time that the idea of having my own entertainment company came to mind."
"I was keen to get the best people in the field and it took me all of four years to get to know the correct people and choose the best. The company is also an IT firm. All six members are employed in the music industry. I have three DJs, a manager, an entertainment manager and IT manager. I am the Chairperson."
But how was it possible for Shanika to run an entertainment company, living as she does in Ratnapura?
"The main reason is that all seven of us have a good understanding and we communicate well. As it is difficult for me to travel to Colombo all the time, I meet them twice a month in Colombo. It is at that meeting that we discuss bookings and our future plans. I also allocate work to each person and do my fair share of work. Since I go to Colombo just twice a month we work till 1.00 a.m. After that as a daily routine we communicate through e-mail and the telephone," she said.
Through the contacts made from her website, she gets generous help from well-wishers.
Today Shanika has been able to achieve yet another milestone. She has begun building her own house, on a plot of land donated by President Chandrika Kumaratunga when she won an award for her achievements.
"We did not have money to build the house. I wrote to Deshamanya Lalith Kotelawela, who came forward to give me the money. His help did not stop there, for he encouraged me a great deal. He is one reason for me to venture into this. He had a lot of confidence in me," she says gratefully.
A few years ago, Shanika decided it was time she reached out to others who are disabled. She launched Voice of the Disabled People', an organisation for the handicapped and despite her busy schedule, is much involved in it.
"We have decided to allocate 5% of our earnings from the company for the welfare of the disabled. I am also hoping to recruit some of them if they can give me what I need," she says with a true businesswoman's spirit.
She has her own ideas about the direction she wants her company to take. "The entertainment field is more than spinning CDs, and we want to set up a Cyber Cafe and also go into the production side of music. At the moment my biggest problem is finding the capital for future projects. We want to organise a grand musical show with the DJs, and we have the support of SUN FM which has helped me a lot. I am positive about it," beams Shanika.
With so much going for her, there is no bitterness when she is asked about the physical changes she has faced within the past few years.
"I feel that my body is weakening and I can no longer sit for long periods for then I get a spine ache. I can't use my hands_ they are lifeless and I can't have meals on my own. But these are not problems. I have the most valuable asset. That is my imagination, the ability to be creative and to use my head," she says.
We take our leave, wishing her success, for if anyone deserves it, Shanika does.