Contents
---
Tupac Shakur : Complex star
By Sanath Weerasuriya
After lapse of a couple months, we start the popular TV Times M Entertainment 'Original Music Competition'. This week's star is rapper Tupac Shakur.

Tupac Shakur grew up around nothing but self-delusion. His mother, Alice Faye Williams, thought she was a "revolutionary".

She called herself "Afeni Shakur" and associated with members of the ill-fated Black Parther Party, a movement that wanted to feed school kids breakfast and earn civil rights for African Americans.

Shakur had been arrested eight times, even serving eight months in prison after being convicted of sexual abuse. In addition, he was the subject of two wrongful-death law suits, one involving a six-year-old boy who was killed after getting caught in gang-way crossfire between Shakur's gang and a rival group. In the late eighties, Shakur teamed up with Humpty-Hump (a.k.a. Eddie Humphrey, a.k.a. Gregory "Shock-G" Jacobs) another Oakland-based rappers to create Digital Underground, a band intent on massive bass beats and frenetic, Parliament-Funkadelic-style rhythms. In 1990, the group released its debut and best album, Sex Packets, a pulsating testament to the boogie power of hip-hop, featuring two classic tracks, "Humpty Dance" and "Doowutchyalike."

After an EP of re-mixes in 1991, D.U. released Sons of the P and, the following year, The Body-Hat Syndrome. In 1992, Shakur entered a most fruitful five-year period. He broke free of D.U. and made his solo debut, 2Pacalypse Now, a gangsta rap document that put him in the notorious, high-speed lane to stardom. That same year he starred in Juice, an acclaimed low-budget film about gangs which saw some Hollywood success. In 1993, he recorded and released Strictly 4 My N.I.G.G.A.Z., an album that found Shakur crossing over to the pop charts. Unfortunately, he also found himself on policeblotters, when allegations of a violent attack on an off-duty police officer and sexual misconduct arose.

The same year, Shakur played a single father and Janet Jackson's love interest in the John Singleton film Poetic Justice.

In November of 1994, he was shot five times during a robbery in which thieves made off with $40,000 worth of his jewellery. Shakur miraculously recovered from his injuries to produce his most impressive artistic accomplishments, including 1995's Me Against the World, which sold two million copies, and the double-CD All Eyez on Me, which sold nearly three million.

Look out for this great compilation of 2pacs songs available on a double CD and cassette pack from all Maharaja Entertainment Preferred music outlets.

But still you can win five Original albums of '2pacs' by answering the simple question on the 'Sony Music/TV Times coupon' below.

To enter this contest, all you have to do is to answer the question on the coupon and send it to the address given below.

The address is "Listen to Original Music Contest, No. 54, C/o Maharaja Entertainments (Pvt.) Ltd., 330, T.B. Jayah Mawatha, Colombo 10.

Tel: + 941672425-8, Fax + 941699070. E Mail: me@lgo.lk

All the entries must be originals from the TV Times and no photocopies or faxes will be entertained. All correct entries will be drawn by a panel of judges.

The entries should reach the above address by October16, the latest.

The decision of the judges will be final and the names of the winners will be announced in The Sunday TV Times accordingly.

Here are the winners of contest no. 50. The winners of two Sony Original CDs are Sarath Rathnayake of Colombo 07 and Alexi Nugera of Narammala. The two audio winners are Dilesh Perera of Badulla and A. Imran of Kandy.

The 10% off gift vouchers go to Jayani Perera of Himbutana, Pearly De Silva of Kuruwita, Natalie Raymond of Ratmalana, F. Rozana of Dehiwela, Sandra Senanayake of Moratuwa and Chameera S. Jayaratne of Kandy.

The Poster winners are Janak De Silva of Kolonnawa, G. Ian Barthelot of Kalutara, Shannnon Silva of Moratuwa, Rukshan Senanayake of Dehiwela and Mohammed Irfan of Eheliyagoda.

'Sri Lankan Star Parade' on Radio Sri Lanka

The first of the radio programs titled "Sri Lankan Star Parade" featuring local stars will be broadcast over "Radio Sri Lanka" at 1.00 p.m. on Sunday, October 7 with the spotlight falling on the former "Moonstone" lead vocalist Lalith Fernando.

Lalith will be interviewed by veteran presenter, Bevil Palihawadana and Songs such as "Sri Lankan Song", a remake version of that Roy Obison hit song "Pretty Woman" and Lalith's popular Sinhala original "Pa Mal Sina" will be played on this programme.

---
Priya: A disc doctor
Although the compact disc revolution seemed like the perfect solution for all the trouble we undergo with damaged LPs and tapes most of us have found it to be otherwise. Skipping, scratched and damaged CDs are piling up in our CD racks with no solution in sight. Not anymore, Priya has a solution to all your CD problems. He is a kind of a disc doctor who repairs any type of CD be it music, software or a VCD.

How does he do it? Priya says that it is not easy. " It requires machinery and technical skill," he said. With imported machinery and a lot of research on disc problems he says now he could repair any CD to its original state without losing any data recorded.

With the assistance of qualified software and electronics engineers and a skilled team of technicians Priya can handle even hundred discs a month.

Explaining the problems that occur in CDs he said that usually CDs when used regularly tend to get scratched. "And in most instances frequent careless use of CDs lead to dust and other small particles to deposit on the CD and if the CD is not wiped of dust they will remain on the CD and when played will scratch the interior and damage the disc," he said.

He added that one of the most difficult problems is in determining where the scratch is because the tracks begin on the inside of the disc rather than on the outside. Also depending on the number of tracks on a CD, since usually the music or data does not fill up the whole disc. "So, when someone brings a CD first we see how damaged it is and where the damage lay, then we decide if we could do the job and how," he said.

Often there is very little that can be done in such instances if prior care has not been taken but now Priya and his team of technicians has the cure whatever the disease.

"For those who request us to do bulk work we do free demonstrations. Our rates are not high. In countries like Singapore where this technology is still being promoted, the cost of a CD repair is more than the cost of an original CD itself. In Singapore it costs around $35 per CD. But we do it comparatively cheap. The price vary from CD to CD and its type but our charges do not exceed or equal the price of an original CD," Priya guaranteed.

But what guarantee do people have that their data will be safe and that they will not be at a loss? " In any case, there is very little use for anyone with a damaged CD which cannot be played. Despite that we give a money back guarantee if the CD is not repaired and we also ensure that all data will be safe. After all, if we cannot safeguard the data there is no real point in repairing it ?" he asked.

While pick up and delivery within Colombo city limits is free, all you have to do is to call Priya on 077 316266 or e-mail: sanji_t@sltnet.lk to save yourself from having to buy new CDs to replace the old.

---
Indian music at Sugathadasa Indoor Stadium
Dheemthanana an Indian Musical Programme will be held at the Sugathadasa Indoor Stadium today from 6.30 pm featuring a host of Indian artistes such as Vasundradas (actress, singer) Unnimenon (male singer ) Mahalaxmi (female singer) Chitra Sivaraman (female singer) Sabesh -(Music Director , male Singer )Ragasutha (actress , dancer) Anusha -(actress , dancer) and Rocket Ramanathan – (mimicry).

They will be backed by local musical group Apsaras. This programme is being organised by Leo Club of Colombo City – District 306 B & Sooriyan FM. This programme will be held in aid of Service Project – Leo Club Of Colombo City 306 B Tickets will be sold at Rs 500/-, 1000/- , 1500/-

---
"You Just Wait"
The famous Russian Cartoon series "You Just Wait" will be screened at the Russian Centre Auditorium on Friday, October 9 at 6.00 p.m.

"You Just Wait" has been famous in Sri Lankan TV viewers for decades. The brand new series of "You Just Wait" is sure to entertain the kids as well as the elders.

---
Mano's film has a new angle
"Consequence of Earth, Water, Fire and Wind" (Pasa Diya Gini Sulan Pahasa) a Sinhala film is the latest to be released from October 11 on the National Film Corporation (NFC) circuit cinemas.

The story revolves around a girl and two Biblical characters Cain and Abel and the film is to give a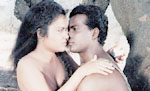 new interpretation to the first murder in the history of mankind.
'Pasa Diya Gini Sulan Pahasa' unfolds the story giving a philosophical idea to the unsatisfied feelings of a girl as she grows upto womanhood. According to the story line it relates that this girl becomes the central figure in bringing enmity between Cain and Abel, sons of Adam and Eve and giving way to the first homicide or fratricide.
Speaking to the TV Times, film director Mano Weerasekara said "the story is common to all humanity and whether it is past, present or the future, the sexual attraction between the opposite sex is an everlasting phenomenon,".
"A woman is flax man is fire, the devil comes and blows the bellows or otherwise a man, woman and devil the three degrees of comparison"-" God makes and man shapes and God himself was once as

we are now and is an exalted man" Mano said describing the philosophical prospect of the movie.
The producer of the award winning film "Mee Haraka" Mr. Weerasekara said "The story is adopted taking the ideas from different religious concepts including the Holy Quran, the Holy Bible, the Bhagawath Geetha and the Dhammapada; without antogonising the religious feelings,".
"I tried to give a different interpretation as has been given to the world's first sin in the story of Cain and Abel which comes in the Bible", he said.
"The plot is adapted from various canonical literature as God created Adam and Eve as the first human beings in the world. Eve created from a rib of Adam had two children, Cain and Abel. Cain slew Abel (the first sin and the murder in the universe) at the tragic end because of a woman," Mano explained. "But the question is from where did she appear? Who is she?" he said.
"The right to distribute the film throughout India had already been requested by an Indian distributor" Mano said speaking on his first directorial attempt.
Asked about the film title "Pasa Diya Gini Sulan Pahasa" he said the title is taken from the Buddhist concept that the world is made up of fire, water, air and soil (consequences of Patavi, Apo, Thejo, Vayo).
Mano is now looking out for a sponsor who would help him to submit his first film at international film festivals.
Chelsea Manuel introduces herself to the silver screen while the young cast include Suresh Gamage, Dr. Saayakkara Jayawardhana, Kristine Ericsson, Sanjeewa Dissanayake and Ananda Atukorale.
The film blends two styles of music introducing Lalanath De Silva to the music direction in films with original symphony music scores and arrangements with Pandit Ameradeva, pioneer in Sinhala music tradition rendering tunes to the songs to the lyrics written by Rathna Sri Wijesinghe. Pandit Ameradeva, Visharada Nanda Malani and Nelu Adhikari have done the play back singing.

---
'Punchi Kekulu' focuses on child rights
"Punchi Kekulu" is a programme that focuses on children's rights and is telecast every Sunday at 7.30

pm on Rupavahini. Experts in various fields are made to comment on each episode to inform the people of the abuses and threats small children have to face when growing up.

They try to explain the legal as well as social defects pertaining to each episode shown in this programme. Siddhalepa Chairman Dr. Victor Hettigoda said "Punchi Kekulu" is an attempt to educate the general public about the increasing incidence of child abuse in Sri Lanka. "The primary objective of this is to minimise such abuses by educating the masses" he said.

---
'Mayaratne': deals with a devil
By Susitha R. Fernando
The teledrama "Mayaratne" is a story on an exceptional theme. It portrays the relationship between an evil spirit and a girl.

The teleplay to be released on Rupavahini is directed by Sumith Kumara.

'Mayaratne' unfolds as Upawansa, expert in Ayuruvedic medicine comes across a container full of gems when he was trying to find a medicinal plant in the forest. It was not an easy task to take this treasure home. The guardian of it, an evil spirit named 'Mayaratne', demands that he be allowed to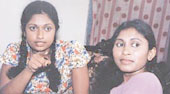 accompany him home. After much argument Upawansa agrees to take the ghost who has taken a human form with him.
After joining Upawansa's family Mayaratne is given a room in the house and lives like a human being. No one knows the secret except Upawansa.
Upawansa a notary by profession becomes rich day by day selling the gems belonging to Mayaratne. The evil spirit Mayaratne was once a gem businessman and had faced an untimely death while he was still unmarried in his previous birth.
Mayaratne, the evil spirit who has taken a human form extracts a promise from Upawansa every time when he sells a gem.
Meanwhile curiosity spreads around the village over Upawansa's wealth and the villagers conclude that Mayaratne, the newcomer into Upawansa's family is the man behind this fortune. And Mayaratne gets popular in the village with people coming to seek his assistance and everyone in the village tries to get friendly with him while some want to misuse him. Mayaratne too loved his new form as a human and he acts exactly like anyone else. Winning the hearts of both villagers and Upawansa's family members he was appointed as the chief 'Dayaka' in the temple and he was invited to contest an election.
At the same time Mayaratne becomes entangled in a romantic world when several girls come seeking Mayaratne love and among them is Sarojini, Upawansa's only daughter. Sarojini is determined to get married to him with the blessing of everyone in the family. But her father Upawansa who new the real story behind Mayaratne strongly opposes this. At the same time Mayaratne who could not get married in his previous birth too has fallen in love with Sarojini.
Sapumal, Upawansa's son is too fond of the newcomer who has become almost a family member. But one day Sapumal comes to know the truth behind the supernatural being, Mayaratne and the story takes a dramatic turn when he disappears mysteriously.
Would Mayaratne's attempt to take a human form become successful by taking the hand of Sarojini? What really happens to Upawansa's daughter?
The principal roles in 'Mayaratne' are played by Sriyantha Mendis, Wijeratne Warakagoda, , Thamara Dilrukshi, Janak Premala and Sandeepa Sewmini.

---
Great Wall's 10th Anniversary
Great Wall, the popular chain of Chinese restaurants, celebrated its 10th Anniversary in the second week of September. As part of the month-long celebration, customers were treated to generous discounts of 50% on seafood and 30% on beverages at the Great Wall fine dining restaurant.

It is well known that Chinese cuisine is very popular among Colombo diners, and Geat Wall's sustained, decade-long-popu-lartity is largely due to the restuarant's authentic Chinese menu (prepared by expatirate Chinese Chefs) at affordable prices.

Within the ten years, Great Wall opened three more outlets at Majestic City (Bamba-lapitiya), Chatham Street (Fort) and Jayantha Weerasekera Mawatha (Maradana).

The fine dining area of Great Wall's main resturant at Sumathi Court, Galle Road, Colombo 3, was fully refurbished early this year to provide an elegant dining experience for the city's increasingly sophisticated diners. The two VIP rooms are exclusively for private dining for groups of up to 25 guests.

---
Munich Oktoberfest
'Oktoberfest' a German beer festival will be held at the JAIC Hilton from October 15-31 .

The Munich Okotberfest - known by the locals as the "weisn" is the biggest public festival in the world. The Union Bar & Grill Rooom also goes Bavarian during the month of October.

Favourites like Braturst with Sauerkraut and Mashed Potatoes, Backed Farmers Meatloof with potato salad, Crispy Beer Pork Knuckles with White Cabbage Salad and Dumpling to mouthwatering desserts like assortment of Baked Apple, Apricot and Blueberry Crumble or even Home Made Apple Strudel with Vanilla Ice Cream.

---
Artlink 2001: art workshop
'Artlink 2001', the international art workshop in Sri Lanka, will be held in Dambulla from October 8 to 17.

The camp will be held at the Culture Club Hotel, Kandalama, an ideal location in many senses, offering as it does space for individual work and for exchanging ideas - all in a calm and beautiful environment.

Artlink 2001 exhibition opens at the Barefoot Gallery, Colombo on October 19. This exhibition will feature the work accomplished during the ten-day camp.

A series of international artists' camps has been held in Sri Lanka over the last 5 years with the support of the Alliance Francaise, the British Council, the Goethe Institut and the Vibhavi Academy of Fine Arts. Up until this year the kinds of art represented at the camp have been relatively traditional, two-dimensional work, sculpture and installation - and the format of the camp has been relatively fluid. The primary purpose has been to give participating artists the maximum opportunity to do their own work and to build an understanding of the different positions and experiences of their colleagues.

This year, the organising committee has decided to introduce several innovations. These are as follows: . International participants will be artists with documented interest in using digital technologies in their practice; All participants will be asked to contribute to collaborative work (in pairs or larger groups); The focus of this work will be Dambulla - the town, its people and the surrounding country. There will be an event/exhibition in Dambulla, on the last day of the camp. This show will be based on work done during the ten days of the camp and will be an initial focus for a dialogue between the visitors (from overseas and elsewhere in Sri Lanka) and those who live in this part of the island; The Dambulla show will be followed by an exhibition in Colombo at the Barefoot Gallery.

The precise nature of the work to be undertaken will, of course, remain the decision of the artists at the camp, as will the modes of working and the eventual results of that work..

The organising committee wishes to give Sri Lankan and visiting artists opportunities to investigate possibilities and limitations of emerging digital arts. At the moment (outside the commercial design world) there are relatively few opportunities for Sri Lankan artists to investigate the potential of these new media, so one reason for focusing the camp in this way is to give artists who are unfamiliar with digital media a chance to work with fellow artists who are all already doing so. Conversely, by ensuring that the work undertaken in the camp is collaborative, the organising committee wishes to encourage all of the artists at the camp to enter a dialogue about their own work and to have the chance to re-evaluate what they are doing, why they are doing it, and how their work is situated in communities (spatial, cultural, political ...)

Besides the local artists, Artlink 2001 international artist camp will have artists from UK (funded by the British Council), France (funded by the Alliance Francaise), Germany (funded by the Goethe Institut), India (funded by KHOJ), Australia (funded by the Australian High Commission). Requests will be made to Bangladesh and Japan to fund a participant from each of their coutnries.