Beaten up expert vows never to come again
While tension brews in the Nagoda area, a Malaysian consultant on an oil palm plantation in the area has vowed to leave the country as soon as possible and never to return after he was brutally beaten up by some thugs allegedly backed by political forces.

Hasan Aziz Bin Mohamed 62, told The Sunday Times he was beaten up with clubs and left behind in his room until the police arrived.

"It was around 1.30 a.m. when I heard the windows of my house being shattered. I did not realise what was going on until the gang broke into the house, pulled me out of my room and started assaulting me.They yelled at me 'Leave our country, we don't want oil palm. We love our country.' I then realised this attack was connected with the recent protests about the oil palm plantations in the area, Mr. Mohamed said.

Just before the attack the gang had driven away the watcher who in turn had rushed to the Udugama police.

"They punched me on the face, beat me with clubs on the back and thighs before leaving. None of them was masked," he said.

For Mr. Mohamed a former palm oil plantation consultant of the Malaysian government this was not the first overseas assignment. He had been to Sri Lanka last year and spent three months. In April this year he returned to Sri Lanka for a one year contract with the Watawala Plantations.

The protests over the oil palm plantations began recently when a group of villagers backed by the Nagoda Pradeshiya Sabha , started demonstrations, claiming their water ways were drying up and they had lost their source of fire wood as most rubber plantations were being abandoned to cultivate palm oil trees.

"I came to Sri Lanka because the company needed my services. I am not aware of environmental dangers. The environmentalist have proved this. In Malaysia we have large extents of these plantations and there has not been no major threat to the environment," he said.

Mr. Mohamed said the gang had also removed his passport and ticket leaving him in severe difficulty as under the Malaysian Immigration laws he would have to wait about 10 years to get a new passport.

"I came to Sri Lanka with enthusiasm. I am scared now. I am leaving the country soon as I am well and I won't come back," he vowed.

Nagoda Pradeshiya Sabha chairman Nishantha Muttetuwegama who has been spearheading the protest campaigns against the palm oil plantations denied involvement in the attack.

He said he was leading a protest campaign in the area as he believed palm oil projects were economically affecting the villagers though the environmental authority had ruled out environmental problems.

Udugama Sub Inspector Y.K.Metthananda said no arrests had been made so far and they were questioning the watcher who might be able to identify the gang.

Meanwhile more protests have been organised by the villagers backed by the pradeshiya sabha chairman. A protest is to be held today close to a nursery of the palm oil plantation.

Southern province DIG P.W.Prathapasinghe told The Sunday Times police would give full protection to the nursery.

---
Mahanayake bangs Maligawa door on DIG
By Shane Seneviratne
The Malwatte Mahanayake has declared the Dalada Maligawa out of bounds for the Central Province Police Chief after the officer allegedly demanded the key to a section of the hallowed shrine.

The order from the Ven Rambukwelle Vipassi Mahanayake Thera was given after Deputy Inspector General Mahinda Balasuriya reportedly demanded the key to a particular section on the basis he had to make special security arrangements for the visit of Minister Anuruddha Ratwatte.

The Mahanayake had later summoned the DIG to his chamber and told the police officer that the temple would be out of bounds for him until the special exposition of the Sacred Tooth Relic ended today.

The Mahanayake had earlier also condemned an incident where two Tamil boys who accompanied a Sinhala businessmen to the Maligawa were allegedly beaten up and arrested by the police. This incident also took place just before Gen. Ratwatte's visit to the Maligawa.

Several devotees also had reportedly complained to the Mahanayake about alleged harassment by police and the prelate had asked for action on those complaints also.

---
On Her Majesty's three-wheel service
By Nedra Wickremasinghe
We were driving our children to school one morning when we realised that we were following a DPL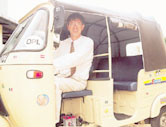 number plated three-wheeler which we hardly took notice of.

But, as we over-took the three-wheeler, what did we see much to our amusement?— a well dressed, dark suited gentleman behind the wheels. Interestingly, when I found out who it was, it turned out to be Martin Hill, the Deputy High Commissioner for Britain in Colombo.

Convinced that he is different and unpretentious, I set out to meet him.

Like any ordinary citizen at first, he found the three-wheeler a convenient mode of transport when stuck for a vehicle to do the short runs. He enjoyed it so much, he decided to buy one for himself. He had also thought of a motorbike but a three-wheeler in comparison, he found, to have more stability, safe, unobtrusive and convenient to nip through traffic. He thought this would be an ideal vehicle to commute to office and do the short runs in Colombo while his wife drove the Nissan to take the kids to school and shopping etc. Buying a three-wheeler was not easy for this diplomat who had to adhere to certain Foreign Ministry regulations — thus his application to buy a thee-wheeler was met with some apprehension. Here was an unusual if not unique request made by a high ranking diplomat for a low-scale vehicle, for his personal use and to be self-driven. Not surprisingly this request caused not only a flurry of confusion and curiosity among the ministry officials but created some suspicion in their minds. They doubted him acquiring or let alone driving such a vehicle when he had the choice of buying a British made Range Rover for that matter.

The officials had by now come to the conclusion that Mr. Hill could be buying it for his driver. Finally when the officials met Mr. Hill in person they were convinced of his sincerity. Reluctantly but tactfully they said that as long as he did not make money out of it by carrying paying passengers, the three-wheeler was his for all intents and purposes.

Having overcome the Foreign Ministry, he had to inform his colleagues at the British High Commission of his new acquisition. Their reaction to it was more acceptable, with comments like "how fun it would be" - "unusual perhaps" or "a bit eccentric don't you think".

True to his nature, Mr. Hill described himself as a man of simple taste, who doesn't attach lot of value to expensive material things. Very modestly he admitted that, unlike in the private sector, a person in the public service doesn't enjoy the same remuneration as the former — but Mr. Hill enjoys every bit of his work as much as he enjoys travelling around the country of his posting.

---
North, South children come together for peace
By Nilika de Silva
They are from two different parts of the country, the north and the south but they all have one thing in common. They are orphans of the ongoing war.

More than a hundred orphaned children and widows, from the South and the North have come together in a show of unity and hope, through a weekend programme organised by the Ranaviru Family Counselling Service.

The children ranging from eight years to 15 have been building bridges in the form of a drama for peace which will be performed at the BMICH this evening, while their mothers- the widows of war have been involved in a handicraft exhibition. The drama has been directed by Upul Wijesinghe who specialises in childrens' theatre.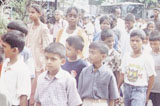 Children from Jaffna arrive for the programme, Pic by Gemunu Wellage
"Our aim is to create peace through these children," said Sergeant Subadra Palliyaguru a counsellor of the Ranaviru Family Counselling Service who added that families from different communities have been sharing rooms in a move to build trust and understanding for peace.
Voicing their sense of grief as well as hope were many widows who had come from afar with their children to attend this programme of unity. Seetha Premakanthi of Welimada in Uva Paranagama had lost her husband in October 1999, during the Ranagosha 5 operation at Periyamada.
"At that time I was pregnant with this child," Seetha said showing the baby girl in her arms. Now I wonder whether my husband's sacrifice was of any point. Even today when the children go to school, I am tense until they return home. I have no hate in my heart. When I see Tamil orphans I feel sad for them and I only wish these children could have the world their fathers wished them to have. "
"I think this kind of meeting is good, because we have the opportunity to meet other people who share a similar grief and are in the same position," said Kodiswaran Iswari (33) whose husband died in Navakkuli during an Army round up operation.
Saroja Devi (41) from Mannar lost her husband, a wood cutter, just seven months ago, when he was abducted from their home and killed. No compensation was ever paid she said. With six little children to feed, Saroja finds life a hard struggle. "Now it's only peace we want," she said.
"It is not enough for a child to have only a mother, they need a father too," said Dharmawathi Rajapakshe (29), from Polonnaruwa, the mother of three boys who lost their father in January last year. I came here for the sake of my children and their happiness, although it was difficult because I had to leave behind my baby of one and a half years.
Meanwhile the children were excited and looking forward to the unique experience they were to share. Trips to the Sathutu Uyana and the Zoo were also on the cards.
"A get-together like this is a great strength to us," said 13-year-old Sajani Nalika Kumari from Kandy who was participating at the event along with her mother and brother.
Sajani who hopes to become a teacher said she felt this kind of progrmme that brought together people from the north and south holds a glimmer of hope for the future.
A teacher from Jaffna, Bernard Lucia (45) was perhaps the only one who had visited Colombo before. When her husband was arrested as an LTTE suspect she had to go abroad to Singapore for ten years to earn a lving.
In 1995 Lucia's husband, her nine-year-old daughter and father-in-law were killed in a shelling raid.
Chairman of the Ranaviru Family Counselling Service Air Vice Marshall Harry Goonetilleke speaking to the war widows and orphans said this program was very close to his heart since he too had lost his son in the war. Solutions are at the peace table and not on the battlefront, he said.

---
JVP frowns on new jobs
By Shelani de Silva
The JVP has reiterated its objection to the Government's proposal to appoint ex-ministers and deputies to supervise the work of ministries.

After the JVP voiced its objections at a meeting, government leaders assured that MPs appointed to the supervisory committees would not be entitled to privileges of a cabinet minister or a deputy minister, but they would get a vehicle and small fuel allowance.

Meanwhile, several MPs were reported to be awaiting such appointments despite objections by the JVP.

---
Debt relief and more burdens
By The Sunday Times economic analyst
Ironically, at the same time as the government was signing an agreement to strengthen the rural financial system, it was undermining it. The across the board waiver of loan repayments, done at the behest of the JVP, was once again sending messages that agricultural loans given mainly by the state banks were not loans but dole outs, grants, gifts or whatever else you may choose to call.
It was a repetition of a story that has happened many times since governments began giving cultivation loans to farmers in 1947. Every effort to induce financial discipline among farmers to repay their loans has been matched by governments waiving loan repayments.
The story has been repeated often enough that farmers in many areas had themselves decided not to repay their loans this year expecting the government to waive repayment. This was based on a farmer expectation of an election.
Farmers knew that it was a matter of time when loans taken by them would be written off.
No doubt the move is a popular one. The JVP had it as an article in its memorandum of understanding as it could claim it was they who had given the gift.
They are likely to gain political popularity on this account in the rural areas. The PA thinks it would get the credit, may be it would. The loan waivers have been justified on two grounds.
First was the compelling one that drought stricken farmers should be given relief. No doubt these farmers would not have been in a position to repay their loans.
But this could have been handled through the credit system.
These farmers have taken crop insurance as a condition for obtaining loans and the repayments could have been offset by the insurance indemnity.
Besides this there were justifiable grounds to give further relief in the repayment of loans and to ensure that these farmers obtained credit for the cultivation of the next season. What is unsatisfactory of course is that the waiver is for all farmers and those that did not suffer from the drought will also be beneficiaries.
The second justification for the loan repayment waiver is that it is a part of the government's efforts to help farmers. It is said to be part of the assistance that the government has given farmers since 1994.
In fact as the JVP reminded the government it gave a similar waiver no sooner it came to power in 1994.
Our concern arises out of the fact that this regular pattern of loan waivers has been one of the important factors for the inability of successive governments to develop a viable and sustainable rural credit system.
Farmers have over time developed an attitude that the loans they have received are not expected to be repaid.
This attitude has been one of the important reasons for the very low rate of recovery.
The low rate of recovery results in a low proportion of eligible farmers. Once a moratorium is declared they become eligible and soon after they default and become ineligible.
For instance the rate of repayment in Maha 1999/2000 was only 65 per cent of the loans taken.
The amount of funds given is rather small compared to the needs of the rural community.
Only a small proportion of farmers has obtained cultivation loans. Given the low rate of interest and the possibility of not repaying the loans, many of those who receive loans may well be influential persons, officials and friends of officials, rather than farmers. The moratorium is expected to cost only about Rs150 million. This burden is not much though it would have to be borne by the taxpayer. At a time when the public finances of the country are in dire straits, it would add a further burden. However this is not the main issue. More significant is the act that this waiver will once again undermine the development of a viable agricultural credit scheme.
The day when a credit scheme reaches the bulk of our farmers, succeeds in recovering the loans and ensures the viability and sustainability of credit for rural needs is once again postponed by this action.
The writer Nimal Sandaratne is the former chairman of the Bank of Ceylon and the NDB.He was also attached to the thinktank Institute of Policy Studies. He currently teaches Economics at the University of Peradeniya.