---
In Brief
Mountain biking at Kandalama
The National Mountain Biking Association with the patronage of the Aitken Spence Group of Companies and Kandalama Hotel has taken steps to organize and conduct Mountain Biking Cyclecross events at Kandalama Hotel in a nature given track.

A gala of spectacular events for different categories of cyclist consisiting of senior and junior riders (male/female) will highlight the events scheduled to be conducted. The premier press briefing will be delivered under the patronage of the Kandalama Hotel and NMBA officers at Dambulla.
Basketball bounces high with ABFSL
Mini Basketball training programme organized and conducted by the Amteur Basketball Federation of Sri l Lanka and its affiliated member associations have caught the eyes of a number of young school-going children between the ages of 05 years and 14 years according to Major Rienzie Wijeratne, Hony Assistant Secretary, ABFSL and Hony Secretary Gampaha District Basketball Association.

The Federation completed three Mini training programmes each for six months with 150 children in each programme. The basic knowledge to know "How to play and know to play Basketball" was conducted by former national coaches and leading national players in Colombo and its suburbs.

In order to give more encouragement to the 450 participants who successfully completed the training, one Basketball each with playing kit was given at the carnival held after the training.

The 1st carnival was held at Holy Family Convent, Bambalapitiya in June 2000, the 2nd was conducted at Otter Aquatic Club, Bauddhaloka Mawatha in February 2001 and the 3rd was played at Boy's Town, Ragama in July 2001.
August Vacation Training
By popular demand from the parents of the Mini training programme to conduct a "August Vacation Training Programme" for Men and Women over 15 years to learn Basketball, ABFSL has started a two-day evening programme on Tuesdays and Thursdays at Otter Aquatic Club Basketball court. This is being conducted by member association Veteran Basketball Association and Otter Aquatic Club from 0600 P.M. each day by former national coaches and players.
The Sri Lanka Turf Club
The Sri Lanka Turf Club held its Annual General meeting on 11th August 2001 at the Capri Club. The following members were elected to the Committee to serve for the year 2001/2002:

Attygalle Dhammika, Chitty Ajit, De Alwis Shelton, Miss De Mel Rohini, Halahackone Bernard, 6. Jayawardena Niel, Perera Daya (PC), Perera Hemachandra, Premadasa Suranjith, 10. Senanayake Devinda, Senanayake Jayantha, Senanayake Sirimevan, Seneviratne Pemsit, Sinnathuray Rajah, Wijeratne Shehan.
Cardiff University Cricket Club on a successful tour in Sri Lanka
Cardiff University Cricket Club of Wales, UK, amidst all the problems encountered by Sri Lanka in the recent weeks arrived in Colombo on early this August to continue their 3-week tour.

'SAS' of UK cricketing ambassadors toured Sri Lanka in August 1997 and Zimbabwe in August 1999 and have planned their 2001 tour for the last one and a half years with Clubworld Sports Travel Limited based in the UK.

They defied every authority in these given circumstances and with the love and support of their parents graced our beautiful country which is now known in every part of the world for its cricket.

The support they received and the hospitality they were extended were second to none and this is testimony to the wonderful tour of England cricketers in Sri Lanka earlier this year.

They played 7 games in their 'shortened' tour and played and enjoyed the game as it should, where the result was irrelevant. Three games were played at the SSC, the premier Test grounds in Colombo, two games at Matara Cricket Club, one at NCC and one at the Police Park grounds.

They also had the opportunity of witnessing the Coca-Cola final between Sri Lanka and India, at the Premadasa Stadium on August 5.

Of all the 17 tours Clubworld has so far arranged throughout the world in a short spell of 5 years this was the most challenging and once again thanks should be extended to all those who spared no time or effort in making this a Sri Lankan and a cricketing Success Story. (B.W.)
Ambalangoda MMV beat Isipatana
Ambalanduwa MMV beat Isipatana by 2 goals to nil to win the Under-13 Schools title in the tournament conducted by the Football Federation concluded at the Sports Ministry grounds at the Race Course.

In the semi-finals, Ambalanduwa MMV beat Sri Abeytissa Vidyalaya, Ambalangoda by 7 goals to nil and Isipatana beat Wickremabahu MV, Gampola 3-nil.

In the quarter-finals, Isipatana beat Sri Sumangala Panadura 3/1, Ambalanduwa MMV beat Holy Cross College, Kalutara 4-nil, Sri Abeytissa MV, Ambalangoda beat Royal Colombo 2-nil and Ananda Vidyalaya Chilaw beat Wickremabahu MV, Gampola 2-nil.

I. Hassen of Ambalanduwa scored both goals for the champions and aggregated 17 goals in the tourney and was picked as the highest goal scorer with Chaminda Dilshan of Royal, Colombo being picked the best goal keeper while M.N.M. Razar of Ambalanduwa MMV picked as the best player of the tournament.

Maliyadeva College was awarded the Fair Player Trophy.
Peterites rattles Anandians
By M. Shamil Amit
Medium pacer Dilanka Peiris with figures of 4 for 26 had the Anandians rattled and helping the Peterites to register an easy 104 runs victory and clinched the title in the Under-15 Division One cricket final which was played at the Campbell Park on Monday.

The Peterites avenged the defeat they suffered against the same opponents in the semi-finals last year.

The Peterite juniors won the toss and elected to bat but were in deep trouble when they were 165 for 7 wickets in the 40th over but for some fine batting by the tail enders saw them get a respectable score of 219 for 8 wickets. Lahiru Peiris top scored with 37. Ananda started their innings cautiously with the score on 61 for 3 they lost three quick wickets and slumped to 61 for 6.

Dilanka Peiris with his pacies had the Anandians in trouble he also missed a hat trick and was well supported by spinner Hans Fernando.

This duo was too much for the Anandians and they folded for just 115 in 33.4 overs. The fielding of the Peterites was at its best. Pradeep Boteju top scored with 34.

Scores:

St. Peter's - 219 for 8 wickets in 50 overs (Prajeev Jansze 35, Buddhi Kulatunge 35, Lahiru Peiris 37, Umhar Samsudeen 13 n.o., Hans Fernando 35; Gayan Rupasinghe 2 for 37, Janaka Sumithiarachchi 1 for 35, Malith Gunetilleke 2 for 36).

Ananda -115 in 33.4 overs (Pradeep Boteju 34, Jayanga Denegama 18, Buddhika Abeykoon 10 n.o.; Dilanka Peiris 4 for 26, Hans Fernando 2 for 11, Malin Wickremasinghe 1 for 14, Delan Udugamasuriya 1 for 17, Shanaka Wickremasekera 1 for 20).
---
Kaushalya fights the odds
By Nilika de Silva
Swimming against the tide, 16-year-old Iroshani Kaushalya Kumari who returned this week after participating in the first Asian Swimming Championships held in Singapore has proved that talent and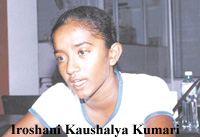 determination can make up for economic hardships.

Determined to make her name a household one, this teenager is fighting the odds, and trying to become a champion swimmer inspite of severe financial drawbacks.

Her's is a unique story. The daughter of a three wheeler driver, Diyagoda Gamage Iroshani Kaushalya Kumari, learnt to swim at the age of 12 when she followed her brother Nalandian Life-saver Dharshana Kumara into the pool. As a Life-saver at Mt Lavinia beach, Dharshana has saved about 38 lives. He is now a waterpolo player.

Kaushalya has represented Sri Lanka thrice at swimming championships abroad. In 1999 the K.C.R. NAASU Championship in Bangalore, India, in 2000 the Karnataka Swimming Championships in India and 2001 Asian Swimming Championships in Singapore.

She emerged Novices Champion at 14 and Schools under 14, 16 and Open Champion for four consecutive years.

A student of Ananda Balika Vidyalaya, her first coach was the school coach Kithsiri Fonseka. She started swimming at the Ananda Swimming Pool.

From Ananda Balika, Kaushalya is the first ever to represent Sri Lanka at an international swimming championship.

Last year Kaushalya went on April 19th to specialist coach E.A.G. Wilson. "Until today he trains my daughter without charging a single cent," Kaushalya's father, D.G. Premaratne said.

Beaming with the spontaneous pride of a father he added, "We are proud of her, she has excelled beyond our expectations".

"It is my wife T.W. Nalini Padma, who is always behind my daughter, as she takes part in practices and all other activities," he further said.

The youngest in a family of three, Kaushalya's two elder brothers have both left school.

Kaushalya who studied at Sanghamitta Vidyalaya until Year 5, participated in Netball, bicylce race, dancing and sports.

"However, Sports, Netball, dancing all stopped when I started swimming practices," she said. Except for Sundays on all other days Kaushalya has practices till about 8 in the night.

"Radiesha Daluwatte's parents helped us a lot. I got to know them when I joined Wilson Sir's squad last year. Wilson Sir was the coach of Radiesha who is presently in the States. General Rohan Daluwatte gave me the money for two of my trips abroad. We went to many companies for sponsorship but we did not get a good reception," Kaushalya remnisced.

"I really like, representing my country and participating with swimmers from other countries. The way they swim is very different. The swimmer who came first was in fact a 12-year-old," Kaushalya said explaining the strengths and advantages the foreign competitors possess.

Expressing disappointment that support had not been extended by the school for Kaushalya's participation at championships abroad inspite of the fact that she was the first student from Ananda Balika Vidyalaya to represent the country at such a meet, Kaushalya's father said it was indeed disheartening.

Upeksha is another swimmer who helped me. She is a swimmer who has set records. She bought Sustagen and other nutritious foods for me, Kaushalya said expressing her gratitude.

What we require to improve is willing sponsors, nutritious food (i.e Sustagen) and equipment, she elaborated.

And the next thing on the cards September 7,8,9, and the National Age Group Swimming Championship at Sugathadasa Stadium.

And what plans for the future "Sir is trying to make me also a swimming coach. He says he will move aside and give me his place," Kaushalya grins.

Kaushalya was a member of the Sri Lanka squad comprising 15 boys, 10 girls and seven officials, at the Asian Swimming Championships.
---
Let Galle Prisons make way for a Football/Rugby Grounds
By Rohan Jayatilleke
The interview of Bernie Wijesekera with the Minister of Tourism and Sports and published in The Sunday Times of July 22, 2001, captioned, 'Facelift for Football in Galle District', is most opportune and laudable. The Minister's response to broadbasing football, which is a game played by approximately 200 countries globally and now eclipsed both in popularity and money value by cricket played only by ten countries who are full fledged members of the International Cricket Council and now the highest sponsorship oriented game in the world, with bookmakers too making 'blood money' or 'sweat money' through match-fixing deals.

In this scenario, it is a ray of hope for football that in England, the home country of cricket, football games attract more crowds than at cricket, due to the 90 minutes of play in the evenings when the shadows lengthen, rather than sit it out for days on end over five days, in the summer, when summer could be better enjoyed in other pursuits.

The game of football, which was once a popular game, both at school level and club level in the districts of Galle, Matara, Colombo, Badulla, Nuwara Eliya (Hatton as well), Anuradhapura, Trincomalee, Batticaloa, Kandy (including Gampola and Nawalapitiya) is now gasping for breath, and would have been pronounced dead as a dodo if not for the action taken by a few football veterans (like Nevile Abeygoonewardena) and a few well-wishers of the game, to keep the game alive and kicking at least in minute manner over the years.

The first school to play both football and cricket in Galle was All Saints' College, Fort, Galle established by Christian Missionary Society in 1840 (subject to correction) as the first Anglican Church was established in 1819 at Baddegama, twelve miles from Galle along the Ginganga (river). This school produced great players and the family of Pandithas was the most outstanding in the game of football.

In later times another footballer of this school D.K. Podimahatmaya, who was taken into the Army by the caretaker Prime Minister Dr. W. Dahanayake, excelled in the game and finally passed away in harness, I believe, as a Colonel. The other schools to play football were in those far off days, St. Aloysius College, Mahinda College and Vidyaloka Vidyalaya, Galle and in Matara Rahula College and St. Servatius College, Matara. Of all these schools St. Aloysius College managed by Jesuit Catholic priests were the flag bearers of the game.

There was one Rev. Fr. Morelli, who I believe became the Rector of the College, was seen in the evening leaving his cassock aside and playing football with the boys. He encouraged and coached his College players.

Another name of a student footballer and later a name that came to be synonymous with football in Galle was Ben Fereira.

Another old St. Aloysius footballer, who was the Welfare Officer of the Prisons, Damien Alles, conducted the Galle District Clubs Football Tournament for many years with distinction and acceptance.

The game grew as the only ground available for football, athletics and cricket was the Esplanade centrally situated in the heart of the town.

In this scenario, although this writer has no direct interest in Galle, except the family vault where his kith and kin are resting, and permanently domiciled elsewhere, would suggest that the eye sore of the Prisons' buildings sitting in Kaluwella, and a vestige of British imperialism be shifted elsewhere, at least towards Kottowa and the vacant premises converted to a playground with a 400 metre track and fit for all ball games such as Football, Volleyball, Basketball, Netball, Hockey and Rugby. This move would provide ground facilities and also beautify the city.

It is hoped that the request of the Minister of Tourism and Sports Lakshman Kiriella to nominate a place for a playground, that this suggestion would be pursued by the Minister with the Minister of Urban Development and Public Utilities Mangala Samaraweera, who could under Urban Development Authority take appropriate action to have matters represented to the Minister of Justice to have the Galle Prisons shifted at least to Boosa (former Detention Camp) and make way for a football grounds in Galle, a crying need of the Sothern Province.
---
Sports surgeons here lack equipment- Dr. Siri
Dr. Siri Kannangara, expert in sports medicine, was here on how to assist and overcome injuries, suffered by sportsmen.

It was a two-day seminar where orthopaedic surgeons and their assistants and physiotherapists attended the lectures held at the Taj Samudra Hotel.

Dr. Kannangara was interviewed by The Sunday Times for his comments.

Q. Who were the other members of the team besides you?

A. David Young, from Melbourne, who has been of immense help to the Sri Lankan cricketers, Warrick Druce and Hans Vanderwall - a Sri Lankan, who migrated to Australia. He studied and completed his medical degree, there.

Besides the two-day seminar, the team held two full-day sessions in operations at the General Hospital.

He said the surgeons here are quite knowledgeable and have the skills. But to gain experience they need the equipment, which is a 'must' for orthopaedic surgery.

This is something the hierarchy should take note of and get down the equipment.

It really impressed us, the enthusiasm shown by those, who followed the course - included both men and women (especially) physiotherapists.

Once the equipment is provided there is no need for any injured sportsmen to go abroad to attend to their injuries, he added.

Dr. Kannangara said the team's visit to Sri Lanka to conduct this seminar was made possible due to the efforts of the Ministry of Sports, headed by Lakshman Kiriella, the Cricket Board's interim committee, Hotel Taj Samudra who afforded them with accommodation and the national carrier, Sri Lankan Airlines.

Q. Do you think it was a successful venture?

A. Yes, besides the party enjoyed the tourist attractions including watching the historic Kandy Perahera. Besides the orthopaedic team others who made the visit really enjoyed their stay. (BW)
---
Rover Pinpoints..
Sponsors told off
A leading sponsor of a popular sport was told off by a leading club in the outstations that they do not need their publicity, as they are getting enough, through the media. What a come down!
Double standards
How is that a coach from the services was not allowed duty leave to accompany a Sri Lankan team on a tour abroad, but Rover learns the rule was not the same concerning another official from the services in another sport. How strange!
Bad form
An outstation team playing in a tournament match at a leading club in Colombo were robbed of their belongings including their money and had to go on bended knees to find their way back home. What a shame on the club who had hired the grounds and what about the Association concerned?
Factions at work
Rover learns that two services are at loggerheads in the medal winning sport. This is a bad omen for the promotion of the sport, with officials also being split into groups. Hence the in-fighting.
Cannot be contacted
The treasurer of a women's sport which conducted a prestigious tournament recently cannot be contacted at all, and she is not even returning the calls to clarify matters regarding the finances involved in conducting the championships.
Another world President?
Sri Lanka is vying for the post of President this time in a popular women's sport with the elections fixed for next Friday, August 31 in Singapore.
The question posed since the voting is in secret ballot, is as to what would happen. The NOC in Sri Lanka has faltered in not canvassing for the post, which no doubt would have paid rich dividends.
Cut down
What a way to insist on cutting down the participants from a majority of sports for participation of the next month's SAF Games in Pakistan. A reputed swimmer spelled it out, where he tagged the SAF Games as Sri Lanka's Asian Games. Then why the cut? But Rover wishes to understand whether there will be a reduction of officials than participants and those going as observers. Time will only tell going through the experiences undergone at the World Championships in Canada.
Please name it
News is around that the whole Pallekelle complex is handed over to Government contractors with a hope to stop unwanted money being spent, Rover wants to clarify whether to whom the laying of the turf wickets has been entrusted to, certainly not to a Government Contractor.
What a loss
Is it true that the Cricket Board signed a contract with a TV at a loss running into millions.
SLBF team to Malaysia
Rover is informed by a Vice President that the National team that was selected for the five Nation tournament in Hong Kong and who did not take part will tour Malaysia with addition of few blue eyed boys of one of the officials early next month to play in a friendly Club tournament. Who approved this tour? Over to you President SLBF?
Secret Meetings of Officials
Rover is informed by one of the officials who attended the Secret meeting in a Girls' School at Nugegoda about the tour to Malaysia, he asked why are the officials keen to go on a foreign tour and why the President, Sri Lanka Basketball Federation did not attend this meeting, when they are keen to go as a National team. Over to you Minister of Sports?
---
Sunil Senaweera for AFC course
The Football Federation of Sri Lanka has nominated Sunil Senaweera to participate in the AFC Course for National and Regional Referee instructors in Kuala Lumpur, Malaysia. This course will be held from August 28 to 31, conducted by the Asian Football Confederation.