Romani de Silva - cynosure of all eyes
Romani de Silva's persistence paid off in real style when he raced to first place in both the National and the much fancied international class. In round II of the Colombo Prokarts all island championship, Romani's tireless efforts to set up his kart to perfection is a good example for the karting fraternity to follow. Championship contenders in the international class Randy Batcho, Dejan de Zoysa and Yoga Perera will have to move a notch or two to keep up with the blistering pace set by de Silva.
In the national clas Niroshan Perera drove a steady race to come in second with Yohan David in his first season coming in third.
Dhanuka Nadeera, a former Prokart Champion, was clearly in a different league in the Yamaha Class Racing to the chequered flag in both heats well ahead of second placed Zackie Ismail. Manjula Kumara came in third, upsetting fancied Sampath Karunaratne.
In the final event of the day, the open class, Thomian schoolboy Dejan de Zoysa driving for Caltex was placed first followed by Yoga Perera in second place and S.A. Duminda in third.
Round III of the championship will be held today at 10.00 am at the Empire Circuit.
The Motor Racing Association (MRA) who revived Gokarting two years ago are conducting this all island championship for the third consecutive year.
Colombo Prokarts the cradle of Motor Sports in Sri Lanka are the promoters and sponsors of this six round championship.
---
Swimmers locked out of their hotels in Singapore
By Annesley Ferreira
Come what may, Sri Lanka were exposed to the minimum with new- comers Macau winning two gold medals and a silver beating much more fancied swimmers at the inaugural Asian Schools Championships held at Toa Payoh Sports Complex Pool which ended last week.
Of the affiliated countries, 11 of the 15 participated with Hong Kong emerging overall champions winning 13 golds followed by Singapore 5, Malaysia 4 and Macau, Indonesia and Thailand two golds each.
What Lanka lacked
Speaking to senior officials of Thailand and Hong Kong, they were of the view that the Lankans showed well on the basic skills, but lacked motivation when pressed for their opinions.
Talking about the preparations made by the countries, they spelled out that they had an age group, be it the under 13,15,17,19 or at national level in training under different coaches not depending on the meets to come. They were trained in anticipation and good swimmers when overage were transferred into the higher age groups with talented swimmers joining the fray, picked purely on merit.
With readiness for any coming meet, without waiting for meets to be announced, the swimming authorities should take a clue and follow suit.
Last to arrive last to go
Sri Lanka was the last to arrive and last to go, which really put the swimmers in a state of worry on the last day, where they were locked out of their rooms for no fault of theirs by the hotel authorities at 12 noon perhaps with the knowledge of the organisers.
All belongings of the boys had to be accommodated in the Manager's room while those of the girls were shifted into the lady officer;s rooms.
Media lapses
The media were allowed to find their own ways and means of writing down their notes on their laps without even a table being provided for them.
True enough, the meet was a successful one hosted by the Sports Council of Singapore.
---
Gayan is diving Captain
Gayan Ranatunaga has been appointed Diving Captain for the first Asian Swimming and Diving Championships, to be held in Kowloon, Hong Kong. He has represented the country at 7 Asia Pacific Swimming and Diving Championships, and has won medals and Diplomas including a silver medal.
He represented the country at the 13th Asian Games in Bangkok, Thailand at the age of 13. He and Gihan Ranatunga are the only two brothers to have represented Sri Lanka at an International meet.
Gayan represented the county at the World Games in Czech Republic and was awarded the 3rd place in the semi-finals in the platform category and the only diver to qualify for the finals.
He was awarded the Kingston Challenge Cup for the Under-14 age group in Melbourne, Australia and was the winner of all 4 Penant Diving Championships.
He is the only diver to have been selected to perform exhibition diving for the 13th Asia Pacific Swimming and Diving Championships in Malaysia.
He was overall national diving champion for men for the last three years and is the only diver to pass the 450 mark in Sri Lanka after Janaka Biyanwila who trained in America and won the Andy Vitharana overall challenge cup for diving for the last 3 years. Gayan is the holder of many Sri Lankan Colours, National Colours, Public Schools Colours, NAASU Colours and College Colours.
His brother Gihan Ranatunga, is the only swimmer to have represented the country in both swimming and diving at international meets and won several medals and Diplomas.
Harini Jayasekera of Visakha Vidyalaya was the overall captain with Arun Karunaratne of asian international School the overall swimming captain.
---
Kandy hoodoo strikes Lanka again
Ganguly, Dravid pilot India to smashing victory
By Aubrey Kuruppu
India pulled off an ultimately facile seven wicket win on the stroke of tea to level the series one all at the Asgiriya Stadium last afternoon, the fourth day.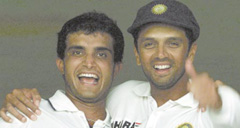 Indian captain Saurav Ganguly (L) and teammate Rahul Dravid celebrate after beating Sri Lanka by seven wickets REUTERS
Ramesh (to a lesser extent), Dravid and Ganguly assured their team of this superb come-from-behind triumph with sound positive, skilful and exhilarating stroke-play. The driving of Dravid and Ganguly was joyful to behold - the Indian skipper's team trot seems to be over and this doesn't bode well for the Sri Lankans in the next test.
Sri Lanka's bowlers failed to deliver when most needed on a track that hadn't deteriorated and was still a good wicket even late on the fourth day. At least three chances were put down and had they held on them it may well have been a different story.
Sri Lanka needed wickets quickly when play resumed on day four, but the overnight pair of Ramesh and Dravid had other ideas. They had decided to be positive and this paid dividends. Dravid forced Muralitharan through the covers on three occasions and played several other good shots of which a resounding pull off Vaas stood out.
Ramesh had studiously avoided cutting at the rising balls outside the off stump. But at 103 , after he had added 61 for the second wicket mini Dravid, he flirted with one and edged a head-high catch to Jayasuriya.
Ganguly came in and capitalized on the good start his earlier batsmen had given him. His driving through the off side was silken-smooth and he looked at ease. Muralitharan made a brilliant one-handed effort at point to catch Ganguly but failed. This was possibly the straw that broke the camel's back. Dravid survived a scare or two off Muralitharan but in the main he batted with great authority and control. His driving off front foot and back was quite superb. It came as a bit of a surprise when, at 75, he pushed towards to Muralit-haran and gloved a simple catch to silly point. (194-3-75)
Sensing that the door was slightly ajar Sri Lanka redoubled their efforts. Fernando was brought back and he really bent his back. He almost disposed of Ganguly when he essayed a hook and made a terrible bash of it. Next over, Fernando hit Kaif on his left shoulder. Ganguly reached his fifty with a push to mid on. This was his first in fourteen innings. Lean times indeed for the elegant Indian skipper
Ganguly got some of his own back, square-cutting Fernando to the boundary. The ball travelled like a tracer bullet and it was the shot of the day. He followed up with some cracking shots through point. However, he did have a few problems with the rising ball. He edged once and Arnold put it down at slip.
Kaif kept his skipper company and played several neat, precise shots. Sri Lanka dropped a few chances and this prevented them from making it a closer contest.
Ganguly seemed to lose concentration in the early nineties and had a few ungainly swishes at Fernando. Kaif finished off the match by flicking Vaas to the fine leg boundary, leaving his skipper with bitter sweet memories.
Yesterday's setback was Sri Lanka's third successive defeat at Asgriya.
In earlier series's Sri Lanka lost to South Africa and England in the Asgiriya Tests after beating them in the first Test in Galle.
Scoreboard
Sri Lanka first innings 274
(Mahela Jayawardene 104, Zaheer Khan 3-62)
India first innings 232
(Sadagopan Ramesh 47, Chaminda Vaas 4-65)
Sri Lanka second innings 221
(Muttiah Muralitharan 67, Venkatesh Prasad 5-72, Zaheer Khan 4-76)
India second innings (overnight 55 for one)
S.Das b Muralitharan 19
S.Ramesh c Jayasuriya b Fernando 31
R.Dravid c Arnold b Muralitharan 75
S.Ganguly not out 98
M.Kaif not out 19
Extras (b-4 lb-2 nb-16) 22
Total (three wickets, 78.4 overs) 264
Did not bat: Hemang Badani, Sameer Dighe, Harbhajan Singh, Zaheer Khan, Venkatesh Prasad, Harvinder Singh.
Bowling: Vaas 20.4-9-42-0 (nb-8), Fernando 16-4-64-1 (nb-5), R.Perera 9-2-26-0 (nb-1), Muralitharan 25-2-96-2 (nb-1), Jayasuriya 3-0-12-0, S.Perera 3-0-11-0 (nb-1), Arnold 2-0-7-0.
Result: India won by seven wickets
First test: Sri Lanka won by 10 wickets
Third test: Colombo, Aug 29-Sept 2
---
Army rock Kandy SC 27-20
By Bernie Wijesekera
Battle scarred Army ruggerites displayed a superb brand of robust rugby to outplay table leaders Kandy SC by 27 points (2 goals, 2 tries and a penalty) to 20 (2 goals and 2 penalties) in a rousing second-leg match before a large crowd at Galle Face yesterday.
At the turn around the soldiers led 12-10. In the first leg Kandy beat them 30-20 at Nittawela.
Though beaten Kandy continue to lead the table losing two games to CR and the Army. However the soldiers dropped two games to Kandy and Police and held CR&FC to a 15-all draw. They continue to be in second place in the table of points.
Next weekend Kandy take on CH in Colombo and Army are the guests of the CR at Longden Place. Even if Kandy lose the next game, they are assured of the A Division league title as they possess better bonus points.
In yesterday's match the soldiers provided the sparks and fire to the echo of their fans, who shouted themselves hoarse, 'Go Army, go'. They played to a plan and in the end the much fitter Army outwitted their seasoned opponents with a never-say-die approach.
Army's 'man of steel' flanker Karunaratne played his heart out in the loose. Karu led from the front and the entire back division co-ordinated to dissect the Kandy defence. In the initial half Army could have scored twice, but fluffed with the ball where the three quarters erred with the line staring at them,
The Kandy defence stood firm and thwarted many Army moves with their cover defence. Nalaka Weerakkody in the last line, played well with his booming kicks to touch and took much of the pressure off, Kandy lost a lot of their sting in the pack when Haris Omar moved out early in the first half.
Referee Dilroy Fernando.
TODAY: Police vs CR at Police Park at 5 p.m.
---
Countries confirm
All countries have confirmed their participation for the Singer/Sri Lanka Airlines Sevens Rugby Championships to the held at the Bogambara International Stadium.
Sri Lankan Airlines are offering several facilities for this championships including attractive fares for the teams while complimentary travel has been offered to officials, international referees.
TV commentators and to those of the International Rugby Board.
---
Afzaal leads England fightback
LONDON, Aug 25 (Reuters) - Usman Afzaal hit his maiden test 50 and added 89 with Mark Ramprakash as England, replying to Australia's 641 for four declared, moved on to 259 for five at tea on the third day of the final Ashes test.
The partnership, ended just before the break, kept Shane Warne waiting after the leg-spinner took two early wickets in the morning to take his tally to 399 test victims, leaving him on the brink of becoming the sixth man to reach the 400-mark.
The home side, however, need several more major stands, with 183 still needed to avoid the follow-on at The Oval.
Afzaal, after a breezy 54 off 76 balls including nine fours, was caught by Jason Gillespie at long-leg from a top-edged hook off Glenn McGrath, leaving Ramprakash (43 not out) and Alec Stewart (one not out) at the crease.
Warne, opening the bowling in the morning and reeling off an unbroken spell of 13 overs, had removed Marcus Trescothick with the fifth ball of the day before accounting for Mark Butcher in his seventh over.
The left-handed Trescothick, so fluent on Friday evening as he raced to his half-century, survived a big lbw appeal off his first ball of the morning from the leg-spinner before being bowled with the next as he failed to cover his leg stump shaping to glance to leg.
Trescothick's 55 came off 57 balls, including 11 fours. Butcher departed soon after for 25, an attempted leg-side drive off Warne ballooning off the left-hander's pad and looping to Justin Langer at short-leg to leave England wobbling on 104 for three.
---
Shalini in line for three titles
By Bruce Maurice
Shalini Perera put herself in a position of winning a triple at the 86th Senior Tennis Nationals played at the National Tennis Vourts yesterday.
Shalini partnered by Chhaya Beling won her first title defeating Sobhini De Silva and Oosha Chanmugam the bottom seeds in the women's doubles final 6/3, 6/4 yesterday.
Shalini is down to meet Sobhini De Silva the top seed in the women's singles final today.
Today's line up will be the men's doubles final between Jayendra Wijeyesekara-Rohan De Silva versus Rajiv Rajapakse-Renouk Wijemanne. The mixed doubles semi final between Shalini Pereira-Rohan De Silva versus Maheesha Seneviratne - Ganendran Subramaniam will also be played today.
In the women's consolation final Thiyumi Abeysinghe beat Tavindra Ekanayaka 6/2, 6/2.