---
Royal cling on to unbeaten tag
Peterites lose 6-14 in much looked forward to schools rugby game
By Bernie Wijesekera
In a game marred by frayed tempers, tantrums and unruly behaviour by a section of the crowd during the second half, Royal scored a hard fought 14 points (a try and three penalties) to 6 (two penalties) win over St. Peter's in a schools rugby match at Reid Avenue yesterday.

At the turn around the scores were deadlocked at 6 each. This clash where two unbeaten teams locked horns was eagerly looked forward to with great enthusiasm by rugby followers. However, rugby wise it failed to churn out the expected excitement and running rugby was at a stand still. Both teams indulged in aimless kicking and never opened out the game despite winning much of the good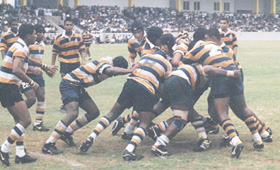 ball.
The Peterites suffered most as a result, despite winning some loose heads. They failed to run the ball with their backs and paid the price for it dearly. They failed to break the 10-year-old jinx to beat the Royalists.
The first half was evenly matched. Dev Wijewardena playing as fullback took much of the pressure with his positional play and was a tower of strength in defence. In the third minute Wijewardena put Royal into the lead with a penalty kick. Four minutes later Dev fired another spot kick 30 yards from an oblique angle to lead 6-0.
Referee Mahinda Jayawardena was constantly seen blowing for infringements.
St. Peter's were rewarded with a penalty kick in the ninth minute. Flanker Grahame Berenger obliged to make it 6-3. The forwards played a furious game in the loose and lost their tempers at times. Referee Jayawardena had to caution and warn respective captains to control their temper tantrums.
Royal lost a loose head ten metres out. The Petes for once decided to move the ball with their back division which resulted in a penalty where Berenger made no mistake to make it six all at the breather.
The second half turned out to be a hotly contested affair. A Royal player was spotted for unwarranted play by the linesman. The Petes could have got the lead, but Berenger fluffed a simple kick in front.
In this half No. 8 Mario Oorloff took the field, but couldn't answer his team's clarion call when the Peterites failed to move despite gaining much possession. Royal's centres, skipper Kaluarachchi and Rajith Jayasundare, No. 8 Suren Mendis and Dushantha Lewke in defence played their hearts out to contain the hardy Peterite 'eight'.
The Petes scrum half must take some of the blame for not moving the good ball from the base which cost them dearly. Royal was awarded a 40-metre penalty. Wijewardena's kick lacked direction. Scrum half Zulkarnain Hamid made a daring zig-zag 30-metre run. Royal failed to score when they lost the loose head five metres out. However they were rewarded with a penalty.
Wijewardena fired over the crossbar to lead 9-6. Berenger missed a sitter in front when Royal's forward donning the No. 9 jersey was booked for unwarranted play. At this stage the game was halted for stone throwing from the open stand. In the end the game was played in semi-darkness.
During the dying stages, Hamid provided the fireworks with a cunning move. He slipped the ball to the threes to get their act together. Fly half Kishan Perera cut loose and scored the only unconverted try to help Royal lead 14-6.
A belated move by the Peterites to run the ball saw winger Rinaz Mohammed making a daring run down the field but he was thwarted by the cover defence. The Petes ran out of time when referee Jayawardena blew no side.
In the Junior game Royal drubbed St. Peter's 49 (4 goals and 5 tries) to nil.
---
What went wrong with Sri Lanka?
By Annesley Ferreira
From the start of the World Cup Asia Zone Group 5 first and second legs, the first played in Beirut and the second leg played in Bangkok, Sri Lanka were playing very much on the defensive as told to The Sunday Times by Trainer Markus Ferreira.

Playing with one striker kills the effort of winning matches with no doubt puts the pressure of the Sri Lankans defenders only to stall much goals scored against which according to many experts the purpose is lost.

Having watched the three second leg games played in Bangkok, one wonders as to why this negative approach is insisted in the mode of play displayed by our footballers.

Taking a look at Thailand and Lebanon, one would no doubt notice the differences of the mode of play, which saw them score heavily against their opponents.

Lebanon scored as much as 26 goals with five against them while Thailand notched up 20 goals with five scored against them, while both Sri Lanka and Pakistan had 20 and 26 goals scored against them. Thailand needing just a draw to become the champions in Group B, nearly paid the penalty losing to Lebanon on which decision, with equal points, they should have qualified to the next round, with more Middle East teams, qualifying to the only spot play-off with Japan and Korea already in the line-up for World Cup next year.

The other countries that booked their berths into the next round, playoffs to be played in two groups of five each are Oman, Iran, Qatar, Bahrain, Iraq, Uzbekistan, United Arab Emirates, China and Saudi Arabia. Sri Lanka losing two matches to Thailand and Lebanon in the first leg and drawing with Pakistan, lost to the same two countries but redeemed some lost prestige defeating Pakistan by 3 goals to nil, tasting the sweetness of victory after 1998, winning the SAF Gold Cup under coach P.D. Sirisena in Nepal.

Thailand's Ace Striker Kiartisak Senamaung (No 13) was the star of the day, scoring a brace of goals in the hosts' 3-0 win over Sri Lanka in the opening match of the Group 5 Asian World Cup Qualifying, second leg at Supachalasai National Stadium.
---
St. Anthony's triumph
In an absorbing schools rugby encounter at the Thurstan grounds between St. Joseph's and St. Anthony's Kandy played yesterday the Antonians, after being led 6-3 at half time, pulled out all their tricks to overcome the Josephians by 20 points (1 goal,2 tries, 1 penalty) to 11 points (1 try, 2 penalties).

The Josephians were expected to go down tamely but that was not to be. They played a better game and surprised their critics by taking a 6-3 lead by two penalties put over by full back Rangana Bandara. Skipper and fly half Tikiri Dissanayake put over the penalty for the Antonians.

In the second half the Antonians playing with much caution managed to put in three tries through full back Chamara Waidyaratne, scrum half Prasad Chaturanga and flanker Asela Rajaguru with skipper Tikiri Dissanayake converting one. The Josephians try was scored by winger Kamal Jayatileke.

Referee: D.Nimal. -MSA
---
Singh defies Australians
WORCESTER, England, June 2 (Reuters) - Opener Anurag Singh defied the Australians with his maiden first-class half-century for Worcestershire on Saturday.

Singh hit 62 as Worcestershire struggled to 120 for five at lunch in reply to the touring team's first innings of 351 on the second day of the three-day opening tour match.

Glenn McGrath, playing against the county for whom he had a successful season last year, has caused them most problems by taking three for 31. Singh, however, was in fine form to lift his side after the early dismissals of Graeme Hick and Vikram Solanki, hitting 10 fours while making his runs off 117 balls. After Worcestershire resumed on 50 for one, their skipper and England discard Hick faced only three balls before he prodded forward to McGrath and was caught at first slip by Shane Warne without adding to his overnight score of 19.

McGrath's early success in overcast conditions brought in Vikram Solanki to join Singh, who is in his first season with Worcestershire following a move from Warwickshire. Solanki managed just three before he moved on to the back foot and was trapped leg before by Damien Fleming, reducing the county to 67 for three.

A shower delayed play for 18 minutes, after which Singh completed his half-century by cutting paceman Nathan Braken for four, which also brought up his side's 100.

However, David Leatherdale departed four overs later when he was snapped up behind by Adam Gilchrist off Braken for 22, having added 42 with Singh.

Singh fell shortly before lunch when he pushed forward to McGrath and was caught by Gilchrist after an innings lasting 156 minutes.
---
S. Thomas' gain win over Trinity
By M.Shamil Amit
In a rousing game of rugby dished out at Longdon Place yesterday S. Thomas' pulled off a thrilling 3-0 win over Trinity. At the breather the scores were deadlocked at nil all.

In the first half both teams played cohesive rugby with neither side caving in. The Thomians, however, had plenty of chances of surging through to a lead but due to some silly mistakes and penalties being kicked astray, they lost that opportunity. Scrum half Dilsiri Welikala missed three easy penalties in this half and Trinity too followed same.

On resumption it was no quarter asked and none given. Both teams were at loggerheads and again Dilsiri Welikala missed an easy kick right opposite the post and it turned out to be a ding dong battle. In the 23rd minute of the second half Thomian fly half Wasim Thajudeen made no mistake with the penalty and put the Thomians in the lead, immediately after that the Trinitian skipper and full back Thisal Jayawardene grassed a penalty and with it went a chance of equalising. In the dying stages of the game Thisal Jayawardene missed another penalty and with it went the long whistle.

Referee: Shamrath Fernando. Trinity had the consolation of winning the junior game 15-5.
---
Pigera loses to Kumara at SAF long jump trials
By Bruce Maurice
The highlight of the first SAF athletic trials was the defeat of the national record holder in the high jump Rangana Pigera on the first day of the three day trial held at the Sugathadasa Staium yesterday.

Pigera who holds the Sri Lanka record of 2.10m could only sail over the bar at 2.01m.

Manjula Kumara of Sri Lanka Lions won the event clearing 2.07m. Pradeep Nishantha of Lanka Lions won the javelin throw for men with 66.80m. The shot putt for women was won by C.A.B. Jayasekera of Kandy DAA with 11.14m and the women's long jump by Pradeepa Herath of Track Masters with a leap of 5.96m. All the reputed national athletes were notable absentees at the first trial. The trial will be continued today.
---
Army win 6-3
Army beat Navy by six points (two penalties) to three (a penalty) in their Inter-Club 'A' Division rugby encounter at Welisara yesterday.

No scoring was done in thefirst half.

This competition is sponsored by Caltex.

At Nittawela Kandy SC will clash with new comers to A Division rugby, Kandy Youth, in a home town battle. The former should have their own way to win this tie though some of their players are now turning out for Kandy Youth.

In Colombo defending league champions CH&FC take on Old Zahirians. The champs should have their own way. In this game lock Nazim Mohammed, who was sidelined due to injury, will have a workout for CH againstthe rugger Old Zahirians (BW)
---
Rover pinpoints…
Ethnic conflicts in sports?
It was a surprise to see an official representing an outstation club at the executive committee meeting of a popular sport after he had failed to get himself elected to the top job.

This time he challenged the President who was elected by majority of votes saying that he is not qualified to hold office and that he will bring a tiger (kotiya) for the President to run out of office. The same official has also raised a question about three brothers being in the executive committee.

What followed was the President calling the Ex Co members to order in strong words and more such encounters are bound to follow. The President's followers ask whether the monthly executive committee meets will develop the sport or to bring ethnic conflicts into sports as well.
---
Reader's Viewpoint
Royal-Isipatana rugby
Having read Bryan Baptist's Rugby Column of last Sunday, it was very startling to note that he did not know the name of Isipatana rugby coach, therefore he resorts to the terminology "coach", whereas he does know all the coaches of Royal including former foreign player's historical data. The other element is how he points out Isipatana players' abilities without naming conventions. For instance, he refers to Isipatana players by positional play rather than their actual respective names. For Royal, it is with the players' names with complete syntax and their prowess.

Is it fair to write articles of this nature to favour a particular side with more grandeur and glory while the other side has more like step-motherly treatment? This made me feel baffled to conceive how on earth he got the opportunity to publish reviews (articles) favouring only a particular team while the yardstick should have been with total unbiased impartiality.

Nalin Kaluarachchi,
Nawala.
An Odyssey of Rugby
Adapted from an article written by Mr. S.B.L. Perera, who led the first Thomian Rugby Team for a school encounter in 1955 and later captained in 1956.

The seeds of rugby at STC were sown on the playing field of Longdon Place somewhere around 1953. By 1954 those who were at CR commenced 'Thomian Tigers' and apart from Thomians, in it were Peterites, Josephians and Wesleyites.

There was much support, encouragement and advice given by the giants of Rugby in that era namely Ashey Cader, Geoff Wieman, H. Numan, A.K. Dorray and mostly by the then All Ceylon captain Mahesh Rodrigo whose services we were fortunate enough to obtain as the first coach of the College.

Warden De Saram at the commencement of the second term, made the historic announcement at assembly appointing K.S. Anandan as the first captain of the College and the writer as the vice-captain. The first match was against Trinity.

The big day dawned when the Thomians were, for the first time, run on to the Rugby grounds at Longden Place. Unfortunately, captain K.S. Anandan was down with 'flu' and I had the distinction of leading out the first Thomian outfit.

M.G. Ratwatte led the formidable Trinity side, with a long tradition in the sport. However, a great demonstration of the Thomian 'grit' was seen when the unbeaten Trinity XV was held scoreless forty-five minutes and it was a drop goal by Ken de Joodt, which commenced the scoring for Trinity.

Anandan was back to lead the team against Royal College, our traditional foes, led by another stalwart "Puggy" (C.V.) Gooneratne. Though we lost to another experienced team, we put up another superb performance.

In 1956 we were committed to a more fuller season with new encounters against Wesley and St. Joseph's, St. Peter's as well as Trinity and Royal. The dedicated boarders of STC sacrificed half of their vacation for practice and even arranged their meals from homes close to College as the kitchen was closed. From the 1955 team we had three Cader brothers, "Patchy" Bulankulama, Rohantha de Silva, Tissa Molligoda and I being available during this season the Under-17 team too was started. The season started with a bang with STC defeating St. Peter's on their home grounds. Having the encouragement of beating a team, which had played Rugby since 1930, we went on to win the next two matches against Wesley and St. Joseph's. The Royal Thomian was the next and continuing in the good performance we held Royal to a scoreless draw and we were proud to have held a team, which was vastly more experienced. Finally, we travelled up to Bogambara with Lassie Abeywardena, our Master-in-Charge, to meet the Trinity team, which is today considered as one of the best the College had ever produced.

For some unknown reason, half the ground was mowed and the other half was ankle high. The referee A.C. "Jonnie" Walker dropped his whistle in the uncut area and the match was suspended while the thirty players, on all fours were searching for the whistle. The match resumed after the whistle was found, to the amusement and laughter of the crowd with "Jonnie" Walker going red in the face.

The match itself proved to be difficult with Trinity playing a cohesive brand of Rugby. We were beaten 23-3 which could be said to be a fairer result in the context of the strength of the two teams.

All in all '56 had a very satisfactory season winning three matches, drawing one and losing one only in our second year and two of our players namely Ifthikar Cader and Rodney Ingleton were selected to represent the first ever Combined Schools XV. In retrospect what a few of us set out to achieve in 1955, can only be measured by the current strength of Rugby at STC where the College team has come up to the top rung of all Rugby playing schools. Our grateful thanks to that great Thomian, "Legal Eagle" Noel Gratien to have presented the case so as to convince the then Warden Rev. Cannon R.S. de Saram to commence Rugby at the College.
---
Splashing to glory
The National Amateur Aquatic Sports Union (NAASU) Novices Water Polo tournament took place last Sunday at the Otter Aquatic Club, with an unprecedented 19 teams vying for honours in three leagues. The record levels of participation and interest shown by the participants in this tournament augur well for the efforts of NAASU's fresh and ambitious management team.

Chief Guest at the occasion was Gamini Nithikumara, President of the Otter Aquatic Club, accompanied by Wing Commander S. Senaratne, President of NAASU, and Gavin Amarasinghe.

One of the most significant aspects of the tournament was the inclusion of a separate championship for outstation-based clubs and schools. Five men's teams from outside the traditional water polo stronghold of Colombo vied for the Outstation Clubs' and Schools' championship. These included two teams from Dharmashoka College, Ambalangoda, and one team each from Mahinda College Galle, Nawaloka Swimming Club Gampaha, and, the ultimate victors, Panadura Aquatic Club. All the teams in this league should be commended for their enthusiastic approach to the sport, and their impeccable adherence to its rules and its spirit.

Along with the outstation league, a five-team league of Colombo Women's Clubs' and Schools' teams and a nine-team league of Colombo Men's Clubs' and Schools' teams competed for their own respective championships.

The Women's league was made up of teams from Bishop's College, Ladies' College, Navy, Otter Aquatic Club (OAC), and St. Bridget's Convent. St. Bridget's Convent emerged victorious in this league, beating OAC in the finals with a score of 5-nil. Ladies' College, which has dominated the overall women's scene for sometime now, can be judged to be victims of their own success, fielding a young team that nevertheless put up a commendable performance. Bishop's College and the Navy ladies also impressed spectators with their spirited performances, and promise much for the future.

The Colombo Men's Clubs' and Schools' league, the largest of the three, with nine teams, underlined the growing popularity and the increasingly high standards at which the game is practised in the country. The league was made up of teams from Air Force, Army, D.S. Senanayake College, Kinross Swimming and Life Saving Club, Nalanda Col1ege, Navy, Otter Aquatic Club Royal College Union Aquatic Club and S. Thomas' College, Mt. Lavinia.

The Colombo men's teams did not fail their supporters, putting up spirited displays of good tough water polo, competing fiercely but fairly, in a truly competitive spirit. Army, DSSC, Kinross, Nalanda and Navy should be commended for their efforts to field competitive and disciplined teams, putting up performances that sent a clear signal that they should not be taken lightly in any future competitions.

The remaining teams, namely Air Force, OAC, RCUAC and STC, represent four of the big names in water polo, and did not fail to provide teams worthy of their reputations.

The day's proceedings were capped off with a climatic finale of epic proportions that the organisers could not have even dared to hope for. Following the finals of the Outstation league, in which Panadura AC beat Dharmashoka 'A' 4-2, and the Women's league, which St. Bridget's won 5-0 against OAC, the finals of the Colombo Men's Clubs' and Schools' league was worked off under the glare of the Otter's floodlights.

The finalists were S. Thomas' College and Otter Aquatic Club, the latter having worked their way through three gruelling rounds to get to the finals. Tensions were high and the collective emotions of all those present suffered constant roller coaster-like highs and lows.

Finally, the most dreaded, yet frighteningly intense moment, one that was already writ large in the minds of all those present, arrived. At the end of full overtime, the referees informed the teams that play would be pursued until a "golden goal" would be scored, sealing an immediate victory.

Three more minutes of champagne water polo, worthy of any two teams of the highest calibre, were then witnessed by the awed spectators, as both teams summoned up reserves of strength and determination none of them even knew they possessed. Numerous were the spectators who confessed that those three minutes seemed closer to thirty, such was the intensity of the players and their supporters.

The third minute of play did, ultimately, produce a winner, as the Otter Aquatic Club team suddenly produced a text-book set-piece move that saw their prop seal a victory that united victor and vanquished in the glory of their higher service to the sport. S. Thomas' College, wearied and spent, could count themselves worthy runners-up, providing the "Otters" with a victory that was worthy of their opponents' skill and dedication.

The Otter AC team was represented by Roshan Wijesinghe, Ravindu De Alwis, Harith Ukwatte, M.S. Riyaz, Kanishka De Silva, Dinesh Dayananda, Johannes Jayasuriya, Sampath Dahanayake, Darshana Kumara, H.B .Harsha Rukshala, Dinesh Kumar, Shanuka Jayantha, Imran Farook and Elmo Francis. Coach - Mr. Nawaff Mubarak; Waterpolo Captain Mr. Hiran Ukwatte.

St. Bridget's Convent team: Manahari Wahalathanthri (C), Sachini William (G), Joanne Jayasuriya, Deshmi Perera, Prabha Bandara, Louisa Alexsendre, Marisa Alexsendre, Shehani Amarasinge, Sonali Ratnapala, Ashika Fernando, Dilani Dalugoda, Puimi Dalugoda, Yoshita Wahalathanthri. Coach - Mr. Gihan De Chickera.

Messrs. Mahinda Liyanage, Nawaff Mubarak, Charya De Saram, Shashi Vedamanikkam, L.V .Fernando, Hejaaz Hizbullah, Shanaka Amerasinghe, H.A. Jayantha, N.K.R. Bamunuarachchi and ASP Ranmal Kodithuwakku officiated as referees. While waterpolo controller P.S.P. Dayananda, NAASU Vice President SSP K. Dayananda and Charitha Ratwatte officiated the recorders table.

And thus ended the first chapter of a new beginning, launched by NAASU with their coaching clinic in late April, culminating in a manner that brought fitting honour and glory to all those who participated in the event.