Ishan's ambition: To play for his country
By M.Shamil Amit
For a boy who started his sports with basketball but later on gave it up to play cricket.
Ishan Muthaliph does not regret having taken this decision as he is making vast strides in the field of cricket. He is aiming at big things which is not imposible at the rate he is progressing. A stylish right hand batsman and wicketkeeper, this youngster from Maris Stella should go a long way in time to come.
At the recently concluded Lemonade Cup Awards ceremony Ishan was awarded with the Best Batsman's trophy for the Lemonade Cup knockout final when he scored a fine century in that game. This award was one of the several awards he has got for his performances in school cricket throughout his career.
Ishan started playing cricket at the junior level in 1996. At first he represented the Under 13 side in style. During that season Ishan cracked three centuries , which were against Ananda, Sri Sumangala and Richmond. He accumulated 475 runs that season with an average of 79.16 and was selected the Horlicks most popular cricketer.
In 1998 he captained the college Under 15 team, the Gampaha District regional team and the Schools President's XI having scored nearly 500 runs and averaging 59.75. He also had 15 victims behind the wickets during that season.
When he started playing for the senior team during the season 1999/2000 he scored over 600 runs in his first season and had nearly 40 victims behind the stumps. He cracked a century against Trinity, Kandy. That same year Ishan got the runners-up prize for fielding presented by Bata.
After the senior season was over Ishan was given the responsibility of captaining the Under 17 team and he had a successful season. He was rewarded by SLSCA when he was elected Vice Captain of the Sri Lanka Under 17 team to tour Pakistan for the Asia Cup. He had a successful tour of Pakistan having a highest score of 72 agaainst Pakistan and 62 against Malaysia. He was also awarded Milo schools cricket colours that year.
The season 2000/2001 was the most fruitful one for Ishan. He was unfortunate to miss the magical 1000 run mark by just 42 runs accumulating 958 runs in 15 matches at an average of 50.4 which included three centuries: 137 against Lumbini, 100 not out against Isipatana and 160 against St Anne's Kurunegala. He had 40 victims behind the wickets as well.
Ishan's contribution helped Maris Stella to become runners-up in the league tournament and joint champions in Lemonade Cup knockout tournament. When Maris Stella met Lumbini MV in the final of the Lemonade Cup knockout tournament Ishan was there again scoring a scintillating 112 out of a score of 227 which showed his capabilities as a dependable batsman. It was his second consecutive hundred against Lumbini. This innings got him the Lemonade Best Batsman award for the final.
His father speaking to the Sunday Times on behalf of Ishan, who was not available, said Ishan's first coach Major W.Silva moulded him into a technically correct batsman and Ishan, when playing for NCC in the Under 23 tourney, came under coaches Wasantha Wijesooriya, Sunil Fernando, Asoka de Silva and Rumesh Ratnayake. He has now become a player who could fit into any team. Presently Ishan plays for the Chilaw Marians in the Sara Trophy. Ishan, like any other sportsman, must be having some aim in the future and that surely must be to represent his motherland which is not impossible for this youngster.
---
Boost for sports
"The National Institute of Scientific Sports, which has hitherto contributed largely to the development of sports in the country will be raised to the level of a universal institute in the coming 4 to 5 years with the aid of a few donor countries with whom discussions have already been made to this effect", said the Minister of Sports and Tourism, Lakshman Kiriella.
He made this pronouncement at a ceremony held in connection with the awarding of Diploma Certificates in Sports to the passing out of 65 athletes, who had completed their training at the above institute.
Continuing the Minister said that world attention has been focused on Sri Lanka due to sports and our sportsmen and women to achieve further international victories should train accordingly. It should be further noted that over 10,000 tourists visited Sri Lanka recently due to our cricket. Since 1983, this is the largest arrival on record. It is hoped that the aim of this training is to produce sportsmen and women of national standard.
The Minister further recalled that the French War of 4000 years ago which lasted for 20 years also ended as a result of sports which in the end paved the way to the modern Olympic Games which goes to show that racial harmony had been brought about through sports.
"We must forget the North, South conflict existing today and make sports a bridge to bring in racial harmony". I have had discussions with numerous sports bodies in the North and the East and have been informed by the respective Governors that sports activities are being carried out satisfactorily in these areas.
Let us not forget that sports dispenses with nationality, religions and caste and unites nations at competitions under a single flag.
---
Chelliah migrates to Canada
Bridge ace Murugesu Chelliah migrates to Canada by end of this month after nearly 45 years of dedicated participation of the game in Sri Lanka and abroad.
Chelliah as popularly known in the Bridge circle had his education in Jaffna. He has been the National Champion for a number of years and have won a number of trophies at the International tournaments held in India, Pakistan, Bangladesh, Egypt, Thailand, Singapore and other foreign countries. The organizers of the foreign tournaments have given special awards to Chelliah for his unbeatable performance in the tournaments.
Chelliah has always dedicated himself to teach the young and the old "how to play and how to win" the game of Bridge. With his wealth of experience and knowledge he is at present teaching a group of young players at all levels the art of playing the game. It will be a great loss to the Bridge lovers to see the master brain of the game of Bridge leave the country.
---
Judo a way of life
Badurgodage Sunil Gamini Nanayakkara is a household name in judo being a former Sri Lanka judo champion.
Today he is in the administration side of this sport which has been his life for more than half his age.
Gamini is a happy man today as he has fulfilled almost all his desired wishes which has haunted him for a long time.
A heavily built person but a simple man, I have known him for the last two and a half decades, from the time he started judo at Y.M.C.A.
After so many years he is the same person I knew. Gamini holds a responsible positions in the judo world. He is the President of the Sri Lanka Judo Association, Vice President Judo Union of Asia and the President of South Asia Judo Federation. He had his early education at Kotahena Central M.V. and took to judo in 1972 after joining the Y.M.C.A. His mentors in the beginning were Christopher Perera, Malcolm Kadiraman and Kamalendran Navaratnam. It took almost three years for him to get his first title which, he says, egged him on to win more. That was in 1975 when he won the Sri Lanka Novices Championship in the 75 Kg category. At the Intermediate Novices Championship he underestimated his opponent Nandasiri Perera and lost. He said that at practices Nandasiri had been pretending to be the weaker opponent but when it mattered most Nandasiri had shown his real colours. That taught him a real lesson. In 1976 for the first time a Japanese instructor (Yoshika Yoyda) came to Sri Lanka and at that time the grading of judokas were difficult and the Japanese instructor changed the formula Gamini was a 4th Kyu white belt and Yoshika Yoyda was so impressed with Gamini that he promoted him to 1st Kyu Brown Belt.
That encouraged him some more and in 1977 Gamini won his first National title when he became the 1st and 2nd Kyu Brown Belt champion of Sri Lanka. That same year Gamini got his first Black Belt when Katsku Takada, a Red and Black Belt expert from Japan came for grading.
In 1978 for the first time in Sri Lanka an Open Championship was held where judokas of all categories could take part. Gamini became the champion of that meet when he defeated Tony Halaldeen whom, he says, was one of the best opponents he has ever met. Halaldeen too was a household name in judo circles at that time.
In 1982 Gamini went to India to take part in the Indian National championship and he won his weight class 86 Kg and under as well as the Open championship. In 1984 he went to Singapore to participate at the Petra Sukan International Championship and tasted success and did Sri Lanka proud by winning a Gold Medal in the 86 Kg category. He proudly says it was the first time a Sri Lankan brought a Gold to Sri Lanka in judo.
In 1985 he went to Seoul, Korea for the 10th Asian championship but it had been tough as most of the Asian counterparts were very much advanced. But he was not disgraced and took fifth place which earned him a Diploma which he displayed proudly. In between these championship ,locally and abroad, Gamini was the undisputed National champion for nine consecutive years from 1978 to 1986. During this time he has coached four teams. He was player cum coach at Y.M.C.A and was also coaching Y.M.B.A, Police and Batticaloa Judo Club.
When I asked him who was his best opponent,, he said it was none other than Tony Halaldeen. He then ranked the former Wesley rugby skipper and judoka M.C.A.Cader. Then came N. Ariyatileke, S.Kurupakaran, Ratnayake of the Police, Wimalasena Perera and S.Selvarajah.
In 1988 he took to administration and became the Vice President of SLJA. In 1997 after the demise of the then President of SLJA Upali Sahabandu who was killed in action in the Northern East Gamini was elected as President of SLJA.
Gamini says when he took part at the 10th Asiad in Seoul he was fascinated with the facilities that judokas from other countries enjoyed and made up his mind that someday he will do something for Sri Lankan judokas. Today he has almost fulfilled his cherished wishes when he, with his hard working committee members, opened a judoja or training centre with the assistance of the Japanese government and the Sports Minister. It was a dream come true, he said, as there are outstation clubs even from Mawanella, Anuradhapura, Gampola and with about 150 schools the Police and Army joining the judo band it augurs well for the sport . "I am happy that now we have a place of our own to train", he said.
Gamini went on to say that the present second secretary of the Japanese Embassy Koeichi Enomoto, who is also the advisor and consultant of the SLJA, is a tower of strength and had even given a personal contribution towards the judoja training centre.
Forty-eight-year old Gamini at present is a Superintendent of Security at the People's Bank and a Major in the Volunteer Army attached to 5(V) Sri Lanka Army Ordinance Camp. He is married with three children.
Gamini has another ambition. After his training in 1985 in Kodokan judo under Mr. Saitho, Gamini holds the highest Dan in Sri Lanka the 5th Dan Kodokan and wants to go a little further and wear the 6th Dan Kodokan.
With all these busy schedules Gamini does not neglect his family. He keeps a day reserved for them and looks to their needs with great love and attention. According to Gamini a lot more has to be done for judo and until he achieves that he will not rest on his laurels.
---
New panel must have an eye for the future....
By Bernie Wijesekera
The new cricket panel appointed by the Minister of Sports Lakshman Kiriella has an unenviable task ahead to focus their attention for the next World Cup to be staged in S. Africa. They have to do a lot of planning to harness young talent who could make an impact in the matches played on lively pitches.
The panel headed by T.B. Kehelgamuwa must strive and go in search of talent and give them that much needed exposure to make the grade rather than depending on the old brigade, who are on the way out physically.
This was evident if one went by the performances of some of them in recent times which did not help the game or the country's aspirations. If they don't stand down on their own then just give them a pat on the shoulders and say "thank you" for all the good work done in the past. Now it's time to infuse young blood for the future, even if Sri Lanka is at the receiving end.
This is what the Pakistan Cricket Board Chairman Lt. Gen. Tauquir Zia had to say, when Pakistan lost the Test and One-day series to Sri Lanka at home, whilst playing youngsters. One of them was Younis Khan who made a debut 100. Today, Younis and a few others have come up trumps. Some of the regulars have got complacent and appear to have lost the spring in their step.
This would help the game to enjoy a better future internationally and building a team that will do proud for the country.
Barometer
The forthcoming tour by India will be an ideal barometer to give that much needed exposure for the youngsters, to gain experience in competitive cricket on their home soil. Our neighbours India and Pakistan are doing likewise. There will be quite a number of new faces in the Indian team and the one, who spun a web to demolish Australia - off spinner Harbajahan Singh. He came in as a replacement to Anil Kumble. He will be in the tour party.
Even preparing a slow turner to suit 'Murali'. The Indians possess the footwork and the temperament to smother him. Spinners go in pairs, but it's not so with "Murali".
It will do well to prepare good lively pitches with even bounce for the local fast men to relish and allow the match to last five days.
Sri Lanka is not short of strongly built youngsters, who could bowl with fire and venom. They have to be nursed and nutured properly and with better communication could turn out to be matchwinners. Left arm paceman Ruchira Perera is one of them in the mould of a young West Indian paceman. Given the opportunity he has done reasonably well. But never got a regular stint. Coming in place of an injured player and then forgotten, it's not proper planning for the future.
Another bowler Dilhara Fernando needs communication and has to be motivated in the language he understands best. There are many more like him in the country if the selectors could care to spend some time and make a trek in search of hidden talent.
Today talent could be harnessed from the hill country and even in the paddy fields. Not only cricket but also other sports like rugby and track and field could benefit.
It should do well for the Ministry of Sports to give the national panel (selectors) an allowance and make it a full-time job and pick those, who have the time to move around. How many of our selectors go to watch a match, leave alone serving as talent scouts.
In the 1999 Triangular series between Australia, England and Sri Lanka. Here again Sri Lanka lacked genuine fast bowlers to revel on, in the match at Perth. It was a fiery pitch, England bowled out for 227. Ruchira Perera made the One-day debut with 3 for 55 (with 10 n.b., 3 wides). Ruchira, a lad from Sri Jayewardenepura, Kotte, who played with success in the school cricket scene came in as a replacement. He showed his potential. The Lankans were bowled out for 99 by the English trio (seamers) Gough, Mullally and Mark Ealham (5 for 32 - Man of the Match). The local batsmen with a moderate score to chase were all at sea due to lack of experience on a fast pitch.
Ian Botham, the exciting England all-rounder who won a Test match against Australia after being made to follow on in Headingly in 1981, with a blistering 167, was supported by paceman Bob Willis. Met Ian, on the Media Box whilst on this tour. Asked to comment Botham now a cricket commentator regarding our performances: "Your seam bowlers are weak. Vaas is good. But he bowls in patches". What's the remedy?
Seaming Pitches
"You need a right bowling coach. Spinners are not going to help Sri Lanka in their defence of the World Cup in those seaming pitches in England. Your side is good. But needs quality bowlers". He proved right, when we performed poorly despite sending a local curator at much expense to study wicket patterns there before the World Cup.
The next World Cup is in S. Africa in 2003. It needs a correct formula (bowlers) to bowl on those fiery pitches. The answer to groom young energetic fast bowlers for the future, but not cart horse bowlers. The selectors must get their act together or go in search of genuine bowling all-rounders.
The Minister of Sports Lakshman Kiriella, who had a bird's eye view with our performances in S. Africa had decided to help the BCCSL with a half an acre of land in Kheththarama to prepare lively fast practice pitches for our cricketers to get atuned to the conditions away from home to match their opponents. Indian pitches in the past were a spinners paradise, but they, too, opt to pay much attention playing on fast pitches at home.
---
England collapse
MANCHESTER, England, June 2 (Reuters) - Pakistan rekindled their victory hopes in the second test on Saturday by scything through the England order to dismiss them for 357 after a record stand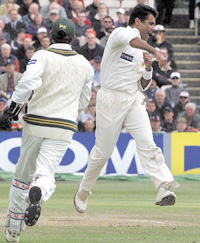 of 267 by Michael Vaughan and Graham Thorpe.
The touring team seized England's last eight wickets for 75, including the last five batsmen for nine in 34 balls, to snatch a first innings lead of 46 at tea on the third day at Old Trafford. Pakistan must win the game to level the two-test series while England need only a draw to record their fifth consecutive test series success.
Vaughan and Thorpe, who came together on Friday with the score on 15 for two, appeared to have all but ended Pakistani hopes in the morning.
But then Thorpe, after scoring 138 to equal his highest test innings, was run out by a yard following a fine turn and throw from Wasim Akram off his own bowling.
That made it 282 for three and one run later the procession had begun in earnest as Vaughan, on 120, shaped to avoid a Waqar Younis bouncer with the new ball and was caught behind down the leg side off his glove.
Scoreboard
Pakistan first innings - 403 (Inzamam-ul-Haq 114, Rashid Latif 71, Younis Khan 65)
England first innings - (overnight 204-2)
M.Atherton c Rashid Latif b Waqar Younis 5
M.Trescothick b Wasim Akram 10 M.
Vaughan c Rashid Latif b W. Younis 120
G.Thorpe run out (Wasim Akram) 138
A.Stewart not out 39
I.Ward run out (Azhar Mahmood) 12
N.Knight c Rashid Latif b Abdur Razzaq 15
D.Cork c Saeed Anwar b Adbur Razzaq 2
A.Caddick c Rashid Latif b S. Mushtaq 1
D.Gough b Abdur Razzaq 0
M.Hoggard b Saqlain Mushtaq 0
Extras (lb-5 w-2 nb-8) 15
Total 357
Fall of wickets: 1-15 2-15 3-282 4-283 5-308 6-348 7-353 8-354 9-356
Bowling: Wasim Akram 30-7-89-1, Waqar Younis 24-3-87-2, Azhar Mahmood 8-0-35-0, Saqlain Mushtaq 30.2-7-80-2, Abdur Razzaq 19-2-61-3
---
Easy for Navodi
Navodi de Soysa, playing controlled tennis, scored a straight sets win over Katrin Brown in their women's singles match in the Hilton JAIC Tennis championships worked off at the hotel courts yesterday.
This competition is sponsored by Cathay Pacific and Coca-Cola.
In the men's singles, Oleg displaying superior court craft beat Andrew Cooney in a three setter 6-4, 3-6, 6-3 while T. Gamage won the second set. He lost the first set and then retired in the third set when he was two down.
In other matches worked off yesterday in the men's singles Alfans Thyssen showing good concentration beat Ian Sheridan 7-5, 6-2 and M.R. Fernando overcame his earlier fears to beat Priyantha Fernando 6-1, 6-1. M. Farook was in fine form to beat beat Jerry Harding 6-2, 6-1.
---
Ganegama fires HNB to win over Access
Mercantile A Division Cricket
By Marlon Fernandopulle
A fine opening spell from Akalanka Ganegama helped Hatton National Bank to defeat Access by 44 runs in a Mercantile A Division tournament game at Braybrooke Place yesterday.
Chasing 222 to win Access were reduced to five runs for four wickets after Ganegama ripped through the top order snapping up Gayan Wijeyakoon, Indika de Saram and Aravinda de Silva in quick succession. Although Access fought back with some useful contributions from their middle order and tail-enders they fell short by 44 runs to be bowled out for 177 in the 38 th over. The defeat for Access was their first in the ongoing tournament.
HNB batting first piled up a formidable 221 in their allotted 50 oversee.
Openers Gunawardene(25) and Prasanna Jayawardene (22) gave the Bankers a solid start with a 55 run stand.
T M Dilshan (56) then compiled a stylish half century and anchored the HNB innings to help the Bankers to a challenging total.
Hatton National Bank-221/8 in 50 overs(Avishka Gunawardene 25, Prassana Jayawardene 22, Saman Jayantha 25, T. M. Dilshan 56, Kumar Dharmasena 19 n.o; Niroshan Bandarathilake 3/36)
Access-177 all out in 37.2 overs(Indika Galagoda 19, Ruwan Kalpage 22, Niroshan Bandarathilake 18, Sanjeeva Jayaratne 28 n. o, Pramodya Wickremasinghe 22; Akalanka Ganegama 4/29, Ruwan Kalpage 2/28)
Seylan in mega win
Seylan Bank notched up their fourth win when they trounced Singer by 10 wickets at Reid Avenue yesterday.
Batting first Singer were shot out for 101 with Chaminda Vass claiming 3 for 13 and Kaushalya Weeraratne and Nuwan Shiroman claiming two wickets each.
Chaminda Vaas promoted to open the batting for the Bankers plundered an unbeaten 72 with 11 fours and two sixes as Seyaln scored 102 without loss to record their fourth win in the tournament.
Singer-101 all out in 31.3 overs (Roshan Mapatuna 20; Chaminda Vaas 3/13, Kaushalya Weeraratne 2/20, Nuwan Shiroman 2/13)
Seylan Bank-102 for no loss in 14.3 overs (Chaminda Vaas 72 n. o, Nuwan Shiroman 20 n. o)
E-wis trounced
Sampath Bank coasted to an easy 162 run victory over E-wis at Maitland Place yesterday.
Half centuries from Marvan Atapattu (88) and Kumar Sangakkara (51) helped Sampath Bank to 254 for 8 wickets in their 50 overs.
E-wis in reply who have still to win a game were bundled out for just 92 runs.
Sampath Bank-254/8 in 50 overs(Chandika Hathurusinghe 32, Kumar Sangakkara 51, Marvan Atapattu 88; Charitha Buddhika 2/46)
E-wis - 92 all out (Dhammika Sudarshana 28; A. Bandaranayake 4/33, Lakmal Fernando 2/12, Rangan Herath 2/16, Chandika Hathurusinghe 2/15)
Gamage, Dias help Janashakthi
Two fine bowling spells from Darshana Gamage and Ranga Dias helped Janashakthi to record a good 83 run win over John Keells at Havelock Park yesterday.
Despite being bowled out for 182 Janashakthi fought back to defend that total and bundle out John Keells for just 99 runs. Dharshana Gamage(4/29) and Ranga Dias (2/18) did most of the damage.
Janashakthi-182 all out in 49.2 overs (Lucky Rogers Fernando 38, Dhammika Rajapakse 28, O. Warnapura 22, Dharshana Gamage 22; Muthumudlige Pushpakumara 3/29, Dinuk Hettiarachchi 2/49)
John Keells - 99 all out in 31.3 overs (Ravi Subasinghe 26, Malinga Bandara 28; Darshana Gamage 4/29, Ranga Dias 2/18)