The bridal registry concept is fast catching on, reports Ruhanie Perera
Check out your own gift
Come June and it's a never-ending rush of hurrying into shop after shop looking for the perfect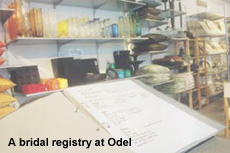 wedding gift.
From the couple's point of view, receiving gifts is not all joy. For them it is sometimes an endless, Adam's Peak high, heap of 'I may not use this', 'It doesn't quite fit in with our other things' and of course the more disastrous 'I really don't need 25 of this'.
A typical disaster would be counting seven tea sets and seven coffee sets among one's gifts.
So what's the solution?
The bridal registry, a concept that is much practised in the States and Europe, is catching up in Sri Lanka.
A bridal registry enables a couple to go into a shop that incorporates the system, look around and having identified the items that they would like to receive as gifts, compile a list.
When the invitations are sent out to the respective parties an additional card is put in referring to the place (or places) where the 'gift list' has been made. Then it's up to the guest to take a look at the list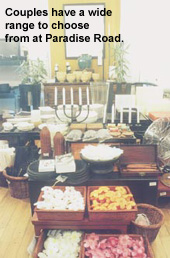 and purchase the gift of their choice
( according to their budget). Often the list comprises items that would go into the setting up of the newly-weds home.
"I think the bridal registry concept is great," says Sanjini, who was a first among her friends to have gone in for it. "It wasn't a very new thing for me, since I lived in England," she says adding that her husband was not as familiar with the concept, having found out about it from her. But being the practical type he had agreed that it was a great idea. They did, however get the opinion of some of their friends beforehand.
"I got a mixed reaction. My friends thought it was a brilliant idea, but there were those who were a bit taken aback that we were 'asking' for gifts." However, Sanjini and her husband went ahead and registered at four shops in Colombo: Odel Home, Paradise Road, Barefoot and Abans.
If you do feel really awkward about it, you can word the card really politely like Sanjini did. Her card read: 'If you wish to present us with a gift, we have made registries at the following outlets. Thank you for your generosity.'
"I also made a long list of gifts at varied prices so that guests would have a range of items to choose from, that would also suit their individual budgets. In the end it all worked out pretty well. We had hardly any 'disaster' gifts. I also had a very nice surprise on the day of my wedding when I received a huge bouquet of flowers from Odel," she says.
Working in their special way, Odel Home has had the bridal registry system for almost three years. Roughly divided into the categories 'living', 'dining', 'bed' and 'bath', Odel Home offers a couple everything they'll need in their day-to-day life from mugs to towels, cutlery to magazine racks, cushions to soap dishes.
Says Odel's Otara Chandiram: "It's a very efficient system that facilitates the whole gift buying process and is appreciated by the couples that come in."
At Abans, it's everything a couple would want in the household appliances department. Since the incorporation of the 'wedding register' at Abans a year ago, they've had around ten couples coming in. According to Piyal Nupearachchi, the Showroom Manager, it's a step in the right direction where marketing strategy is concerned. Even items like fridges, ovens and microwaves are put down on the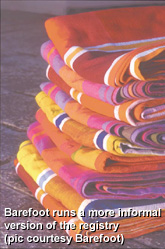 gift list at Abans.
Barefoot runs a more informal version of the registry concept. Though the concept has not been 'marketed' it's been in operation for some time. "Many of those who go in for it, however, are the regular shoppers at Barefoot, primarily because they want our goods in their new homes. The range of items a couple can choose from is not limited in any way, including even books in the gift list,' says Samanthi Colonne, General Manager- Retail. For those guests who don't want to give a gift, there is the option of giving a voucher from Barefoot that is made out to their specific amount and has no validity limit .
Young couples who are setting up a home would love it at Paradise Road Studio since everything they need is available here. From the furniture right down to the scented candle a couple has a range of items to put down on their list. What is special about the studio is its designer concept, where every item has its distinct style and is custom- made so that nothing is duplicated. This means, however, that they need time to place the orders, where the furniture is concerned. Stresses Udayshanth Fernando, proprietor of the outfit, "The concept is run as a very private set up where the couple is given the privacy they require."
Laklain has just launched its 'wedding register' as well. Says T.L. Warnakula, Marketing Executive of Dankotuwa Porcelain, "We decided to go in for this after we saw many young couples coming in to exchange items they had received as wedding gifts, because they had got the same designs.
"It will minimise the chances of this happening as well as opening out the option for the couple to receive even an exclusive 93-piece dinner set, simply by 'breaking' it up into smaller pieces. That way it's easier for the guest and the couple also is happy."
The downside of the concept is that it may leave the guests spending more than they bargained for, given the fact that the couple will know how much they've spent on the gift and, of course, the other factor of going overboard having seen the list.
However, judging by the increase in the couples who are going in for the concept and the shops that are offering the registry concept, it is popular and even practical.
As Dinali who will be getting married next week puts it, " I'd like to keep all my wedding gifts because they are special." This way I won't have to hide them away or recycle them. In its entirety the basis of getting what you want may be a trifle selfish but in the long run, I've been told, this makes life easier. I'll just have to wait and see."
---
The importance of family and child rights
When the bough breaks, the cradle will fall
By Lorna Wright
It has become an increas- ingly strident campaign. Child rights, human rights, women's rights, employer's rights, employee's rights, fathers' rights, mothers' rights. Soon there would be but a few places left in the world - Garden of Eden, where you could still smell the scent and sense of real freedom.
Today happiness no longer rests with the family unit, once seen as sacrosanct.The role of women, mothers, has changed. There is an uncertainty about the very worth of having and rearing children. Ever loosening are the legal bonds of marriage. These weaknesses have brought in their wake state intervention. They have led to interference in the lives of poor families, the lower middle-classes and to some extent the middle-classes.
Undifferentiated schooling particularly with 'child rights' and lengthening years of 'compensatory' education for the masses, is doomed to an irreversible decline.
Have we overblown the necessity and efficacy of education in a classroom, ignoring the fact that child labour is child learning with the poor? Research in 25 shanty/slum homes where 50 percent of Colombo lives, show there are no tools, material or space for learning. With food and transport prices escalating such families ask how could they afford a pen for Rs. 7/-, an exercise book for Rs. 10/-, and a reel of thread for Rs. 6/-.
For poor parents, it is near impossible to get a child to school.
Why should the age-old Sinhala Ath Udauwa system be condemned, discarded and despised. This hands-on training is cost-effective. In the process "the child also acquires a philosophy and way of life appropriate to his station in life." Today there are 35,000 unemployed graduates.
Examination Department statistics in 2000 show that out of 538,000 who sat the O/L, 63.5 percent failed. When figures were only in their hundreds the GA Central Province in 1868 wrote, "half-educated youth often become pests of society in the shape of petition drawers, hangers - on at Court or ferment litigation in their native villages" (Technical Education S.L. de Silva). Today in thousands - the figure could be 1.5 million, they turn to crime, drugs and terrorism.
All concentration today is on computer, IT and technical education. This virtually targets a minority and creates a prestige and 'thathweya' - an area for youth where image reigns supreme. With TV, gun-culture everywhere, rabble rousers target the half-educated youth.
The Convention on the Rights of the Child - that re-affirms the fact that children, because of their vulnerability need special care and protection emphasises the protective responsibility of family. Is this possible when mothers are 'exported' as house-maids?
12-year-old Nyeene is always late.
"I forget to get up," he says, struggling to make sense of himself and his surroundings. Ten o'clock in the morning on an empty stomach. His is a survivor's spirit. He has endurance, potential leadership qualities, the makings of a future politician or religious leader. He is cheerful.
But he is consistently late, so the health worker calls on the family. It is life in a congested urban slum garden. The 'have nots' have no water. The 'urban poor', have no water.
One water stand-pipe for 60 families. It is late night when the men finish bathing and washing clothes. Though tolerant and polite, it is an edgy relationship if women and children invade that privacy, at those times at night. Nycene, making many trips to and fro, with a bucket starts his walk down to the stand-pipe as early as three in the morning, then collapses onto his mat and forgets to get up!
Child labour? child rights, mothers' rights, parents need, circumstances. What is supportable is the weight of pardon, the compulsion to rationalize this so-called exploitation and believe in a mother's right to solve her despair.
Burgeoning youth unrest, commotion, the sounds are all full of urgency of life on the move. "To understand there is confusion, is to achieve a minor but crucial triumph over that confusion".
It is necessary to re-examine the older ideas discarded- the Ath Udauwa - semi-skilled system despised as 'exploitative'. It will be no negligible achievement making the millions employable. Let us return, with renewed respect for the established, concrete structure that gave meaning in Asia to the life of the individual, the Family.