Trials and taxes for foreign spouses
By Hiranthi Fernando
Foreign spouses of Sri Lankans resident in this country were aghast when, in the wake of the March Budget, the government suddenly slapped them with a Rs. 20,000 visa fee to be paid annually. But after a storm of protests and appeals, including petitions to the President, the Resident Visa Tax was withdrawn.
"The Ministry of Finance advised us on April 26 this year, to suspend the implementation of this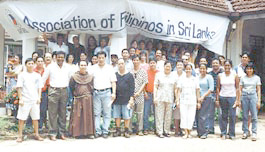 proposal" the Department of Immigration and Emigration said in an official communique.
"Does this mean they could suddenly re-impose the Resident Visa Tax?," questioned one foreign spouse.
Though immensely relieved that the visa fee will not be required at present, all is not well for this segment of our society. They claim that they are discriminated against; that the guidelines laid down by the Department of Immigration and Emigration relating to the grant of visas to foreign spouses violate the provisions of the constitution as well as international human rights laws. Another grouse is that there is gender discrimination in the granting of citizenship to the children of such mixed marriages.
"I think it is inhuman," commented Mrs Mathew, who has lived in Sri Lanka with her Sri Lankan husband for over 40 years. She has four children and seven grandchildren. Originally from Spain, Mrs. Mathew said that when she first came to live in Sri Lanka, she wanted to change her nationality. However, when she was required to produce documentation of her family history going back several generations, she gave up the idea.
"We have had to go through many difficulties. I have spent so much time in this country that I am very Sri Lankan in spirit and get very emotional about the subject. There are several other foreign spouses who are in a similar situation. Because we are foreigners, we were not entitled to anything. When there was rationing in the '70s for instance, we were not entitled to buy cloth, sugar or any other rationed item," she said.
"Every year, I have to take a letter from my husband to say he has no objection to my living here, and go to the Department of Immigration and Emigration to renew my visa. I feel it is very unfair. Having lived in this country for so long, we should be entitled to permanent visas. Why should a Sri Lankan husband, who is a citizen of the country be penalised because he chooses to marry a foreigner?"
A German national, married to a Sri Lankan for seven years, said that although she has no problem in obtaining the necessary letter from her husband, there are many foreign wives who do have a problem. Some husbands use the situation to their advantage, the letter becoming a bargaining tool.
Another restriction for foreign spouses is that they cannot work here. "I am not allowed to work at all or to earn money," said Mrs. S. Jayawickrema, a journalist by profession. She had worked for a brief period at Lake House with special permission from the Minister but she said it was difficult to obtain a permit.
Foreign spouses are also not permitted to maintain a savings account or a fixed deposit where they could enjoy the interest. Even if they bring in foreign exchange from abroad, the savings account has to be opened in the name of the Sri Lankan husband. "I am not allowed to work, nor am I allowed to earn interest on foreign exchange that I bring in. I am not treated like a Sri Lankan although I am part of Sri Lankan society," Mrs. Jayawickrema said.
As regards citizenship, although a Sri Lankan born individual can obtain dual citizenship, a foreign spouse is not permitted to do so. The status of a foreign widow too is not clearly defined. They are treated as normal tourists, with the extension of their visas being at the discretion of the immigration authorities.
But foreign countries do not impose the same restrictions on Lankans married to their nationals. In Germany for instance, a foreign spouse of a German national is first given a three-month visa, which is then extended for one year. The one-year visa has to be extended annually for a period of three to five years depending on the city. After five years, the foreign spouse is granted permanent residence, which need not be renewed annually. After two years of married life in Germany, the foreign spouse can apply for the resident permit independent of the marriage. A work permit is also granted.
"I don't understand why they forbid foreign spouses from employment or studies," commented an Indian wife of a Sri Lankan. Mrs De Mel, from the Philippines and married for 23 years, met her Sri Lankan husband in England. There are several Filipino wives married to Sri Lankans who had been working in the Middle East. "Many of these husbands are not rich and are earning small salaries," said Mrs Jayanetti, President of the Association of Filipinos Married to Sri Lankans. Some have four or five children. The wife should be able to earn and help the husband to support the family. However, it is stamped on our passports that we are not permitted to work."
"The State should not interfere with the individual liberty of a foreign spouse by preventing him or her from finding employment to support the family," said a Sri Lankan husband married to a foreign spouse for over forty years. He pointed out that foreign nationals who lived in this country before independence were granted permanent residency. "We ask that foreign spouses of Sri Lankans be granted this permanent resident status. The annual requirement of a 'No Objection' letter is an affront to human dignity and becomes a source of humiliation and embarrassment tantamount to harassment." Many foreign spouses have lived in this country for as long as forty or fifty years. These spouses and their Sri Lankan partners feel that permanent resident visas should be granted at least after a specified period of residence in the country. Moreover the temporary resident permit specifically prohibits the foreign spouses from being employed. What happens if the Sri Lankan husband dies? Will his foreign wife be unceremoniously deported from the country?
In the case of a foreign husband of a Sri Lankan woman , the circumstances are different. For many years, male foreign spouses of Sri Lankans were not granted Resident Visas. Several Fundamental Rights cases had been filed in the Supreme Court in this regard. The Immigration Authorities, however, said that the Attorney General had advised the Defence Secretary and the Controller of Immigration and Emigration, that the guidelines relating to the grant of visas to foreign spouses violated Article 12 of the constitution. Reference has also been made to the directive principles of state policy in Article 27 (12) requiring the state to protect the family as a basic unit of society.
"There is no equality of gender in the law," said a German husband of a Sri Lankan. "We had a problem for decades. Until February this year, male foreign spouses of Sri Lankans were not granted resident visas. After several cases in the Supreme Court, the gender discrimination with regard to granting of resident visas has been removed. All foreign spouses are now granted resident visas."
This foreign husband from Germany said he had to deposit US $ 25,000 as a prerequisite to obtaining his visa. This money could not be touched. They could only use the interest. A retired TV producer from Germany, he has given lectures at the Sri Lanka Television Training Institute. He has been given a work permit restricted to this specific employment.
Inequality still exists in the law in that children of a Sri Lankan mother and a foreign father are not entitled to Sri Lankan citizenship. In the case of the death of the Sri Lankan mother, the foreign husband and family may be forced to leave Sri Lanka. There is also a question mark over what happens to the children if a foreign husband of a Sri Lankan wife abandons his wife after a while.
Take the case of a Sri Lankan wife married to a foreign spouse. They lived in Sri Lanka and had two sons, who are now grown up. Recently, the wife died. Her sons inherited her ancestral property . However, they have apparently been asked to sell the property and leave the country. They have been given a visa for one year to settle their affairs. The sons feel it is unfair to expect them to sell the property, which has been in their mother's family for generations.
In their petitions, families with foreign spouses have made representations on several other aspects of the laws relating to foreign spouses. The laws should be clearly defined so that the foreign spouses do not have to undergo humiliating procedures when they apply for legitimate visas, they say.
"A number of very real human problems can and do arise with regard to foreign spouses and their resident visas. A just State policy must recognise and protect the family as a basic unit of society and must be bound to serve the people, without discrimination," said a foreign spouse.