At long last
A leading sports body, as highlighted by Rover, were not in the habit of making deductions for their Employees Provident Fund and ETF Funds for several years. After the issue was highlighted action is being taken to deduct same. Employees have been asked to fill in forms in a hurry.
Coaching by faxes
This same sports body who had obtained the services of an Indian coach to train the Sri Lankan contingent for an important meet, is in the habit of conducting training classes through fax messages sent from this coach in India. The irony of it is that India will be our closest rivals at this meet and long before the meet our rivals will have first hand information of the Sri Lankan sportsmen and women, such as training facilities and timings, giving our rivals a head start in affairs.
Queensland here they come
A youthful cricket team from the hills has left in a hurry to play a few matches in Queensland. Rover learns that the team's departure was kept silent. Rover also learns that four officials have accompanied the cricketers bearing initials BH, DA,IA and RP while two of the most deserving have been left behind. One wonders who funded this tour and how is it that certain coaches were approached to recommend players who had Rs. 72,000 to dole out as expenses towards the trip?
Taken to task
Rover learns that the Minister of Sports has come down hard on Hill Capital officials and told them to pull up their socks in order to promote the game there, without taking an active part only when a Test match is around the corner. Only time will tell whether the order will be followed as these officials are said to belong to another camp.
The plaque tells all
The plaque installed at the Asgiriya Stadium, declared open by the former President of the Board of Control for Cricket states that the first ever Test match played at the Stadium. What poppycock! It should read the first Test played against England at this stadium.
All for nothing
One thousand odd books printed by the Board regarding 50 years of cricket have been kept in cold storage. Up-to-date not a book has been sold out or given out. Letters written by the author to the Sports Ministry and to the Cricket Board have strangely not been replied and it is being alleged that two persons have been hiding these letters in order to keep the author on a string by not paying him for the job.
Overage players
Many outstation schools, including a few from Colombo, are in the habit of playing overage players in sports such as rugby and cricket and those who have not qualified on the O/Level Examination Rule. The Education Ministry should hold the schools heads responsible for this type of cheating and take strict disciplinary measures to prevent this sort of happenings.
Promotion money spent for Nationals
Rover is informed by senior members of the Sri Lanka Basketball Federation Exco that the money given by the Ministry of Sports for the promotion of the game in the districts has been used by the SLBF to conduct the Nationals - 2000 in Kandy and Colombo. Why? Where are the sponsors?
Who authorised the use of Ministry funds?
Rover wishes to know from the two vice-presidents who organised the Nationals, who authorized the use of Ministry of Sports funds to conduct the Nationals as members of the Exco are in the dark to this. The members of the Exco are keen to know why the accounts of the Nationals and the monthly accounts were not tabled at the Exco meeting held last week?
A sub-committee by NSC for SLBF irregularities
Rover is informed by officials of the Director of Sports that a sub-committee will be appointed by the National Sports Council to inquire into the irregularities in the accounts, the violation of the constitution, selection of officials and teams for foreign competitions, for playing musical chairs by the same officials in holding office and foreign tours and the Sports Law by members of the Sri Lanka Basketball Federation. When will this be appointed is what is asked by the sponsors of basketball?
Golden Oldies Racing on April 29 around Viharamaha Devi Park
Forty olden goldies are gearing and revving up their engines for the vintage event of the year, a race between the olden goldies around the Viharamaha Devi Park on April 29 (Sunday) which is scheduled to start at 1 p.m. The Vintage Car Owners Club in collaboration with the Colombo Municipality are the organisers of this unique event. All participating vehicles are well over 60 years and despite the age, they are in topping condition. The Vintage Car Owners Club has categorised them accordingly and eight events are to be worked off with an open event to complete the meet on April 29. It will be a rare opportunity for the young and the matured to see these beautiful specimens of yesteryear, preserved meticulously by their proud owners, display their mighty prowess on the road even after many decades.
---
By Supun Perera
When you go down the history land of world cricket it is no doubt that the West Indians have made a tremendous impact and thus dominated the cricket world with their exceptional brand of cricket. Players of the calibre of Leary Constantine, George Headley, Sir Frank Worrel, Sir Garfield Sobers, Conrad Hunte, Rohan Kanhai, Alvin Kallicharan, Sir Viv Richards, Clive Loyd, weilded the willow and played a galaxy of innovative strokes which sent the other nations on a total leather hunt. These bunch of gifted natural stroke makers not only brought the glory but a "total headche" for the opposition whom they confronted.
To support them they possesed a ferocious set of fast bowlers the likes of Wesley Hall, Charles Griffith, Roy Gilchrist, the spinners, Alf Valentine, Lance Gibbs and Sonny Ramadhin and very recently Andy Roberts, Colin Croft, Michael Holding, Joel Garner, Patrick Patterson, Curtly Ambrose and "War Horse" Courtney Walsh.
In comparison to the yesteryear of Caribbean cricket, the present Windies are a "Sad Sight". They have been battered and bruised in the recent past and the whole team in general is in complete disarray. One would have wonder what has gone wrong with the Windies cricket! Their batting does not click; on the other hand their bowlers do not deliver the goods when it is needed. However a man who stood firm against all odds, and certainly revived the sagging morale of the Caribbean cricket is their giant right arm fast bowler Courtney Walsh.
Courtney Andrew Walsh was born on October 30, 1962 in Kingston, Jamaica, where great cricketers such as George Headley, Alf Valentine and wicket keeper batsman Jeffrey Dujon hailed from. He developed a love for cricket from his childhood days and started playing domestic cricket for Jamaica in the "Red-Stripe" Tournament. His first ever national commitment came when he was selected to the young West Indies squad to tour in England in 1982.
Then in the following year he toured with the West Indies Second string side which was a tremendous success for this young, up and coming fast bowler from the Caribbean Islands.
He made his Test debut in England in 1984 under Clive Lloyd. Then in 1985 against Australia he took 13 wickets in the Test series at a cost of 33 runs per wicket to demolish Kim Hughes's Kangaroos.
He was the newest admission to the West Indian pace Armoury of Marshal, Garner, Roberts, Holding. In 1986 he signed up with English county Gloucestershire and made his presence felt by bagging 118 wickets in that season with a career best 9 for 72 against Somerset.
Courtney Walsh is the only Test bowler to reach the 500 Test wicket mark, which is no doubt a marvellous achievement.
---
Courtney Walsh took to the field for the last time in a test match when the fifth test against South Africa began at the great fast bowler's home ground at Sabina Park on Thursday.
Walsh had refused to confirm his retirement before the match but his fellow Jamaicans woke to read the news that they had suspected but dreaded in the national press.
"Yes, I've decided to call it a day. This is definitely it for me now," the world's leading wicket taker told the Jamaica Gleaner newspaper.
"I'm still enjoying competing and I may continue doing that but not at this high level," Walsh said.
"This is my final test match. Nothing has happened to change my decision at this point of time and I don't foresee anything happening. I haven't even thought about what could possibly change it."
Several West Indies Cricket Board officials have said privately that they will ask Walsh to continue while he is still fit and taking wickets but Walsh, who describes himself as the 'Daddy of the youngsters' says he will not abandon the team when he quits playing.
"Just because I've quit does not mean I'm going to give up cricket totally. I got a lot out of cricket and I want to be able to be able to make contributions in whatever way I can towards the development of the sport and to the youngsters," Walsh said.
"It's been a long haul, a lot of ups and downs. Right now I need to take a break and cool off for a while. Maybe six months. I'm very close to my family...and I try to spend as much time with them as I can." The lanky 38-year-old pacer who has claimed a world record 513 wickets in his 17-year test career suggested that a win over the South Africans on his home ground would be the perfect way to end his career
"Winning this test match is very important," he said. "It would be very, very nice to finish on a high, to leave on a winning note and for the youngsters to get that winning feeling. That to me is foremost." - Reuter
---
Ports Authority bagged the men's and women's titles at the Rupavahini Volleyball Championships.
The mens' team bagged the trophy from 1982, while the women's team won the title for the last four years running.
In the mens' final Ports Authority beat the Air Force by three sets to 1, 20/25, 28/26, 25/14 and 15/13, while the women's team beat the Air Force by the same margin, 25/20, 18/25, 25/15 and 25/14.
Ravindra Melshan and I.M.T. Illangakoon were picked as the most outstanding mens' and womens' players respectively.
The other award winners for men and women were,
Best Server - Sameera Dissanayake, Takshila Niranjalie (Ports Authority), Best Receiver - Susiri Mangala (Air Force), Anusha Deepani (Ports Authority), Best Setter B.A. Roshan Nilanga, Chandima Damayanthi (Ports Authority), Best spiker - Asanka Pradeep, Tharanga Sewwandi (Air Force), Best blocker - Melan Jayawardena, Chamila Hemanthi (Air Force), Best defender - Dimuthu Krishantha (Ports Authority), Yamuna Priyadarshani (Air Force).
---
Young Dulan Nakalanda of Royal College and Tharindra Weerakoon of Maliyadeva Balika Vidyalaya, Kurunegala were the winners of the first scholarship awarded by the Udayanga Bandara Memorial Foundation which was launched recently to assist table tennis players from the North Western Province as well as islandwide.
Udayanga Bandara was a Year 5 student at Maliyadeva College, Kurunegala when a tragic road accident took his young life and robbed him of an illustrious sporting career and our nation of a talented table tennis star.
The accident also took the life of Mr. Shan Bandara (father of Udayanga) who had devoted much time and effort towards the development of Table Tennis in the NWP.
The Foundation is conducting an annual all-island junior Table Tennis championship in the NWP in his memory and also grants scholarships to Junior (boys and girls) Champions.
The first Scholarship Awards ceremony was held at the 6th Floor Board Room of Abans Building at 10.00 a.m. on March 28, 2001. Mr. P.N. Pestonjee, chief guest gave away the awards. In the photograph the winners Dulan and Tharindra pose with Mr. Pestonjee, Mrs. Bandara, the President of the Foundation and other officials.
---
By Bernie Wijesekera
The Sri Lanka Cricket Foundation of Victoria, which is in the forefront in helping talented Lankan sportsmen with men and material organised a show - "the 1948 Invincibles", recently.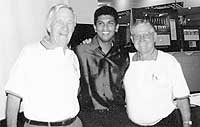 It became a reality thanks to another Sri Lankan now living in Victoria. David Cruse and his firm Knox Tavern gave that much needed muscle. It was sponsored by Dilmah.
The 1948 Australian team led by the late legendary Don Bradman, toured England for the Ashes series to remain unbeaten - voted as the team of the 20th Century. It was rated as one of the greatest events in cricketing history. Incidentally this team played a whistle-stop match, against Sri Lanka at the P. "Sara" Stadium. Bradman made 20 runs.
Neil Harvey, one of the youngest players and Loxton made the tour. Neil made a debut 100. All-rounder Sam Loxton, and Harvey graced the occasion. They were the guest speakers. S.G. Barnes, son of late Sidney Barnes (who made the 1948 tour) was the compere. According to sources from Victoria there was a big gathering, drawn from all walks of life and proved an instant success. This show was followed by a dinner. An auction of "Unique '48" Memorabilia came under the hammer to further swell its coffers.
Former Sri Lanka batsman Roshan Mahanama, too was in the midst.
A book - "Retired Hurt" about Mahanama's career has been written by Ken Piesse and is now available. Former Aussie captain Greg Chappell has this to say in this book: "Roshan, was a fime player, who played the game in great spirit!
---
By Bernie Wijesekera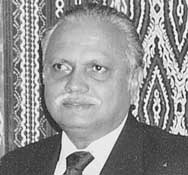 P. Don Victor - a legend when it came to track and field sports at St. Joseph's College, Darley Road, was the first Josephian sportsman, to be conferred with an Award of Excellence for his contributions for the school and for Sri Lanka.
The Darley Road school, has produced many outstading sportsmen in other disciplines, too, who have done proud in the past to the school and to the country.
For the first time in history an Award of Excellence was conferred on a sportsman at a ceremony, held recently.
Mr. Susil Permajayantha, the Minister of Education was the chief guest.
Victor, a soft spoken gentleman, who has contributed much for track and field sports with his own men and material, was interviewed by The Sunday Times, after receiving this rare award. "Firstly, I'am proud to have received this Award of Excellence among other celebrities, who contributed much for the school and for the country, that, too at the 99th prizegiving.
Q: Anything special in your weather beaten career. Do you agree that it was at St. Joseph's at grassroots level that you were nursed and nutured to emerge not only as a fine sportsman, but a law abiding citizen and do much community service sans prejudices. Any comments?
A: I am a Josephian to my last breath and have not let the school down or the country. True, there were few hiccups which may be apparently manoeuvred by a handful of power-hungry officials.
I, too believe in Faith and Karma and quite used to face setbacks in life. It has helped me to start all over again. This was the first lesson taught to us during our times. Be it in the classroom or in the playing field.
Q: Who were the people who paved the way?
A: If I am something, then thanks to Rev. Fr. Peter Pillai and Anthony Abeysinghe. My 'guru' Anthony Abeysinghe, who made me an athlete. Without doubt he was one of the finest coaches, Sri Lanka ever had.
He was the one, who encouraged me to take to the broad jump. In 1950, I contributed for the Joes to win the Junior Tarbat Cup edging out Royal. Won the long jump, (a record) second in the 100. Did the last lap in the 4 x 100 relay and pipped Royal on the post to tot up 15 pts.
In the 1953 (Public Schools) won the long jump in a record leap - 21' 6 3/4". In 1958, nationals broke the Sri Lanka record with a leap of 23' 6 1/2" held by W.W. Tambimuttu. St. Joseph's tradition was for all to come under one umbrella, sans ethnicity. There was togetherness.
Q: You have contributed immesely on the field. But what was your contribution after retirement as an official or in what way did you contribute for its further uplift?
A: Yes. If I was able to do something as an administrator - thanks to indefatigable late Julian Grero. I worked in his shadow. Learnt much how to run its affairs. He had tolerence and patience to face problems. Nothing was impossible to him. In 1985-'86. acting Sec/Treas. A.A.F. (Sri Lanka). In 1986-'92 - as Secretary of the AAA, was responsible for collecting over Rupees two million to expose athletes to Int. meets. In addition contributed over one million from personal funds for the promotion of track and field sports. Served during the tenure of late Lalith Athulathmudali.
Q: Besides serving in the controlling body, were you able to serve in any international body with your acumen?
A: I was the first Lankan to serve in the Asian Atheltic Council. Again machinations raised its ugly head due to the work of some power-hungry disgruntled officials here. It even surprised the other members of the Asian Council for a crime not committed by me.
Being a Josephian I never sulked. Today to be the first to be awarded with an Award of Excellence is due to my integrity to maintain its traditions at the highest level.
Q: What is your saddest moment (not personal), but as an administrator, whilst striving to uplift the sports and the country's image at international level?.
A: I got the blessings from the Minister of Sports S.B. Dissanayake, to bid for the Asian C'ships to be held in Sri Lanka in 1997. Assured of Rs. 10 million to start with. After the successful bid with the support of the Minister, ironically on my return, I found that it has fallen on the wayside.
This was followed by my being removed from the Asian Council, too apparently due to a handful of vultures, who were responsible for this sad episode.
Q: Do you agree, this is the trend in most of the sport bodies. As a result the cure is worse than the disease?
A: I agree. With plenty of time at my disposal I will strive to help develop Josephian athletics to come back to its own like in the past. The hierarchy has honoured me, with the first Excellence Award for sports.
Now its my turn to make a concerted effort with others rallying round to uplift the sport and produce athletes to excell at the National level, Victor concluded.
The other receipients - Priestly Ministry/Services to College - Rev. Dr. W.L. Don Victor; Defence Service - Janaka Perera; Academics - Dr. Ravindra Goonetilleke; Business - Lalith de Mel; Medicine - Dr. Maxie Fernandopulle, Dr. Paul Perera; Sports - P. Don Victor; Distinguished Services to College - Nicholas Zucas and Gamini Samarasinghe.
---
From Annesley Ferreira
Youthful Aravinda Pre-madasa underlined his supremacy in no uncertain terms to be crowned "King of the Track" at the Foxhill Supercross 2001 concluded last afternoon. The event was sponsored by Caltex and conducted by SLAR-DAR in collaboration with the Military Academy at Diyatalawa.
Aravinda of team Caltex controlled his Subaru Impreza to perfection to take the chequered flag by Mahesh Gammanpila in the final event for the day the Super Fox in the 7 event defeating that of team-mate Shanaka Ambrose for the last two years running.
While Aravinda beat his much more senior, Nalin D. Perera in a Subaru Impreza took the second place and Shanaka Ambrose in his Nissan had to be content with the third slot, with Dan Dissanayake who figured prominently having to pull out due to a mishap.
While Aravinda dazzled in the four wheelers, Nalin Perera, Umesh Wedisinghe and Japanese Atushi Tanabe excelled amongst the two-wheelers.
The much awaited battle between Rohan de Silva of Mobil and Yoga Perera of Caltex did not materialize, when both went off the track at the Pine Tree corner. Both collided in the in the Group T & M cars upto 1665 cc. event.
The father and son combination of the Mannap-perumas saw the son, Madhushan win the Group A cars event, with the father Sumanapala having to pull out, with Nalin D. Perera and Samidu Wijetillake taking the second and third places respectively.
A large crowd of over 80,000 roared in delight at the events at this well conducted meet, which almost drowned the sound of the engines.
Results:
Group Racing Moto-rcross bikes upto 80cc: Under 16 - Avin Rohan Buultjens, Shiraz Mah-mood, Sajith Chitty. Overall - Avin Rohan Buultjens, Krishna Kumara.
Group A Cars: Dilshard Hamdoon, Ravi Maya-danne, Upulwan Sera-singhe.
Street Trail Bikes upto 125cc: Menjula de Silva, Indika Gurusinghe, Sujee-wa Ananda.
Group M & T Cars upto 1040cc: Prassanna T. Lokuge, Hafid Cader, Group J Trucks & Jeeps Diesel non-Turbo upto 3000cc: Dinesh Sena-nayake, Prassana Rana-singhe, Annesly Perera,
Group R. Racing Motocross Bikes upto 125cc: Atushi Tanaba, Udesh Wedisinghe, Jeffrey Bul-tjens.
Group A Cars: Rohan de Silva, Dilshan Hamdoon, Ravi Mayadunne, Racing Motocross. Bikes upto 50cc: Uhan Rajith Silva, Sasindu Peiris, Ishan Dissanaayke.
Group T & M Cars upto 1350cc: Rameez Mahmoor, Dushan Dinamithra, Yoga Perera.
Group J Trucks & Jeeps upto 3000 cc: Kamal Prasanna, Harendra Yata-waka. Rendy Anthony.
Group T & M cars upto 1665cc: Nalin Perera, Rameez Mahmoor, Dushan Dinamithra.
Group A. Cars: Nalin D. Perera, Dinesh Dissa-nayake, Shantha Suraweera.
Group J Truck & Jeep: (open class) - Dinesh Deheragoda, Darshana Jayalath, Ravi Mayadunne.
Group K - Racing Motocross Bikes - (open class) - Nalin Perera, A. Tanabe, Udesh Wedisinghe.
Group A Cars - Madushan Mannapperuma, Nalin D. Perera, Samidu Wijetilleka.
Group T & M Cars over 1665cc: Aravinda Prema-dasa, Nalin D. Perera, Shammz Yehiya.
Super Bike event: Udesh Wedisinghe, Nalin Perera, T.J. N. Fernando.
Group F. Forces Trucks & Jeeps: Wasantha Mad-ola, I.B. Samarakoon, Yak-ondawela
---
Contd. from last week
As Suggested by Daham Wimalasena
But in other sports NSC should approve the appointment of Selection Committees, selection of National Teams and selection of National Coaches. National Sports Associations (NSA) The quality of aspirants for positions in National Sports Associations (NSA) is much to be desired. The elective process rarely brings out good managers so essential to a proper functioning of a NSA. The rule that only individuals who have played the sport at 1st class level has also not had the desired effect on Sports administration. Good sportsmen are not necessarily good administrators. Any person of proven business acumen and experience should have the right to contest any post in the NSA (other than Treasurer) without the requirement of Ministerial approval. A Director of a quoted Company or a Private Company with over Rs. 50M Turnover should be automatically allowed to contest provided they have held office in an Association or Club in the relevant sport. Any Provincial or District Association which do not have 05 active member Clubs or Schools will not have any representation in the Ex-Co. They must also conduct at least one tournament for its members. Similarly paper clubs should not have any votes or representation at District, Provincial or National Sports Bodies. Such Associations and Clubs should be given a deadline to comply with this rule. If the Ex-Co of the NSA do not have at least 2 repsentatives who have played at the National level, and 2 business personalities (as defined earlier) and 2 representatives from outstations, then the Minister should appoint such persons with full voting rights. The Secretary of the NSA should as soon as possible be a full time officer (CEO) appointed by the NSA. With such appointment the Post of Hony. Secretary will be scrapped. The Treasurers of all NSA should be professionally qualified Accountants with at least 10 years professional experience and should be appointed by the Minister of Sports annually. A representative of the Schools' Association should also be co-opted to the Ex-Co. Ministry of Sports Closely monitor, financial management and administration of NSA with the right to call for any document and explanation. In addition to the appointment of Treasurers to all NSA, the Ministry may appoint an Advisory Board of Professionals to advise and assist the Ministry. To ensure that elections are held regularly on a free and fair basis on criteria stipulated in the Sports Law. The Ministry should prepare a guideline for a NSA Constitution, which ensures wide representation and accountability. To be guided by the NSC on all technical matters. Assist NSA in securing Funds, Sponsors, and Security. Prepare and implement a Master Plan for development of Infrastructure, Coaching Facilities and Sports Medicine Facilities for all sports. Selection Committees Those actively involved in Coaching at any level should not be appointed. All Selection Committees should comprise of men/women with knowledge, and those who have played at National level should be in a majority and the Committee should have a minimum of 3 and a maximum of 5. Selection Committees in established sports should be appointed by the relevant NSA for a fixed period from among those who are competent, knowledgeable, and have adequate time. The selections (of teams and individuals) do not require anyone's approval, but could be reviewed by the NSC. Selection Committees of other Sports should also be appointed by the relevant NSA on same guidelines given above. But their appointments and their selections should be approved by the NSC. Any dispute between the Selection Committee and the NSA of the same sport should be referred to the NSC for a decision which should be binding on both. The present National Selection Committee to be scrapped. Sports Fund 1. Source of Income a) Monies voted by the Central Government via Annual Budget and other Government fund allocations. b) Foreign aid for promotion of Sports received directly to the Fund. c) Individual donations. d) 1% of Foreign sponsorships (TV and other) received by NSA's (Hon. Minister shall have the discretion to waive such levy depending on financial strength of the relevant NSA). e) National Sports lottery to augment finances for NSA's that require special assistance for infrastructure development. f) Investment Income generated by the fund itself (Treasury Bills/Fixed Deposits etc.). 2. Disbursement a) For the promotion and development of all types of Sports in the country recognized by the Sports Law. Ex-Gratia payments in recognition of exceptional contributions and achievements in Sports. Minister may determine from time to time such disbursements out of the fund in consultation with the NSC where necessary. 3. The Sports Fund shall be under the control and administration of the Minister and shall be administered by the Secretary to the Minister subject to the directions of the Minister. The Secretary to the Minister shall as soon as possible after the end of each calendar year prepare a report on the Administration of the Fund. He shall also maintain a full and appropriate account of the fund in respect of each calendar year. All disbursements from the fund should be subject to Audit and Public Scrutiny. Contd. next week