---
Girls of the green
Women caddies are making golfing history at Victoria. Kumudini Hettiarachchi reports.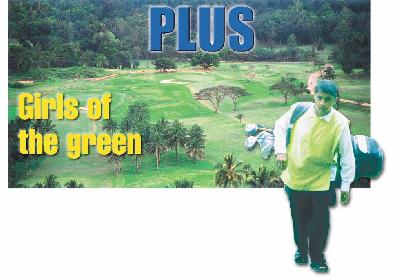 A rugged, but beautiful vista. Rolling plains, dotted with groves of lush coconut trees and solitary but stately Mara trees. Green hills stretching as far as the eye can see. Nestling between the grim Knuckles Range and the softly flowing Victoria reservoir of the Mahaweli is the Victoria Golf Club in Rajawella, Kandy.
So what? One may ask. What's so special about Victoria, that is not seen at the Colombo and Nuwara Eliya courses. Victoria, of course, is the baby. Designed by renowned British architect Donald Steel, it's only two years old, but already on the Golf Digest's list of the100 most scenic courses in the world, beating Nuwara Eliya and Colombo. This is mainly due to having both a splendid undulating terrain over which the holes are routed and a scenic backdrop of hills and lakes which excite the senses.
There is also another major difference, quite revolutionary in Sri Lanka's golf history, which spans over a 100 years. This becomes apparent when walking around this 517-acre grounds, flowing like green water. One glance at the golfers and then another — the caddies make all the difference.
For, unlike in Colombo and Nuwara Eliya, the caddies here are a mix of boys and girls. That's a first for Victoria; though in other countries women caddies are a common a sight, it's not so in Sri Lanka.
"There is a quiet efficiency about the women caddies. They don't collect in little groups and chat like the men. Many golfers choose the women caddies because they are easy to work with," says the Club's General Manager Tony Witham.
And as the lowering sky seemed about to open up with heavy rain and the golfers came back to base, the charming little clubhouse, a majority of the caddies or the golf-bag carriers seemed to be women. Of the nearly-100 caddies employed by the Victoria Golf Club, about 30 are women.
"Nidahasa thiyenawa," (We have freedom) smiles Menaka Ekanayake, 18, from the village of Nithulemada close by. She has been working as a caddie since the Club opened two years ago, joining soon after her O/Ls.
"We walk and we walk, but it is not tiring. We get a run of the course when our work is over. We too have learnt to play golf," she says, conceding shyly that she is quite good at it. How do the men caddies take to women being around? There are no problems. "We help each other and work as a team," says Menaka.
Coming from a family of six, with her father being the Club's contractor when construction work was underway, it was easy for her to persuade her parents to let her take the job of caddie. It was not so for 19-year-old Sandhya Kumari. One of six siblings, it took a while for her to convince her parents that this was a proper job.
"They first objected to my taking on this job, thinking that I will fall into trouble, working with 'sudu mahaththuru'," Kumari says. But when they heard the strict rules set by the club, they relented. Now part of her wages goes towards making ends meet for this large family, where the breadwinner, her father, is paralysed. Her father who was in the "gunny business" is unable to work and her elder brother is struggling to continue it.
"The balance money I put into the bank," she says, adding that working at the Club is easier because she doesn't have to travel far, from her village of Senarathwila. Most other people in her village work in Kandy and have to commute there and back. The excitement lies in meeting people, both men and women, from all over the world. Each weekend about a hundred visit the course and the Club has a membership of around 300.
The best part of Sandhya's employment is being able to play. She did not know a thing about golf when she joined, but now is an expert player.
And the Club has high hopes. To produce a national champion, especially from among the women caddies.

---
Much more than a game of golf
The Victoria Golf Club has many attractions for the non-golfer too.

For the wildlife enthusiast, there is bird-watching, with over 70 varieties of birds having been identified in the area. Three types of deer, mongoose, fishing cat and other wildlife have also been spotted in these scenic surroundings.

Horse-riding, mountain biking, a dip in the Victoria reservoir or just strolling along the meandering pathways, enjoying nature's grandeur are also enticing for those not too keen on golf.