By M.Shamil Amit
CCC gained a slender six runs lead over Panadura SC in the Premier League final round match being played at the P.Sara Stadium.In reply to Panadura's score of 152, CCC managed to get 158. Panadura batting the second time were 166 for 5 wickets at close.
Panadura- 152 and 166 for 5 wickets at close (Cha-mara Silva 61, Roshan Wim-alasena 29 not out, Amila Perera 18 not out; N.Rajan 3 for 54.
CCC-158 (P.Senaratne 28, A. Ratnayake 31; Charitha Buddhika 3 for 29, Chaminda Weerasinghe 2 for 32, Dilruwan Perera 3 for 39)
Ruchira Perera 7 for 40
Splendid bowling by fast bowler Ruchira Perera who took 7 wickets for 40 runs enabled SSC bundle out BRC for a paltry 117 and take advantage in the Premier League final round match being played at the Colts grounds. SSC batting first scored 190 with Hemantha Wickramaratne scoring 105 and SSC batting the second time were 112 for 9 at close.
SSC-190 (Hemantha Wickramaratne 105, Ian Daniels 39; Pulasthi Gun-eratne 3 for 49, Sajeewa Weerakoon 4 for 58, Malinda Warnapura 2 for 19) and 112 for 9 wickets at close (Ian Daniel 15, Hemantha Wickr-amaratne 33, Suranjith Silva 17; Sajeewa Weera-koon 5 for 32, Sajeewa de Silva 2 for 19, Bathisha de Silva 2 for 28)
BRC-117 (Sajeewa de Silva 46 not out, Sajeewa Weerakoon 34; Ruchira Perera 7 for 40) -MSA
Bloomfield sitting pretty
In another Premier League final round match between Bloomfield and Tamil Union being played at the SSC grounds. Bloomfield were sitting pretty after having shot out Tamil Union for just 126 runs they hit up a formidable 266 for 8 wickets before declaring with Pubudu Dassanayake scoring an unbeaten 72. Tamil Union batting the second time were 28 for 1 at close.
Tamil Union- 126 (B.Jeganathan 54; C.Palli-yaguruge 4 for 25, H.Alles 2 for 30, K.Gangodawila 2 for 22) and 28 for 1 at close (M.Deshapriya 17 not out)
Bloomfield -266 for 8 declared(Sanjaya Rodrigo 48, Pubudu Dassanayake 72 not out, Ruchira Palliyaguru 29, Sanjaya Dissanayake 33 not out; C.Sumathipala 2 for 35, M.Deshapriya 2 for 41, B.Jeganathan 2 for 58) -MSA
First innings win for KYCC
In the Premier League plate championship match between Moors SC and KYCC being played at Braybrook Place. KYCC have already obtained a first innings win over the host side. KYCC batting first hit up 180 and then bowled out Moors for a paltry 99. KYCC batting the second time were 148 for 4 wickets ar close.
KYCC-180(S.Priyantha 23, Subodha Jayawardene 90, K.Gunawardene 20; T.G.N.Ranjith 4 for 39, C.Hathurusinghe 2 for 21, Nilantha Cooray 2 for 25) and 148 for 4 wickets at close(K.Gunawardene 47, S.Jayawardene 45;Rangana Herath 2 for 30)
Moors-99 (N.Iranka 24, C.Hathurusinghe 24; Was-antha Kumara 4 for 26, M.Maduwantha 2 for 32, A.Ekanayake 2 for 16)-MSA
---
By Bruce Maurice
In the preliminary matches of the Mercantile six-a-side cricket tournament played yesterday at three venues, Union Assurance, John Keells, Mabroc Teas, Access Group, Sampath Bank, Janashakti Group, Nawaloka and HNB entered the quarter finals.
Sampath Bank beat CBE by 92 runs
Sampath Bank - 114 for 2 (A. Jayawardena 61 n.o., C. Fernando 28).
CBE-22. (I. Gallage 1 for 6).
HNB beat Trico Maritime by 31 runs
HNB - 81 for 2. (A. Gunawardena 58, M. Perera 1 for 7).
Trico - 50. (D. Fernando 1 for 12, R. Dissanayaka 1 for 9).
HNB beat CBA by 51 runs
HNB - 84 for 3. (A. Gunawardena 23, C. Jaya-singhe 22 n.o.).
CBA - 33 for 2. (S. Thiyagarajah 12 n.o., R. De Silva 14 n.o., S. S. Dissa-nayaka 1 for 5).
Nawaloka beat Tri Star Apparel by 3 wickets.
Tri Star Apparel 48 - (G. Gunasekera 13, N. De Silva 1 for 7).
Nawaloka - 49 for 2(N. De Silva 13, M. Akram 20 n.o., Warnapura 1 for 10).
Janashakti beat HVA by 5 wickets.
HVA - 25 for 4 (Nandasiri 11, R. Warnapura 3 for 0, L. Dias 1 for 6).
Janashakti - 28 for 0. (S. Roger 19).
Mabroc Teas beat Bata SC by 19 runs
Mabroc Teas - 81 for 2. (D. Kapurubandara 38, E. Jayasekera 19 n.o., R. Idamalgoda 14, C. De Silva 1 for 21).
Bata - 62 for 3. (S. Peiris 13, T. Abeysinghe 15 n.o., D. Kapuruba-ndara 1 for 4, R. Sampath 1 for 11).
---
By Bernie Wijesekera
The Sri Lanka Army rugby team gave a heart-warming performance when they emerged runners-up, losing to the strong British Army team by 19 (two goals, a try) to 5 (a try), in the final of the International 10-a-side Club Tournament, played in Pataya recently. 14 teams drawn from England, France, Germany, Hong Kong and hosts (Pataya) scrummed down.
The Lankan soldiers, who are a frontline team in the local scene, played their hearts out against big made tough opponents to become group champions, according to P.G. Gunawardena, the Army Coach, who accompanied the team. The soldiers matched their opponents with their firm and low tackling to keep the marauding opponents at bay. Gunawardena further said the team playing cohesive running rugby, contributed much for their success.
Playing in Group 'B' - they got the better of Letchworth (British) 28-21, Fernando (3), Vajira Jayatilleke a try scored. Kapila Knowlton converted all four tries.
In the next game the soldiers beat Hong Kong Wanderers 28-24 in a close contest. Jayasuriya, Rajapakse, Karunaratne and Dharmapala scored a try each. Kapila Knowlton converted. In the third match won 30-21 over Pataya Tanthers. They ran the ball to score six corner flag tries, Kapila knowlton, Karunaratne, T.A. Silva, Dharmapala. In the last game beat British team Bangkok, 38-21. Peiris and Naushad scored. In the semi-finals beat T.A. Hong Kong 26-14. Fernando, Karunaratne, Rajapakse and knowlton scored a try each to enter the final. In the final, lost to the British Army 19-5. Jayatilleke scored the solitary try.
Col. Ratnayake and Maj. Mohan Ratnayake (Sec.) accompanied the team. Maurice Perera went as co-ordinator.
---
Trials for the SAF Games
The Second trials for the 9th SAF Games to be held in Islamabad, Pakistan this year, are scheduled to be held on May 24, 25 and 26. Sri Lankan swimmers training abroad are requested to contact NAASU to confirm their participation. A 12-member Men's team would be selected at these trials for a Pre SAF Meet organized by the Pakistan Swimming Federation in Lahore from June 21 to 24. The National Amateur Aquatic Sports Union of Sri Lanka (NAASU) had picked a 37-member Swimming Training Squad for the 9th SAF Games to take place in Islamabad, Pakistan. The squad comprises 18 Men and 19 Women selected at the first trials held on 23rd and 24th March 2001. These swimmers will train under their respective coaches.
Waterpolo coaching
The Inaugural Waterpolo Coaching Development Programme - 2001 will be held on 25th and 27th May from 7 p.m. to 8.30 p.m. at the Otters Aquatic Club. Four nominations have been requested from the affiliates of the NAASU on or before 24th April 2001. The Novices Waterpolo Tournament will be held on Sunday, May 13, 2001 commencing at 9 a.m. at the Otters Aquatic Club. Circulars will be sent to the affiliates.
Short course swiming
The Short Course National Swimming Championships 2001 will be held on May11 and 12, commencing at 9 a.m. at the Mahamaya College Swimming Pool. Entries will close at 4 p.m. on Friday May 4, 2001 at the NAASU Registered Office. Only swimmers who have reached the entry time stated in the circular can enter for this Meet.
---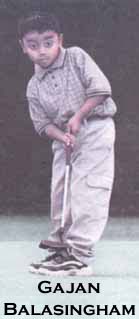 Richmond Hill, Ontario - The Canadian Junior Golf Association and US Kids Golf have agreed to a sponsorship deal to introduce competition to Canadian junior golfers 12 and under. In 2001, the CJGA will conduct two Qualifiers in Canada to determine which juniors will represent Canada at the US Kids Golf World Championship.
The Championship is played at the famous Jekyll Island Golf Resort in Jekyll Island Georgia.
"This is an exciting day for the Canadian Junior Golf Association," said Earl Fritz, CJGA Executive Director. "The CJGA has excelled in providing a professional atmosphere for juniors between the ages of 12-18. Now we can introduce a competitive atmosphere to juniors 12 and under.
"This partnership adds to the Canadian Junior Golf Association's quest to develop our juniors in Canada and provide them with international exposure".
The 2nd Annual US Kids Golf World Championship is a nationally televised event that will be held on August 3-5, 2001 at Jekyll Island Golf Resort, Jekyll Island, Georgia. Kids from all over Canada, US and around the world will compete, by age group, in this three-day event (one-day skills competition and two-day tournament) for boys and girls 12 and under. "We are very pleased to be associated with the CJGA," said Jeff Hull, Competitions Director and PGA Professional. "The CJGA conducts the best junior tour in Canada, so we knew it would be a perfect fit with US Kids Golf. We are excited to have a Canadian team return for 2001".
The Canadian Team finished 4th overall, with outstanding individual scores from Gajan Sivabalasingham, Elliot Whitley, Jackson Rue, Adam Wilson and Anita Gahir. The Canadian Junior Golf Association will be conducting qualifiers for the US Kids Golf World Championship at Bradford Highlands Golf Club in Bradford, Ontario and at Sunrise Golf Course in Surrey BC. The CJGA will be sending an Eastern and Western Canadian team.
The team will consist of 10 juniors from the East and 10 juniors from the West.
US Kids Golf is well known for its line of custom designed equipment for Kids 12 and under. US Kids is the leader for providing juniors 12 and under with the proper fitted clubs, giving them the best chance to develop their skills. US Kids Golf strongly supports the growth of golf in Canada and Worldwide. The Canadian Junior Golf Association is Canada's National junior golf tour that conducts 47 events across Canada. The CJGA is a not-for-profit registered Canadian Amateur Athletic Association that is dedicated to excellence in golf as a junior sport, both in Canada and on the international scene.
---
Marlon Fernandopulle reporting from Sharjah
The Interim Committee of the Board of Control for Cricket in Sri Lanka (BCCSL) is planning to draw up a Blue Print for the game in Sri Lanka. The committee is expected to look into the administrative, financial and cricketing aspects and come out with a well defined detailed plan that can be implemented in the short as well as long term. Although a specific time frame has not been given by the Sports Minister Laksman Kiriella for the tenure of the Interim Committee, it is believed that they will manage the affairs of the Cricket Board for at least an year.