---
Blessed tragedy
By Laila Nasry
Inna li allah, wa inna ilayhi raji'un (To Allah we belong and to him we must return) is the utterance that comes naturally to the lips of a Muslim on hearing the news of a death. However such ready acceptance of man's eventual destiny doesn't come easy to the Sahabdeen family and that of Mrs. Fowzia Ummah of Akurana, Kandy. Shock and disbelief cloud their grief.
Mr. and Mrs. Sahabdeen aged 63 and 58 respectively and 60-year-old Mrs. Fowzia Ummah were the three Sri Lankan Haj pilgrims crushed to death in a stampede in Mina, Saudi Arabia last Monday. Such a tragic ending to their journey would never have entered the minds of their families when on February 24, they waved goodbye to the pilgrims, all shrouded in white. The journey, costing Rs 115,000 each had been organised through their local travel agent, Abdulla Travels.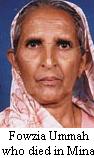 The Sahabdeens and Mrs. Fowzia Ummah were buried in Mecca on March 5 with the travel agents and others in their group performing the final rites. Denied the chance of a last glimpse of their loved ones, the two families are stoically struggling to come to terms with God's will.
"It's a divine blessing," they say of the deaths of their loved ones. "It's far greater than anything money could ever buy," the eldest of the Sahabdeens, Rafeez says.
However the families grapple with the irony of the situation. To an extent they are appeased, for to die in Mecca or while on Haj is considered the ultimate reward of a believer. "People tell us not to be sad but to be happy because there is no better end for them than this," he says.
However the grief of losing a parent is crushing.
Clutching a 'dusper' (rosary), her head covered, Rifasa Sahabdeen stares vacantly, in obvious shock over the events of the past few days. Her two younger sisters are equally bewildered unable to fathom that their parents are no more. "It's all very hard to bear," Rifasa says in a whisper. They try to talk but the words elude them. The youngest daughter who is five months pregnant has been taken to hospital and her two sisters are on sedatives.
"I wish I had gone with my mother to Mecca," says Fasir Mohomed, eldest son of Fowzia."Then maybe I could have saved her from getting pushed and crushed." Their initial plan had been to make the pilgrimage together next year. "But mother kept saying she wanted to go this year, so all nine of us got together and sent her," he says, with regret in his voice. "If she hadn't been buried there, I could at least visit her grave," Nasmila, Fowzia's eldest daughter says. "But she is very lucky to die there," her brother reiterates.
Both the Sahabdeens and Mrs. Fowzia Ummah were first- time Haj pilgrims.
The Sahbdeens are business people and the father ran a fancy-goods shop.
"My father always wanted to take my mother for Haj," Rafeez said. Parents of six married children and having fulfilled their family obligations they thought it fit to complete the fifth and final pillar of Islam-Haj. For widowed Mrs. Fowzia Ummah a close relative of the Sahabdeens, who lived just ten minutes away, it was a journey she always wanted to make. "For the past three years she has been wanting to go," her children recalled. "She kept saying, 'I must go this time because who knows I might not be living the next time'," daughter Nasmila says, stifling her sobs.
Similarly Rafeez recalls, "Mother once said that she might not come back."
Did Mrs. Fowzia Ummah and Mrs. Sahabdeen have a premonition they might not complete the Haj? Throwing stones at a pillar to symbolise stoning the devil is the last leg of the Haj journey. On that fateful day in Mina as everyone was stoning the pillar, a path was cleared amidst the sea of people to make way for some VIPs. Once they had passed, there was a scramble which resulted in the massive stampede. "That's what we were told," the families say.
The travel agents for both parties had called the families up and told them the sad news. "We first thought it was one big lie," Nasmila says. "But later we heard what had happened to our relatives, the Sahabdeens as well."
"They first told us that our father was dead and that mother was fine," Rafeez said. "All the while they had been looking for mother. They later found her but she succumbed to her injuries on being taken to hospital. We got another call announcing her death."
The news came on the morn of the Haj festival.
"We normally gather at the parental house after Haj festival prayers. It's one big, happy family, 18 grandchildren in all who sit down to the festival lunch. "This time we were all there but our parents weren't," Rafeez says sadly.
---
Doctor in the dock
By Kumudini Hettiarachchi
How to seek redress
What the SLMC can do
It is a tragic 'first' in Sri Lanka's medical history. A doctor's name is to be 'erased' for 'misconduct' from the register of medical practitioners for the first time in the 96-year history of the Sri Lanka Medical Council.
This is the culmination of a tragic course of events which began in September 1997 — a father seeking a prescription for a vaccine from a private clinic in Kottawa, buying the measles vaccine from the Osu Sala in Nugegoda and going back to the clinic with the vaccine packed in ice to be administered to his infant son.
And on September 20, 1997, soon after the "measles" vaccine is injected to baby Kavinda Jayawardena (10 months), his head falls to a side, he loses consciousness, he is rushed to the Lady Ridgeway Hospital, but dies.
Baby Kavinda's father complains to the Sri Lanka Medical Council. Its two disciplinary standing committees — first the Preliminary Proceedings Committee and then the Professional Conduct Committee (PCC) — inquire into the complaint and unanimously find Dr. (Mrs.) J.H.M. Kularatne guilty on all four counts as charged.
The charges were that Dr. (Mrs.) Kularatne, a government doctor who administered the injection to the infant, while conducting private practice on September 20, 1997 at Kottawa:
* negligently without proper care and diligence required of a medical practitioner administered a drug - suxamethonium chloride - to Kavinda Jayawardena which resulted in his death.
* negligently and or without due care or precautions administered the drug contained in an ampoule without ascertaining the identity of its contents or its suitability or appropriateness for the infant
* was negligent in failing to take appropriate steps by rendering emergency medical treatment to the infant who lost consciousness on the drug being administered or taking other steps to save the life of the infant
* permitted a pre-intern working under her to write a prescription to be used for the obtaining of a vaccine for the prevention of measles.
The measles vaccine comes in the form of a powder which has to be dissolved in distilled water. The SLMC inquiry found that instead of distilled water, what had been given to Kavinda's father by Osu Sala and later injected by the doctor to Kavinda was suxamethonium chloride.
Suxamethonium chloride is a muscle relaxant and resulted in the infant's muscle action ceasing, causing a halt to breathing and subsequent consciousness. If CPR (Cardio-Pulmonary Resuscitation) was administered immediately the infant could have been saved, senior doctors said.
The unanimous verdict of the Professional Conduct Committee that Dr. (Mrs.) Kularatne's name be erased from the register will now be taken up at the next meeting of the Medical Council this month and upheld, it is learnt. The doctor could then appeal to a court of law or after the passage of time appeal to the Medical Council itself, which would once again hold an inquiry and decide whether she should be re-registered.
"Serious professional misconduct" has been defined by the SLMC through the words of Lord Justice Lopes who had said in 1894: "If a medical man in the pursuit of his profession has done something with regard to it which will be reasonably regarded as disgraceful and dishonourable by his professional brethren of good repute and competency, then it is open to the Medical Council, if that be shown, to say that he has been guilty of infamous conduct in a professional respect".
Professional conduct and personal behaviour are considered under six headings — neglect or disregard by doctors of their professional responsibilities to their patients for their care and treatment; abuse of professional privileges or skills; derogatory professional conduct; advertising, canvassing and related offences; comment on professional colleagues and any other act of commission or omission deemed as unacceptable to the disciplinary committees of the Medical Council.
The Professional Conduct Committee's verdict has created ripples in medical circles and also thrown into focus the controversial issue of patients' rights. Most doctors The Sunday Times spoke to were sympathetic towards all the people involved in this tragedy.
"I feel sorry for all those involved in this tragedy — the doctor, the infant and his parents," respected surgeon, Dr. P.R. Anthonis said. "Today the public is well-educated and doctors have to be careful. I'm sure the Medical Council has looked into all aspects of the case."
A well-known family physician in private practice was vociferous in his defence of state doctors engaging in private practice, despite the belief that this could lead to patients being given only a cursory examination. "Only half the state doctors do private practice and they need it to lead a comfortable life. Only very few abuse it," he said.
Will this action by the Medical Council open the floodgates of patient complaints? Dr. B.G.D. Bujawansa, immediate past president of the Independent Medical Practitioners' Association, does not think so. "Doctors do make mistakes because they too are human beings, but if a patient's relatives feel that the doctor has exercised due care and responsibility, they will not resort to such action."
"The Medical Council's decision, though unpleasant, is a good move. So far the Council has been accused of soft-pedalling issues. But take the British Medical Journal and see how many doctors are struck off the register by the British General Medical Council. I'm sorry about the doctor involved and also the infant, but there must be a start somewhere. Doctors must act with responsibility and face the consequences of their actions. Sometimes we are like bus drivers and conductors who if a colleague is wrong and is penalised would gang up and defend the wrongdoer. We must within the profession criticize unorthodox ways of practice. If a doctor criticizes a colleague when he is wrong, he is accused of dog eating dog," Dr. Bujawansa said.
How to seek redress
The unprecedented "erasure" decision of the Professional Conduct Committee of the Medical Council has acted as an eye-opener to many people on an inexpensive way of seeking redress when faced with callous and negligent medical staff. A complaint, supported by an affidavit as to the facts of the matter is all that is needed. It could be addressed to the Registrar of the Sri Lanka Medical Council who would then put it up to the Council's President.
If the President thinks the complaint deserves investigation he would refer it to the Preliminary Proceedings Committee, which will establish whether there is a prima facie case. If so, it will put it up to the Professional Conduct Committee for further inquiry. The PCC will then call for evidence, summon witnesses, sit in judgment and determine the guilt or innocence of the doctor in question and also recommend the punishment.
If the SLMC President feels a complaint is too trivial to be put to the disciplinary committees, he would take it up with the Council itself and let it decide.
What the SLMC can do
The role of the Sri Lanka Medical Council is primarily to maintain a register of all medical practitioners, dentists, registered medical practitioners (RMOs), pharmacists, nurses, midwives, para-medical assistants and professions supplementary to medicine such as radiologists, clinical psychologists etc.
It is a quasi-judicial body, functioning under the Medical Ordinance and has a disciplinary function. All those on its register are liable to a disciplinary inquiry if a complaint is made against them. It has the power not only to summon the parties involved in a complaint but also expert witnesses.
The Medical Council also maintains minimum standards of undergraduate and post-graduate medical education. The 22-member SLMC has many standing committees including the Preliminary Proceedings Committee which comprises the Vice President and four members and the Professional Conduct Committee which consists of the President and 10 members.
Currently, the SLMC is inquiring into three more complaints of misconduct against doctors.
"Just like the General Medical Council in the United Kingdom we are concerned about protecting the public and upholding the reputation of medical professionals," stresses the SLMC's President Dr. H.H.R. Samarasinghe.