---
News
More: Taxes, borrowings, spending
Trade chamber slams Govt. economic strategy
By Feizal Samath and Chanakya Dissanayake
The government presented a budget generally viewed by the country's business community as "more taxes, more borrowings and increased spending."
"While there are plus points in the budget, the negative aspects is that the increased tax burden on the corporate sector and upping of the defence levy would hurt both consumers and businesses," said one economist.
Deputy Finance Minister Prof. G.L. Peiris announced a 20 percent surcharge on corporate taxes which meant taxes on listed companies would rise to 36% and on unlisted companies by 42 percent. The defence levy on goods and services rose by one percent to 7.5 percent.
The Chamber of Commerce, the premier chamber, slammed the budget saying it was unlikely to "deliver the vision of the private sector or the vision 2010 of the government."
"Although the preamble to the budget reflects the government's vision, it is not supported by strategies in the proposals. We also doubt whether the long-term targets committed by the government will be realized," the chamber said in a statement, also casting doubts on whether it was realistic to assume that the revenue target of 25 percent against 8 percent last year could be achieved.
The chamber also raised doubts as to whether the budget deficit could be contained at 8.5% of GDP and inflation at 9.5%, whether Rs. 106 billion will be available for capital expenditure and whether privatization proceeds of Rs 25 billion - at a time when the sale of a Sri Lanka Telecom stake is on hold - could be achieved.
The chamber praised incentives for the local industry, the apparel industry and a level playing field, infrastructure and IT, the creation of a new bank to cater to small and medium scale entrepreneuers, and lauded the plan to rationalize holidays.
The National Chamber of Commerce said in a separate statement that it was unrealistic to expect many concessions from the government in view of the huge defence bill.
Minister Peiris reassured the nation that the budget deficit for 2001 will be kept at Rs 123 billion and announced that this would be financed by foreign borrowings, foreign grants and the balance from the domestic market. He added that reduced borrowings from the domestic market will cut interest rates to 16% in 2001.
Analysts said though interest rates in the money markets have fallen by three percent in the past two weeks from 22 pct to 18.5 pct earlier, it was unlikely to go below 17 percent.
The local financial sector was also sceptical about the government's ability to resort to foreign funding to ease pressure on interest rates.
"There is no benefit like employment in this project because the plant is highly automated and would require only about 250 people. It will only kill the local industry. This plant will be another white elephant like the plywood factory in Salawa", concluded Mr Amarasinghe.
---
Malaysian venture blow to local furniture industry?
By Akhry Ameer
Plans by a giant Malaysian wood firm to invest in Sri Lanka and sell to local consumers have triggered alarm bells across the local industry which says the entry of the foreign company would be a "lethal blow" to rubber wood furniture manufacturers.
"Considering the various forms of threats we face lately, this looks like the final blow to the entire rubber wood industry in Sri Lanka," explained local exporter Chemwood Exports Pvt Ltd in a letter to the Sri Lanka Export Development Board. The company, which has been in the business for the past decade, exports 50 percent of its output.
Patrick Amarasinghe, president of the Furniture Manufacturers Association, said that, "taking the larger interest of the country, they must consult industry people first before approving projects of this nature. The BOI (Board of Investment) is letting down the government in the process."
The BOI in January approved a US $20 million factory project in Sri Lanka by Malaysia's Merbok Hilier Berhad (MHB) aimed at catering to local and Indian markets. BOI said the investment would make MHB, Asia's biggest manufacturer of medium density fibre commonly known as MDF, the largest company in Sri Lanka in the wood sector.
Industry officials said that despite representations made by local manufacturers, the project was on target with the foundation stone being laid at the proposed site in Horana recently. The threat faced by the local industry from this approval is mainly to do with the raw material. Rubber wood has become the main resource for local manufacturers due to restrictions on forest timber.
The proposed Rs. 1.6 billion plant would produce 100,000 metric tons of MDF annually, using a large component of local raw material which means that furniture dealers would have to compete with the Malaysian company for the same supply base. Local manufacturers complain that there is already a shortage of rubber wood with small furniture production units working under capacity.
"As it is not one twig of rubber wood goes to waste. If you go and ask for rubber wood twigs from a roadside shop they would charge you at least Rs. 3.00 for a handful," said Lakshman Wanniatchi of Chemwood Exports (Pvt) Ltd. explaining the demand for rubber wood locally. 40% of rubber wood is consumed as the poor man's fuel.
According to local industry specialists, the MDF plant by itself would require a major portion of Sri Lanka's rubber wood output.
Industry sources said that if the MHB plant consumes a lot of local material, many of the small furniture industries spread across the island in pockets like Moratuwa, in which over 500,000 are employed could be forced to close.
Though this issue has been discussed extensively with the Ministry of Industrial Development and the BOI by the association, there seems to be no turning back with agreements being signed by the Malaysian company with estates to ensure an uninterrupted supply of raw material.
"Estates see this as an easy way, because they don't have to call for tenders to uproot and remove the trees. But they don't realize that this will last only for about two years and they will have to settle for less when the world market prices drop. By this time many of the small industries would be closed," said Mr. Wanniatchi. The only solace for the local industry at the moment is that the IFC (International Finance Corporation), a World Bank affiliate, is still studying the project, which is a possible signal that the full financial package is not in place.
" Even last year, the government announced that the deficit will be financed mainly through foreign borrowings. But, in the end almost the whole deficit was financed locally sending interest rates skyrocketting," said the general manager at a leading foreign bank.
Dr S.S. Colombage, a retired Central Bank economist, said while the impetus given by the government to some production sectors would boost socio-economic development, the budget failed to provide ways of reviving the ailing economy.
"The budget has not effectively addressed fundamental macroeconomic imbalances like escalating inflation, weak monetary management, rising fiscal deficits, high interest costs, weakening rupee, widening trade deficits, production setbacks, unemployment, and poverty," he said.
Peiris also presented an ambitious plan to reverse the balance of payments to a surplus in 2001 from a deficit last year through a growth in export performance, foreign inflows and investment inflows to the stock market.
Economists questioned the plan saying the whole region was finding difficulties in attracting investment and with low productivity evident in the local economy, a surplus was not possible unless the government expected major inflows from expatriate workers who can now bring their money and take it out as and when they please.
"The effects of high interest rates last year on the corporate sector, would only be evident in 2001. The latest tax surcharge would further increase corporate burdens on top of the interest rates impact," said a leading banker.
On a positive note, some financial analysts believe it is easier for the government to borrow overseas since the cost of dollar funds has come down. " Due to a slowdown in Western economies, dollar interest rates have come down. It will be cheaper for the government to borrow in international capital markets. This could push local interest rates down, " said a leading fund manager.
The budget also displayed a high level of inflation targeting by the government, with a plan of reducing the inflation to 4%, triggering a debate among economists, about the suitability of setting very low inflation targets for developing economies, which has a danger of slowing down growth to painfully low levels.
"Any reduction in inflation should accompany a reduction in interest rates. If the government is maintaining interest rates at 16% and inflation at 4%, the real inflation will amount to 12%. This will strangle investments," said Sharhan Muhsen, a local economist.
---
Naked aggression on Telecom net
By Hiran Senewiratne
Close to 15,000 e-mail and Internet subscribers of Sri Lanka Telecom (SLT) received a stunning message on their computers last week - a pornographic picture - due to a technical hitch, officials said.
"This happened when we were upgrading one of our servers and during this period some unknown person had been able to access the server and send a pornographic picture across our system to all e-mail addresses," said D. Liyanagamuwa, head of SLT's Internet division.
Telecom authorities were unable to track down the culprit or ascertain whether it was one of its 30,000 subscriber. They said the problem had been sorted out. SLT subscribers were also sent other unnecessary mail with some subscribers complaining to the Sunday Times that at one point they received at least 50 e-mails a day with bizarre messages, not intended for them.
SLT was not the only e-mail and Internet service provider to confront this problem. Ceycom, the Internet and e-mail arm of the giant Ceylinco Group, also had a problem where its subscribers received hundreds of unwanted mails giving rise to speculation as to whether Western-oriented hackers or mail bombing have entered the Sri Lankan domain.
Ceycom Internet service manager Rohan Sirisena said customers complained that they had received e-mails not intended for them. He said he believed an unidentified person had retrieved their customer list and sent messages to subscribers.
Prof V.K. Samaranayake, Head of the Colombo University's Institute of Computer Technology said he believes hacking and mail bombing - where subscribers are bombarded with unnecessary e-mails from an unknown source - is possible in Sri Lanka. "The only protective mechanism against computer crimes is strong cyber laws," he added. Draft legislation has been prepared to counter computer crimes and the proposals are before the Ministry of Justice.
Kolitha Dharmawardene, who helped in the drafting of the proposed new cyber laws, said that draft legislation on computer crimes does not cover the display of pornography, as the penal code relating to the possession of pornographic material has to be amended first.
---
Mind your Business
Incoming free
At long last, subscribers would now want to believe that mobile phone operators have agreed to the Calling-Party-Pays system, after much persuasion from the state.
But good things don't come cheap and in addition to paying more when a mobile phone is called, some networks are contemplating a hike on outgoing call charges as well. But not all networks agree on this, especially those who believe they can make up for any loss of revenue by the projected increase in phone sales, when incoming calls are made free.
And anyway, the watchdog who regulates all this is not likely to encourage an outgoing call charge hike.
Supplement only
And now about phone books: if everything goes as planned the official publishers of the phone directory will issue only a supplement with corrected and additional residential phone numbers from next year. So, imagine the scenario: search in one book, draw a blank, search in the next book and so on until you find the number you want. Of course, the Yellow Pages, the money-spinner with all its ads will be published in full. Consumer groups have taken umbrage at this decision and planning legal action against what they consider to be a violation of their rights.
Garment lament
The country's premier export earner is the garment industry but after the recent surcharge on power tariffs, most factories are fighting hard to break even. Discreet representations have already been made asking for concessions from the state but the replies have been mostly negative, the powers that be, fearing a snowballing chain of requests from other industrialists. So, most factories are planning to cut back on production over the next six months as much as possible.
---
Lanka opting for casual, non-contract labour
Sri Lanka is among countries in the world where liberalised product and labour markets have led to more casual work and non-contract labour than permanent employment for the country's workforce, says an international labour agency.
"Casual work and working without an explicit contract of employment is increasing world-wide and has been noted in many countries which are liberalising product and labour markets such as Argentina, Brazil, Pakistan and Sri Lanka," the International Labour Office (ILO) noted.
The Geneva-based organisation said in its latest World Employment Report 2001 released last week that although unemployment in Sri Lanka had declined from previously high levels, it still remained high amongst educated youth.
The report - an annual presentation on the state of the world's labour market - warned that nearly one-third of the world's labour force of about three billion were either unemployed, underemployed in terms of seeking more work or "earn less than what is needed to keep families out of poverty."
It said according to ILO estimates, "open" unemployment at the end of 2000 stood at 160 million, up 20 million before the peak of the Asian financial crisis in 1998.
"In addition large numbers of impoverished people in the developing world are sustained by the meagre earnings of the working poor, for whom unsafe and unhealthy working conditions and job and income insecurity are widespread," the ILO noted.
In spite of the difficulties, conditions for an improving global employment situation are seen as better now than in the more recent past, the report said adding that growth alone in the long term was not enough to create the more than 500 million jobs needed by 2010 to accommodate new entrants to the workplace.
"Meeting this goal would require much greater attention to core labour market issues, including investments in human capital, overcoming discrimination and making employment a more central goal of economic policy," the report said.
While increasing numbers of workers in the US and other industrialised countries are finding jobs, the situation in South Asia is somewhat mixed.
In India, there is no clear evidence yet that poverty levels have been significantly reduced due to faster growth rates. In Pakistan, despite recent improvements, unemployment has been rising and continued recession has put almost 20 million people below the poverty line in the past 10 years.
Self-employment, the report significantly points out, is growing faster than traditional employment while migration for employment is also rising with generally positive results for hi-tech workers in contrast to the often tragic results for hundreds of thousands of illegal or smuggled migrants.
The ILO report said that movement was "freer" in the ICT (information and communication technologies) sectors of industrialised countries where skills shortages abound. "India, Eastern Europe and North Africa are likely to be among the main sources of supply (in the ICT sectors)," it noted.
IT specialists in Sri Lanka say that the country is gradually building a reservoir of talent in IT skills. Many Sri Lankan computer software engineers have been recruited abroad in addition to Sri Lankan IT companies like Millennium Technologies Ltd (MIT) making its mark in the global arena.
The report highlights the disadvantages suffered by smaller countries in the IT field when pitted against the industrialised world. While the world's entire ICT is produced by 15 percent of the world's population - mostly those from industrialised countries - less than half the world's population has access to electricity, phone lines and other infrastructure necessary to enable them to adapt to these technologies in production and consumption.
"That leaves most of the world's population at a significant disadvantage and at least one-third of the world's population 'technologically disconnected'."
The extent of the "digital divide - technological haves against have-nots -" can be gauged from the fact that while one phone exists for every two persons in the US and the European Union, Africa's entire population of 739 million people have less than 14 million telephones.
Referring to the gender issue, ILO said that an analysis of recent trends showed that in spite of progress in some areas, women generally continued to earn lower incomes, suffered higher unemployment and remained largely restricted to low-skilled, part-time, informal and unstable jobs.
---
Inflation rises to four-year high
Sri Lanka's point-to-point inflation measured by the Colombo Consumers Price Index (CCPI) rose to a four-year high of 16.6% in February 2001, following the 16.2% recorded in January and 10.8% in December 2000, Asia Stockbrokers Ltd said.
It said in a report that consequently annual average inflation increased sharply to 8.7% in February from 7.5% in January and 6.2% in December 2000 while the the CCPI on a month-on-month basis, increased by 45.3 points to 2842.8. Point-to-point inflation is calculated on the basis of the CCPI index, in this case February 2000, compared with the CCPI index in February 20001.
Inflation has now averaged 11.3% in the past six months and a substantial 14.5% in the past quarter, the broking firm noted. The continuing sharp increase in inflation in the months of February and January was attributed to higher local and imported food prices following supply constraints due to adverse weather and currency depreciation respectively and the lagged impact of the increase in administered prices of flour, kerosene, diesel and public transport.
It said Inflation is expected to continue to rise this year as the series of price hikes in fuel and utilities and faster currency depreciation take their toll indirectly on food prices, which constitute 62% of the CCPI. "Consequently, we are targeting annual average inflation as measured by the CCPI to rise to 10.4% in 2001, up from 6.2% in 2000," the report said.
---
Citi Bank
Low profile , new plans
By Chanakya Dissanayake
Citi Bank is rapidly raising its low profile operation in Colombo to become a key player in the local financial sector. The new drive took off last week with the acquisition of the local Nova Scotia branch, which increased Citi's asset base by 15%. The Citi Bank also secured their foothold in the corporate banking, through the top corporate accounts handled by Nova Scotia. Citi Bank's local operation has been performing extremely well during the past few years, justifying the need for expansion to the regional management.
"Citi Bank Sri Lanka's Return On Equity (ROI) of 40% is the highest in the region for the bank. We have proved that we still can make money in Sri Lanka, despite unsettled conditions in the country," said Citi Bank's CEO, Kapila Jayawardena. The bank's -tax profits rose by 60% to Rs. 250 million in 2000 from 1999. The total asset base has also increased by 40% during the year.
Citi Bank's expansion will initially focus on the corporate market, with state of the art internet-based, cash management and trade products. The retail sector will also receive a limited focus with investment and depositary products aimed at the high net individuals. The new products are expected to be introduced during this year.
Commenting on competition on the corporate market, Jayawardene said "Citi Bank's cutting edge will be the technological superiority. We are confident of acquiring the corporate market share from other banks, because we can offer a global service which others can't match".
The bank will also keep out of the credit card business initially, because "the credit card market currently does not justify the entrance of another player," he added. The expansion will also comprise of a growth in the ATM network, to provide a better service to retail customers. "We do not believe in building brick and mortar structures. The future of banking is in the Internet. There is no immediate need to build branches," he said.
---
Commercial Bank
Plans to install 100 ATMs
Commercial Bank, which posted record profits last year, is setting its sights on aggressively tackling the retail market, with the planned opening of 100 ATM's in 24 months in addition to the current 80 ATM's.
The bank posted a record performance for the year 2000 with pre-tax profits of Rs 1.1 billion, up 42% from the previous year. Both the deposits and advance grew by 24% and 26% respectively. The non-performing loan ratio was trimmed to 8.73% from 8.95 in 1999, a substantial achievement in trying economic conditions, officials said.
The Commercial Bank's Economic Value Added (EVA) indicator also showed a surplus of Rs 195 million last year. EVA is internationally recognised as the ultimate performance measurement tool, which indicates value addition after discounting cash flows from cost of capital. In Sri Lanka, EVA is published only by the Commercial Bank. However the government's recent move to remove all state accounts from private banks is expected to adversely affect bank performance this year. The Commercial Bank handled many large state accounts, including the Petroleum Corporation and CWC."Our volumes will be affected. But the biggest problem is rescheduling the advances already given to state clients," said Commercial Bank CEO Amitha Gooneratne. "We are confident about finding alternate avenues of business, to offset the adverse affects of losing state clients," he added.
---
Arpico's bonanza Maruti goes to…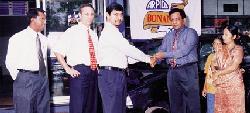 The first prize winner of the Arpico Bonanza receives the keys of the brand new car from Jeremy Ferreira, Managing Director, Richard Peiris Distributors Ltd. at the Arpico Showroom, Nawinna. Seen in the picture: (from left) Dharshana Senerath Marketing Services Manager, Richard Pieris Distributors Ltd., Ranil Pieris, Chief Operating Officer of the Richard Pieris Group Jeremy Ferreira, Managing Director, Richard Pieris Distributors Ltd. and the lucky winner Mr. Jayakody and his family.
---
Majority denied tertiary education
"Less than 15 percent of Sri Lanka's total advanced level student population can undergo tertiary education through state universities," says Prof. R.P. Gunawardene, Secretary to the Ministry of Higher Education and Information Technology.
Prof. Gunawardene,who addressed the recent inauguration of the M.Sc. in Information Technology programme at the Centre for Postgraduate Studies of the Informatics Institute of Technology (IIT), said Sri Lanka currently produces only about 200 IT graduates whereas the local requirement by itself is about 2000.
He said an IT campus is being constructed at Malabe to raise the number of IT qualified personnel.
This would be managed by Informatics and eventually handed over to the company. Gunawardene also called upon all IT graduates passing out to serve the country first before looking at entering the global workforce.
The Centre for Postgraduate Studies of the IIT is the first Sri Lankan organization to offer an overseas post-graduate degree in IT with the advent of the M.Sc. from Keele University, United Kingdom. Informatics Institute of Technology formerly known as Informatics Institute of Computer Science (IICS) was the first local institute to offer an overseas BSc degree in collaboration with Manchester Metropolitan University, UK.
The institute through its 10-year existence has produced over 700 IT graduates and is regarded as the largest private university in Sri Lanka.
---
Ceylinco opens its International College of Business and Technology
Despite Sri Lanka's long-standing ethnic conflict and connected stress-related problems faced by the population, the country's thirst for knowledge and education is admirable and gratifying, the Australian High Commissioner Peter Rowe said.
He was speaking at the opening of a new campus building of the International College of Business and Technology (ICBT) launched by the Ceylinco Group last week at Hotel Road in Mount Lavinia.
The ICBT is a BOI approved project initiated by Ceylinco Group chairman Lalith Kotelawala last year in an effort to provide quality education to Sri Lankans.
"I always wanted to start a business school and give youngsters the start that we didn't have when embarking on a business venture," Mr. Kotelawala told the Sunday Times Business.
ICBT's first programme is the Master's in Business Administration degree awarded by the University of Western Australia, which began in October 2000.
ICBT has completed negotiations with a number of Australian universities to conduct programmes such as Diploma in hospitality, Bachelor of Information Technology, Master's Degree in E-Business, Bachelor of Architecture, Diploma in Human Resources Management, among others.
Thousands of Sri Lankan students now have access to a range of and degrees and PhDs in dozens of local institutions affiliated to mostly US, British and Australian universities. Given the high costs of courses however - though costing less than studying abroad for the same degree only affluent students can afford to make use of these facilities.
"I agree with your point. Maybe we should be looking at opening business schools in the outstations catering to the middle and low income segments," Mr. Kotatawela said, when asked about the need for budding business executives in rural Sri Lanka to also have access to more-cheaper facilities.
---
Trine wins award
Trine (Pvt) Ltd, local agents for Alucobond Composite Cladding materials made in Germany, has won the year 2000 award for highest sales growth in the Asian region, the company said.
Alucobond is the novel building cladding material applied to the exteriors and interiors of buildings to provide a modern sleek finish instead of conventional plaster.
Fixing of Alucobond composite cladding can transform an old dilapidated building into a spanking new look externally, immediately enhancing its aesthetic and commercial value without the need for costly remodelling.
Chairman Trine (Pvt) Ltd, Brandon Rozairo says that although comparatively new in Sri Lanka, Alucobond has captured the imagination of architects and property developers. Within three years, Trine has increased sales to record the highest sales growth in the Asian region for year 2000, pushing past countries such as Singapore, Malaysia, Thailand, Philippines, China, Indonesia, Australia and New Zealand.
Alucobond is already installed in Sri Lanka on prestigious buildings such as the ABN Amro Bank, DHL Holdings (NDB), HSBC branches, Asha Agencies, AMW, McDonald's' drive-in restaurant and several other rehabilitated buildings in the city. The latest addition is the spanking new Hatton National Bank Building on Darley Road.
---
USAID vehicles for young investors
The United States Agency for International Development (USAID) recently donated two vehicles to Young Entrepreneurs of Sri Lanka (YESL) program.
YESL is the Sri Lankan affiliate of Junior Achievement International, a U.S. non-profit organization that educates and inspires young people to value free enterprise, understand business and economics, and be workfore ready.
Ambassador E. Ashley Wills, handing over the vehicles to YESL said "In the future, Sri Lankans will not depend on government to make decisions for them, but on individuals who are able to see the world of opportunities. In other words, people need to be enterprising. They should see problems as challenges and opportunities."
The pilot YESL project in Sri Lanka was initiated and funded by USAID in 1998. This program has rapidly expanded from its initial beginnings in nine schools with 1,500 students to reach 45,000 students in 300 schools by this year. Currently, the program is sponsored entirely by the Sri Lanka private sector, which aims through this good private-public partnership to produce new entrepreneurs and a job-oriented workfore.