Major exhibition on coral reefs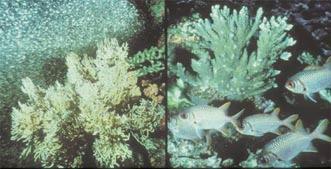 Widely known as the 'rainforests' of the sea coral reefs are one of the most biologically diverse and productive ecosystems on earth. For thousands of years coastal communities have relied on coral reefs as a source of food and livelihood. Coral reefs make a significant contribution to the economies of tropical countries that are fortunate to possess them.
In Sri Lanka, coral reefs occur off the northwest, south and east coasts. At present Sri Lanka has only two marine protected areas (Hikkaduwa and the Bar Reef). Both areas have been afforded legal protection for their coral reefs.
'A Tomorrow for our Coral Reefs', a week-long exhibition organised by IUCN, the World Conservation Union will be held at the BMICH from March 28 to April 4. The exhibition will focus on coral reef ecosystems, their biodiversity and the direct and indirect uses of the coral reef resources of Sri Lanka. The different natural and human threats posed to coral reefs and what can or should be done to protect both the coral reefs and the human livelihoods dependent on them will be a special feature of the exhibition.
The exhibit will be interactive with displays and activities targeted at all age groups with the opportunity for hands-on learning and examples of on-going coral reef research and management activities in Sri Lanka.
The exhibition will include interactive and visual displays, coral reef photography, a coral reef related film festival, a research colloquium, a forum for discussions on coral reef and coastal management related issues, the sale of coral reef related merchandise and a children's art corner. The Sunday Times and Lankadeepa are the print media sponsors and MTV and MBC Networks, The electronic media sponsors for the exhibition.