Comment
Crisis in the plantations
Just at the time when the country's tea industry appears robust and vital, there are rumblings of trade union actions that may disrupt the industry and indeed affect the economy adversely. There is no reason to be surprised that these trade union actions came at this particular time of record achievement in the tea industry.
Trade unions find that the time when the industry is doing well to be the most opportune time to strike. They may also have a justification for higher wages owing to the recent increases in prices of basic requirements.
The tea industry did extremely well last year-the best in its history. Tea production reached a peak 305 million kilograms, tea exports recorded a new high of nearly 250 million kilograms and prices were good. This performance was particularly welcome and impressive as the industry had undergone a decline since the mid 1960s.
Foremost among the factors responsible for this impressive growth in tea production in the last seven years, was the long leases of the plantations given to private firms. This enabled investment on the plantations. The lack of a secure tenure had been responsible for inadequate development expenditures in the past. No doubt better management practices on the estates helped increase yields.
Complementary to the developments on the estates was the increased production on small-holdings. In fact the increase in production on the small-holdings has been even more impressive. The extents under small-holder cultivation as well as their yields have increased significantly. Good prices for low grown teas have been the most important reason for this growth. The profitability of tea cultivation has enabled small holders to use inputs at near optimum levels. There has also been an improvement in the infrastructure supporting small -holder tea cultivation. Small -holdings now produce more than half the country's tea. Yields on smallholdings are about double that on the plantations. The yield levels on the smallholdings are among the highest in the world. It is not so on the estates. In fact the low yields on the estates is a factor responsible for their high costs of production of tea.
It is in this context that the wage demands have to be looked at. The plantation companies have argued that they have expended a considerable amount on the improvement on the estates and that they are not able to increase wages. They have also pointed out that Sri Lankan tea plantation labour is paid much higher than their counter parts in other tea producing countries. An increase in wages, which is the major component of costs, they argue, would make their enterprises unprofitable.
The labour unions point out the increased costs of living as a justification for higher wages. They also point out that plantation wage rates are lower than the wages in other sectors and the labour wage in the informal sector.
Both sets of arguments no doubt have validity as well as an exaggeration of their cause. What is urgently needed is a reasonable discussion of the issues and an early settlement. Trade union actions in the form of strikes will do no good for the industry. The long term success of the tea plantations would ensure better wages and living conditions to the workers. On the other hand, there can be little doubt that the plantation workers are among the least paid and enjoy one of the lowest standards of living.
The key to the resolution of the issue lies in gearing wage increases to labour productivity. The era of state ownership, in particular, eroded labour discipline and labour productivity.
The time is opportune to tie increases in wages to increases in labour productivity. The norms which labour has to comply with must be so designed that the workers get a good wage if their output increases. This is in the best interests of the workers and the management. This is what they must attempt to achieve.
---
Tea means trouble
By Feizal Samath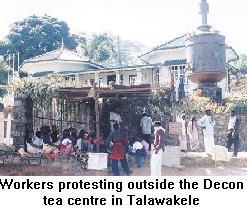 Is it Arumugam Thondaman's ego that is brewing the current crisis in Sri Lanka's plantations or a genuine desire by him to fight for workers' rights, or is it both?
Most political analysts believe it is both. Having lived in the shadow of his more famous grandfather, Saumiamoorthy Thondaman, the younger Thondaman is seen using the plantation crisis to create the kind of power base and aura that the older Thondaman held.
The protest is viewed as a test of strength for Thondaman taking over the CWC reins from Saumiamoorthy who died some years ago, to prove his ability to run the giant organization and win their demands.
Saumiamoorthy Thondaman, a Tamil of Indian origin himself, was the founder of the CWC and godfather to the workers and their families. "The younger Thondaman, who is facing a bitter split in the party since he took over wants to prove to his workers that he is capable of winning demands for them," said one analyst.
The dispute itself between workers and companies in the high-value plantation sector over wages is threatening the country's biggest export commodity and seen slowing down the economy.
Economic growth which topped six percent in 2000 but is seen falling to four percent or below this year, could slip further if the crisis in the tea and rubber plantations worsens, according to industry analysts and economists.
"We are facing a grave crisis in the plantations. We could lose the confidence of international buyers and prices would surely suffer. Restoring this confidence is not easy," warned Dickie Juriansz, chairman of the Ceylon Tea Traders Association (CTTA) and head of the James Finlays Group that owns a couple of plantation properties.
The Planters Association of Ceylon, representing plantation owners, in a full-page advertisement in newspapers titled "The death of an industry", said the industry was wilting and an additional wage demand could be disastrous.
"Given the losses we are already incurring, any further increase in labour costs would sound the death knell for the industry," the association noted.
Since early February, the Ceylon Workers' Congress (CWC), Sri Lanka's biggest plantation union representing more than 500,000 workers of Indian origin, has been demanding a pay rise of 400 rupees per month to cover rising living costs which has been exacerbated by the rapid depreciation of the rupee last year.
The CWC says this cost of living increase was paid to public and private sector workers last year but not to those in the plantations and has threatened to turn what it calls a "mild protest" into a major protest. The Employers Federation of Ceylon (EFC), representing employers across the country, says such action will create chaos on the estates and huge financial losses for firms.
The EFC said the federation and the CWC had a joint agreement last year - which is in force till June 2002 - in which the union will not strike in return for wage increases and other benefits spread out over a period of time. The CWC says the agreement does not cover cost of living increases.
The protest started as a "prayer" meeting, where workers gathered for a couple of hours in the morning at fixed locations, has been turned into a satyagraha or sit-down, peaceful protest.
Though the CWC has denied that its workers were on a go-slow campaign, estate companies complain that plantations have been badly affected where work had considerably slowed while financial losses were mounting. The CTTA said teas recently purchased at the Colombo auction were not reaching exporters from the plantations.
This, it noted, would further aggravate the current situation as a number of contracts would have to be cancelled, tarnishing Sri Lanka's image abroad. The CTTA said production had been curtailed and movement of teas was being blocked while the quality of the product had also suffered.
Sri Lanka is the world's largest tea exporter and the product is the country's main export commodity. While the country exports some 280 million kg per year out of a production of 300 million kg, close to 1.2 million people are dependent on this industry.
The crisis comes at a time when the country's foreign exchange reserves have slumped to US $ 950 million last year from a comfortable US $ 2.5 billion two years go.
The deteriorating reserves' position, sufficient for only 1 1/2 months of imports compared to the average three months worth of imports, compelled the Central Bank to free the rupee from controls on January 23. The bank, which normally fixes the buying and selling rate of the US dollars, the most-traded foreign currency in Sri Lanka, and intervenes in the market when the dollar falls too low and rises to sharply, said it would allow market forces to dictate the true value of the dollar. The move came in for both praise and criticism.
On top of the acute foreign exchange crisis, Sri Lanka's economy has been hit by rising global fuel prices which have been passed on the consumer last year, triggering prices hikes in consumer goods and high inflation. Central Bank officials said the government had sought emergency balance of payments support from the International Monetary Fund (IMF) to bail the country out from the current crisis.
Rising war spending which shot up to 85 billion rupees last year from a projected 50 billion rupees due to unexpected purchases of weapons, planes and ships to battle Tamil separatists, also eroded foreign exchange reserves.
The protest turned ugly two weeks ago when workers held a estate manager and his assistant hostage, surrounding their bungalow in the central town of Madulsima. Reports said 600 workers guarded the house in the morning while about 100 workers kept vigil at night.
"We sorted that problem out. As soon as we were told of the incident, we sent union officials to the area and allowed the two men to be freed.
"That was the only unfortunate incident reported," said CWC spokesman M Yogarajan. He denied reports that the CWC was planning to call out its members to strike saying "we will not extend this to a strike. We believe in ahimsa and non-violent methods to achieve our objective."
The protest has drawn unusual support from some government politicians, heading trade unions, and even other anti-CWC unions. Yogarajan said they had been promised support from the Ceylon National Workers' Congress and the Upcountry People's Front, both breakaway factions of the CWC.
Higher Education Minister Indika Gunawardene, who is also chairman of the Red Flag Union, joined the sit-down protest on February 25 at Hatton in the central hills where Thondaman has conducted his campaign on a platform in the town. Chandrasiri Gajaweera, a junior minister of vocational training and a trade unionist himself, joined the protest for a few hours, three days later.
Thondaman has rejected assertions by plantation companies that they would lose millions of rupees if forced to pay the wage increase. "Plantation companies have gained substantially by the recent depreciation of the rupee. The extra payment won't have any impact on their bottomline," he has said.
According to the Planters Association, Sri Lankan workers are the highest paid in the world. The daily average earnings of a Sri Lankan worker is 121 rupees compared to 114 rupees by a worker in Kenya, 107 rupees in South India, 107 rupees in Tanzania and 70 rupees in North India among other major producers, according to the association.
The industry has been pushing for a productivity-linked wages structures saying commodities' prices are subject to sharp fluctuations but the proposal is strongly opposed by unions whose workers have enjoyed fixed wages for centuries.
The industry proposal is a politically sensitive one. Sri Lanka's ruling People's Alliance (PA) and the main opposition United National Party (UNP) have supported fixed wages in a bit to woo plantation workers whose votes are crucial in the formation of coalition governments when single-party rule is not possible.
---
Collaborating to compete
'Negotiation' from an HR perspective
By Dr. Carol Reade
Overview
If we pick up any business magazine, we cannot avoid seeing the word 'compete'. On virtually every page we are reminded of the need to be competitive, not only for the sake of profits but for sheer survival. Competition increasingly rests on meeting an ever-changing consumer demand through innovative, quality products and services. One of the challenges for the HR function has been to create working environments that unleash innovation, commitment to quality, and concern for the customer. The focus has been on a participative style of management, where employees are empowered to brainstorm, take risks, and make decisions.
What is often overlooked, however, is the fact that greater employee participation widens the scope for disagreement.
As more people are offered opportunities to be involved in decisions which affect them and their work, disagreements are likely to arise over such diverse matters as wage rates, task objectives, performance evaluations, job assignments, work schedules, work locations, and special privileges. Disagreements, if not managed properly, become dysfunctional for the organization. Unresolved differences can decrease work productivity and job satisfaction, and contribute to absenteeism and job turnover. In short, unresolved differences compromise the employee collaboration needed for successful competition in the market. With organizations becoming increasingly participative, it is important for HR and other managers to be familiar with basic negotiation concepts and principles.
The concept of negotiation
Whether we realize it or not, we negotiate everyday. Negotiation is not limited to formal situations where people sit on opposite sides of a table and discuss contentious issues. It is also an informal day-to-day activity we engage in whenever we try to get something from another person. At home, this might mean trying to talk your spouse into buying a new car. You want it now; your spouse thinks the timing is bad. At work, this might mean a heated discussion over deadlines.
You want the product delivered next week; your colleague insists on two weeks. Broadly defined, negotiation is the process of back-and-forth communication aimed at reaching an agreement, when some of your interests are shared and some are opposed.
Just because we face situations requiring negotiation, doesn't mean that we like it or that we are good at it. A lot of people do not like negotiation because it can be stressful. It often involves confrontation and making unpleasant choices.
Yet, the way we negotiate can make a difference. How we negotiate may determine whether we come to an agreement or not, whether the pie is expanded or merely divided, and whether we have a good relationship with the other side or a strained one. Fisher and Ury (1983), in their seminal work Getting to Yes, identify two approaches to negotiation with fundamentally different outcomes.
Approaches to negotiation
Position-based
In position-based negotiation, each party takes a stand or position, argues for that position, and either prevails, gives up or compromises. We see this dynamic in the offer/counteroffer process that goes into bargaining over prices at a street bazaar. We also see this dynamic in formal debates, where each side represents an extreme position on the issue being discussed. The participants rarely present a balanced view, and rarely seek to find common ground. Instead they argue about whose views are "right."
They present what may be exaggerated evidence to support their view, rather than searching for information to expand mutual understanding. Even in informal situations, a similar process happens. Someone has an idea. Someone else suggests a different idea. They argue over whose idea is best until one prevails. Depending on how people react to disagreement, individuals might walk away, give in to others, dominate, or haggle toward a middle position.
The drawback of this approach is that it can lead to closed-mindedness and rigidity, personal attacks, hurt feelings and damaged relationships. Because those using this approach tend to rely on leverage and coercion, the approach often produces win-lose situations, or at best a compromise where each party gives way on some of its demands (splitting of the pie). There is not a creative search for how the pie could be expanded so that each party might get more or all of their interests met. Moreover, those who feel that the prevailing decision fails to satisfy their needs, may lend it only weak support, or may defect altogether.
Interest-Based
In the interest-based approach people are brought together in a relationship that encourages collaboration rather than confrontation.
In the position-based approach, the parties become emotionally and intellectually attached to their preferred solution (position) from the beginning. This is because they have already solved the problem in their own minds.
In the interest-based approach, instead of solving the problem in their own minds and trying to convince the other party that their position is correct, the parties walk through the mental problem solving process together, to mutually search for the best possible solution that will provide maximum satisfaction for all parties. This process is aided by inquiring into each party's experience and underlying interests, and by brainstorming creative options for mutual gain.
The outcomes of this approach tend to be a deeper understanding of the problems and their causes, more creative and effective solutions, greater trust and strengthened relationships.
An interest-based approach to negotiation has the potential to expand the pie and increases the chances of arriving at win-win solutions. From an HR standpoint, an interest-based approach to negotiation for day-to-day problem solving can help to create an organizational climate that fosters a sense of partnership and collaboration toward organizational goals. The following are key principles of the interest-based approach.
Key principles
Separate the people from the problem. One of the key principles of the interest-based approach is to attack the problem, not each other. In the interest-based approach the parties sit down together as partners, not as adversaries, and discuss the problem from each party's point of view.
Focus on interests, not positions. Another key principle is to uncover the concerns, needs and desires that underlie each party's demands. Demands mask underlying interests, and probing behind the demands of each party often reveals overlapping interests.
Generate options
Inventing options for mutual gain is another key principle. This involves coming up with a variety of ideas towards addressing the interests of each party. The more ideas that are generated, the greater the chance of crafting a solution that would be acceptable to both parties.
Use objective criteria.
It is also important to use objective criteria whenever possible. It is easier to come to agreement if the evaluation of options rests on benchmarks such as market value, precedent, professional standards, etc.
Use consensus decision-making.
Another key principle is to promote employee participation through consensus decision-making, so that all can support, agree to, or live with the decisions.
Consensus decision-making is time-consuming, but results in full commitment to the decision taken by the parties. Consensus is particularly beneficial when the decision is important, when the decision will have an impact on diverse interests, and when implementation of the decision needs cooperation.
To illustrate these principles, consider the classic departmental tension between Marketing and R&D.
The former clinches a deal with a client by promising a product by a certain date, only to discover that R&D needs more time to work out the product glitches. Marketing takes the position that the deadline needs to be met in order to keep the client; R&D's position is that the client expects a quality product.
This situation could easily disintegrate into strained relationships and a sub-optimal trade-off between quality and product delivery. In the interest-based approach, colleagues from each department come together as partners and fully discuss the problem from each side's point of view. They uncover their overlapping interests in delivering a quality product in a timely manner, and brainstorm ideas for addressing this mutual interest. They may use industry standards on product cycle to help determine whether they are developing products in a reasonable time frame.
Finally, the colleagues evaluate options against interests, and use consensus decision-making to arrive at a solution.
HR challenges
The workplace is a community of interdependent relationships. Whenever there are interdependencies, there exists the potential for disagreement. Differences of opinion can occur between individuals within groups or teams. They can also occur between groups, either horizontally such as between departments, as in the preceding example, or vertically such as between management and labour. In all of these instances, the scope for disagreement widens in tandem with the degree of participation in the decision-making process.
When disagreements get beyond a certain level, they become dysfunctional for the organization. If people are angry, dissatisfied or frustrated, chances are they are not working to optimum levels. Productivity may decrease. Creativity and innovation may be stifled. If people are not collaborating towards the same goals, the organization suffers.
Interest-based negotiation is applicable to dealing with a wide range of HR issues. It has the power to transform disagreements into creative collaboration toward corporate objectives, collaboration that is necessary to successfully compete in the market. Interest-based negotiation has been found to result in creative solutions that satisfy the interests of all parties, in strengthened relationships, and in an overall sense of partnership. However, learning to respond creatively to differences requires not only skills but changes of attitude. Abiding by the principles of the interest-based approach requires a high level of openness, fairness, and integrity. This may be a challenge to achieve, but well worth the effort. Interest-based negotiation skills for day-to-day problem solving is a competency that every manager should have.
Carol Reade is senior lecturer in organizational behaviour at the Postgraduate Institute of Management, University of Sri Jayawardenepura. She holds a PhD in Industrial Relations from the London School of Economics, and a MA in International Relations/International Business from Sophia University, Tokyo. She is a founder-member and member of the interim governing council, of the Employment Mediation Services Centre established in Colombo in January 2001. Formerly in the banking sector, she has worked, taught, researched and trained in diverse environments around the world, including Bank of Tokyo-Mitsubishi, the LSE, Unilever (India, Pakistan, Sri Lanka), Sri Lanka Telecom and Merchants Bank of Sri Lanka.