Contents
---
Inner Circle in sunny Lanka
By Sanath Weerasuriya
'We know and heard a lot about Sri Lanka. It is a beautiful island and we are really looking forward to seeing her " said Kris Bentley, the leader of the band Inner Circle, when I got connected to him on a telephone for an interview last week.

Grammy Award winning Reggae group, Inner Circle is set to perform on December 31 in Colombo at the Western Garden of the BMICH.

Tickets are limited to 2000 numbers at Rs. 3800/-

Profile Entertainment, who are the local agents for the band, have teamed up with YES FM to present the New Year's Eve celebration in Colombo to welcome the "Real Millennium" in Style.

Inner Circle comprises Kris Bentley ( vocals), Roger Lewis on guiter, Ian Lewis on bass, Touter Harvey on keyboards and Lancelot Hall on drums.

Inner Circle are renowned all around the world for their hits"

The games people play", "A la la la la la... Sweat", "Da Bomb", "Bad boys"(from the movie Bad Boys featuring Will Smith), "Reggae Dancer" and "O bladi O blada

The band members of Inner Circle, the highest record selling Reggae act in the world, are said to be extremely excited about touring "... sunny Sri Lanka" with their brand of "rastafarian reggae ....... the Jamaican style".

'We got lot of details and pictures about Sri Lanka by browsing the Inter-Net.I am really telling you man , we are much excited about the this tour.' said Kris.

This will be the first time in Asia , an internationally renowned band is performing for a New Year's Eve in any part of the continent.

The story of Inner Circle began in 1968 in Kingston, Jamaica when two brothers huddled three other Rastafarians together to form what the world would see as one of the most influential and successful reggae groups.

Early success came in 1978 with the album "Everything is Great", which hit Top 20 status in the UK, and top 10 in France, with the songs "Mary Mary" and "Music Machine".

In 1980 the group suffered the loss of lead singer Jacob Miller, who was killed in an auto accident. Inner Circle grew stronger with the addition of Carlton Coffey, who took the group to # 1 in Europe with the hit "Bad Boys", a track that would later feature strongly in the TV series "Cops" and the box-office smash "Bad Boys" starring Will Smith and Martin Lawrence. This song produced the group's American Grammy Award for Best Reggae Act.

Inner Circle backed up this success by conquering the US, UK, Europe and Asia with "Sweat (A La La La La Long)", from the album "Bad to. the Bone". This track took #1 position all over Europe and Asia, holding the top spot for month

They followed up this success by releasing several compilations, including "Reggae Dancer". This album featured "Summer Jammin" which appeared in Eddie Murphy's Beverly Hills Cop III. It was in this year that Inner Circle received their second Grammy Award nomination for Best Reggae Act

Touring success has come in the form of sold out events all over Europe, Asia, UK and USA, appearing in concerts alongside Dru Hill and The Isley Brothers in Miami. with Ziggy Marley and Big Mountain covering South America, and shows in hometown Jamaica with Jimmy Cliff.
---
'Misty' heats up at Galadari for New Year's Eve
'Misty' is a three piece band of whom Ranjith is the bandleader.

Ranjith Rupasinghe, Lead vocals & Key board started his career while in school and in 1993 joined the popular dance Band "Heat" for a period of four years. In 1997 with all the experience behind him started on his own and was in the Maldives with the existing band members.

Marlon Mendis Lead Guitar and Base Vocals has eight years experience in Music and played with Europa, Rajiv & the Clan, Heathrow, Mike Gunasekera & Serendib.

Viraj Cooray Vocals and Acoustic Guitar - Newly joined the band and has gained success within this short time.

'Misty' has travelled and performed in Dubai, Abu Dhabi, Bahrain and India. The band specializes in 60s, 70s and 80s music. The band including the latest hits performs when the occasion arises with all types of music.

Currently performing at the Galadari Hotel on Thursdays they will perform on 31st Night at the Centre Lobby for a Family Dinner Dance.
---
Hot coffee and cool music
What happens when you put together some of the best coffee in the city with the best music that the Sri Lankan airwaves have to offer? Simple, you get Hotshot.

Brewing up a storm on the fourth floor of Majestic City, Hotshot is the latest coffee shop to open its doors in Colombo.

Three kinds of top quality beans and over 30 ways of serving them, add up to a massive choice for everyone from the casual drinker to the wide-eyed fanatic.

On top of all that music fans get 9-pool tables, 4 of them world championship grade, to help you work off that caffeine high.

Add the great music from TNL Radio into the mix and you've just whipped up a hot spot that caters to everyone from the caffeine fiend in a hurry to the sipper who wants to sit back and relax with his favourite brew.

With a sophisticated decor, excellent staff, great brews, and, of course, some of the hottest music in town Hotshot is sure to become one of the most happening places in town.
---
Healthy treatment from 'Rhythmic Vibes'
"Rhythmic Vibes" (Rhythmi-ers) one of the energetic western music pop bands to hit the local music scene with a bang, will perform at the Siddhalepa Ayurveda Health Resort on December 31 night.

The band has been enthralling local music lovers for the past six years. The livewire of the band is Prageeth Jerome (1st runner-up, Showboat Karoake Championships 2000).

Featured (L-R) Prageeth Jerome (main vocalist), Prasad (keyboardist), Alexi (guitarist), Suren (percussionist).

Rhythmic Vibes is managed by Franklin Silva of Ja-Ela.
---
High Flying '2-TogetheR'
"2-TogetheR", is very much in demand for their high flying performances.

Riza Deen handles the main vocals of the outfit, while Thushara Kuruwitage handles the keyboards with other latest kind of musical equipment and vocals.

Spokesman of the outfit Riza says, Thushara is talented and the ideal person for a duo. He further goes on to say Thushara is the master behind the success of "2-TogetheR".

This duo is capable of catering all types of music in Western, Oriental and Eastern even Indian.

Currently performing at Blue Oceanic, Royal Oceanic, Sea Shells in the Negombo region, and Tangerine Hotel in Kalutara on weekly basis, they also get involved with private parties and weddings etc., in their busy schedule.

According to the duo, their best experience was performing abroad in Maldives and Cyprus.

Talking about the past experiences Riza said they were with some leading bands like - Zodiac, Simple, Serenade, Zeal-s and Lazer.
---
First joint venture in video productions
By Sanath Weerasuriya
'Ind-Sri Video Production Limited', the first India Sri Lanka production company under BOI will be opening in Kotte early next year.

Ind-Sri Video, will use some of the latest digital technologies used in the US and in Japan.

'On conducting a market survey, there are ample opportunities in this field, like making Films/Tele-dramas/Advertisments/ Commercials etc. as per Sri Lankan taste with the help of Sri Lankan Producers/Models/Actors and Actresses by using latest and modernised advance technology, which is not used in Lanka yet' said Shiraz Faleel, the Lankan counterpart of this joint venture.

'Apart from these, there are wide opportunities to hire all latest kind of Camera's (Betacam DV CAM) and all kind of lights specially made for this kind of work. In Sri Lanka only few big Companies are having these latest equipment. To explore/support to Sri Lankan film city, we will hire our equipment (other Company's) to those who are already in this field but who cannot afford to spend so much to buy them explained L. Gupta, who invested in this project from India.

As per the statistics, every year, there are 150 Tele-dramas being staged and out of them 80 to 90 Tele-dramas get permission from Government and Local T.V. Channels for telecast. Each Tele-drama cost around rupees 350,000/- to 400,000/-.

'While closely studying the customer requirements and market survey, we found in Sri Lanka there is a lack of Advanced. Technology as well as a good experience in this field. To fill this vacuum we have decided to set up a Video Production House to improve our film city image as well as to give experience to this film city to improve picture quality and to get training from them for newcomers., said Asoka Gangoda, the Manager Production, Sales of Ind-Sri Video.

To make this Production House more successful and powerful the Comapny will appoint to some key posts foreign experienced staff like camera men and Editors.

'Since we have adequate expertise in this field, we hope to successfully start all the above mentioned activities thereby generating employment to a number of people besides revenue to the Sri Lankan Government as well, Shiraz added.

The collaborators are having rich experience in this line with strong financial backup. The project will cost about 15-20 million rupees to get off the ground.
---
Popularity continues for Lucky Dias
Continuing his success as a television actor over the past couple of years, Lucky has won the award for the Most populer TV actor for his performance as Dr. Sampath Madugalle in teledrama 'Sahas Gaw Dura', at this years Sumathi Tele Awards .

'Sahas Gaw Dura' also won the award as the most pupular Teledrama of the year 1999 - 2000.

'Sahas Gaw Dura' directed by Malini Fonseka was telecast over ITN in 1999.

Lucky Dias and Felicia Deen are the producers of this award winning series.

As an actor in the silver screen, Lucky also won the president's award for his cinematic performance in Gamini Fonseka's 'Anthima Reya' early this year.

'Sohoyuro' and 'Kemmura' were two very popular teledramas, where Lucky starred in this year.

Both these teledramas were on Rupavahini and gained tremendous popularity among the teledrama fans in Sri Lanka.

Currently he's seen with Geetha Kumarasinghe in her latest film 'Anuragaye Anathaya', which is directed by Mohan Niyaz , now showing in the film circuits.
---
Latin craze hits Lanka
Largely Latin, Sri Lanka's first international style festival of Latin Jazz music, could prove to be the nudge that the local music scene needs to adopt more contemporary sounds and newer music, one of the international performers at the festival has said.

Hussain Jiffry, one of the most accomplished guitarists and composers Sri Lanka has produced, said he was surprised and saddened to see the extent to which some local bands were still using sequencers and drum machines and concentrating on cover versions. "The choice of tunes and instrumentation has not changed much over the past 30 years,'' he told TV Times. ''I would like to hear more contemporary sounds, more original music, newer tunes. Local performers should also take more time to rehearse"

Describing Largely Latin as a "great event'', Jiffry said it exposed Sri Lankan audiences to new sounds and a new musical experience. "Being away for some time, I took it for granted that audiences here were familiar with the kind of music we play, but I realized that they have not been exposed very much to Brazilian and Mexican jazz, and were very receptive to the music we played."

He said the stage erected for the concert was easily one of the best he had performed on and described the setting, the western garden of the BMICH as "unbelievable." The international contingent, which had not performed together before, arrived jet-lagged and had just two days to practice, but put on a very creditable performance, Jiffry said.

One of the most respected and sought-after musicians in Los Angeles, Jiffry is on the faculty of the Los Angeles Music Academy (LAMA) for which he wrote the Latin Styles curriculum.

He tours regularly with Sergio Mendez and has also toured and recorded with many international mega stars including Whitney Houston, Dione Warwick, Michael Bolton, Chaka Khan, Carol King and Gloria Gaynor.

Jiffry told the TV Times he greatly enjoyed performing at Largely Latin, and was looking forward to being part of the show the next time around. "It is great to see companies like McCallum Breweries coming forward to present events like this to local music enthusiasts," he added. "It was a spectacular success."

Largely Latin was presented by Three Coins . It brought together some of the country's most accomplished overseas-based musicians like Jiffry, Sunil de Silva (Australia), Dylan Lye and Dulip Wijesinghe (Hong Kong) and two foreign performers, Carrie Gibson and Stan Ganapolsky from Hong Kong.
---
Jyotika Saddana: from Bollywood to Hollywood
By Kandasamy
Nagma's sister Jyotika Saddana is no stranger in the South Indian cinema. Although she went unnoticed in her first Bollywood venture Doli Sajaake Rakhna, she has now made her first Hollywood break. Despite her success in Tamil films, she considers this as her first 'big break'.

She teams up with Director Singeetham Srinivasa Rao's fun-fantasy film Little John opposite Hollywood star Bentley Mitchum playing a six-inch miracle role. Rao's forthcoming film Little John promises to be a fun-filled fantasy that will appeal to young and old alike.

"Actually, I was invited to direct a Hollywood film where I would have been the only Indian in the entire team," says Rao, who is known for his bold theme-based experimentations in films like Pushpak, Appu Raja and Naache Mayuri. "The kind of special effects they use in film-making is amazing and I decided to make a film focusing special effects."

According to Rao, Hollywood stars are much more disciplined than the actors in the Indian film industry. "The stars abroad pay a lot of importance to good story and script, they study the script thoroughly and try to live the character. They are even willing to sacrifice their remuneration for a good script," he said.

In Hollywood, stars had to audition for every new venture before they were found suitable to be signed on. "In India, if a star has appeared in one or two movies, he is simply signed on for a new film without any effort to ascertain whether he will suit the role or character," said Rao. The film is likely to hit the Indian silver screen this month and the English version will be released worldwide later.

On his part, Mitchum said that he found "the script good enough to sacrifice a major Hollywood movie I had already signed." After he was selected by Rao, he went for a rigorous yoga training, read a lot about Indian culture, learnt everything he could about the Indian film industry and also studied in detail Rao's style of film-making.

The actor who played the lead in films like A Crack In The Floor, On The Border and Lethal Exposure, feels he has done justice to his role. The film is aimed at the whole family. "We want people to go out with their families to the theatre. They will not go unless we give them good, wholesome and entertaining fare," Rao said.
---
'Bopath Sakkiya' goes in search of contentment
Bopath Sakkiya (Testimony of the Bo Leaf) is a teledrama that reveals the high quality of life of a few large hearted individuals who had dedicated their lives to raise the standard of physical life and the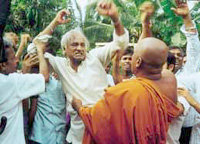 intellect of people living around them.

The twenty episode teledrama produced and directed by Sathischandra Edirisinghe to a script written by K. B. Herath is soon to be telecast on the small screen. The story woven around its hero Parakrama Nugaliyadde who is a patriotic lawyer hails from a respectable high-class family.

Parakrama's elder son Tissa had been for a long time receiving his education in a foreign country. Daughter Vishaka is reading for a Degree in Archaeology in a Sri Lankan University. Parakrama's wife Mallika is also an educated lady from a high-class family.

The film commences with the return to the island of Tissa who is a typical Sinhala child with his head muddled with ideas of physical wealth, new technology and commercialization.

Parakrama who had lived in the hope of making his son a patriotic person is now facing a completely westernized individual.

Tissa who arrives in the island joins a construction firm as a consultant. Tissa had met its main shareholder, the Rushkin family, while in England. Maureen, the only daughter of the Rushkin family had been studying with Tissa. As such, Tissa has a idea of marrying Maureen.

Rushkin Company engages in the business of exporting granite. They begin to break a rock close to an archaeological site. The custodian of the site, Rev. Sobitha, joins Parakrama in protesting against this destruction. When Parakrama learns that the man behind this wanton act is Tissa the father becomes desperate.

However Parakrama wins the battle, causing a rift in the relationship between the father and the son. Meanwhile Tissa proposes to Maureen. But Maureen who had been leading a life of physical comfort from her young days has now turned towards spiritual exploration and is attracted towards oriental philosophy, Buddhism and meditation. Tissa who has now distanced himself from his parents and Maureen leaves the country to settle down in Australia. Parakrama who had cultivated high hopes about his family and children suffers a spiritual breakdown.

Meanwhile Parakrama's daughter Vishaka who has passed out from the University marries Upali, a young lecturer of the same University. After the marriage Upali goes abroad for further studies.

Disgusted of the commercial lifestyle, Maureen leaves the house and goes to a forest hermitage of Buddhist nuns and begins to lead the contended life of a nun.

Parakrama's life once again goes into disarray. Upali, the son of a school principal who had held Sinhala customs and traditions in high esteem now gets employed abroad and has got westernized like Tissa later takes his wife Vishaka deserting Parakrama.

Confined to the solitude of a large mansion Parakrama is shaken by the loneliness and the national destruction and is even unable to get any information about Tissa who is said to be living in Australia.

Pained with Upali's lifestyle who has begun to imitate the playful life of the Western society finds Vishaka returning home for her confinement.

The cast include Sathischandra Edirisinghe, Veena Jayakody, Robin Fernando, Janaka Kubhukkage, Rahana Beddage, Kanchana Mendis, Angela Seneviratne, Roshan Pilapitiya, Pabhoda Sandhipani, Geetha Kanthi Jayakodi, G. Gunawardena, Chitra Warakagoda and many others.
---
Elvis Presley legend lives on
Elvis fever or craze is not yet over. Everywhere in the world it grows and grows, even many years after his death. Sri Lanka too is not spared and this is the story of Lankan Elvis.

Elvis Aaron Presley, The most celebrated popular music phenomenon of his era and for ever, the purest embodiment of rock 'n' roll, Elvis Presley's life and career have become part of rock legend.

A white southerner singing blues laced with country and country tinged with gospel, he brought together American music from both sides of the colour line and performed it with a natural hip-swivelling sexuality that made him a teen idol and a role model for generations.

More than twenty years after the superstar's death, the dream has come true to lucky fans around the world. "Elvis - 'The Concert", the astounding production that reunites former Elvis bandmates live with a state of the art video projected Elvis, continues its historic and critically acclaimed world tour. This is, in effect, Elvis' first-ever world concert tour, which began in America in 1998.

In his lifetime, Elvis' only concerts outside the United States were five shows in three Canadian cities in 1957. A world tour was an unrequired dream for Elvis and for his itnernational fans. 'Elvis-The Concert is now an official Guinness World Record holder, noted as "the first live tour starring a performer who is no longer living". Which means, I believe, during Elvis' twenty-year music career, he grooved into hearts and he's the only artiste in the world who will remain 'young' in every heart forever.

We, as Sri Lankans now have an opportunity to relive and enjoy 'Elvis the Pelvis' again in Sri Lanka. I was in a state of nostalgia about the late and great King Elvis Presley, that I was privileged to witness the performance of a carbon copy of the king Elvis in the like of Janaka Palapathwala a product of the Kandyan Hills.

The same Elvis style, the hip swinging, the cool crooning voice, blending in the melodious harmony and to make us rave, his stage performance. How I wish to witness again, Janaka in full Elvis Presley regalia on stage and the encore after encore for "Love Me Tender", "The Wonder of You", "Heart Break Hotel", "Its Now or Never" z-z-z-z-z-z its pulsating, its electrifying!

I boldly moved in to question our prodigy. He confessed he was an Elvis Presley fanatic from the age of ten.

The King's guitar and the music that orignated from it, the chubby baby face of the 20 year old Rock 'n' Roll king was the real foundation for a full two decades of dedicated Presleyfication."

He stressed with deep gratitude, the professional guidance from Mrs. Mary Anne David.

'Mary Anne's vocal training added the quality to my voice, Mrs. Carrel Suei taught me the importance of showmanship, and 'Showboat,' is the only place in Sri Lanka to enhance singing talents to music lovers who like to come up," Janaka said.
---
Gem of a resort in Kiriella
By Sanath Weerasuriya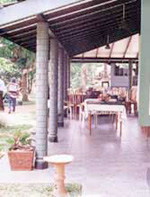 Ratnapura District is not a popular tourist destination. It attracts only gem dealers around the world.

But very slowly Ratnapura is now adding a few tourist attractions providingfacilities for nature lovers. Kiriella was never a destination for overseas visitors nor for Sri Lankans.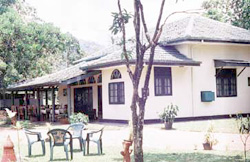 Wijeya Holiday Resort is the very first place in Kiriella to become an up market holiday bungalow in the area.
Kiriella is rich with nature attractions with water-falls, tea estates, wet-jungles, rivers, mountains etc.
Wijeya Holiday Resort in Epitawela, Kiriella is owned by Wijeya group of companies, who mainly deal with gem related businesses.
It is situated in a middle of a tea plantation with a scenic beauty around the bungalow.
Wijeya Holiday Resort is an old estate bungalow turned 'holiday resort' with all modern facilities.
The most naturalistic attraction of the bungalow is the waterfall by the side of the estate and natural swimming pool.
Wijeya Holiday Resort has a big playground with all sport facilities, such as cricket, rugby, basketball etc.
Also all the indoor games facilities are available including chess, carrom, dart, table tennis etc.
The bungalow comprises of eight rooms with and without air conditioning and it will be given on 'whole bungalow' basis.
'No individual rooms will be given. This will mainly cater for family outings, group trips, company trips and for foreign tour groups. We do not want to see this place being used for casual, few hour visits Pinsiri Wijeyapala the managing Director of the resort said.
'The prices are a bit on the high side to attract the real holiday makers' he said.
'Day Trips for groups too are encouraged' For company outings this will be an ideal place' he added.
Weddings, conferences, small gatherings are the other sections, they are targeting at.
---
New tastes from Kishore
Widely acclaimed and admired Master Chef Kishore Reddy of Lanka Oberoi was born and brought up in India. Travelling deep into various regions and taking an in-depth look into the culture and cuisine was always fascinating to him, however this did not remain just a passion but also became

Kishore's profession when he chose to be a chef with the Oberoi group of hotels.

Chef Kishore Reddy is a rare example of an individual with first hand experience of different cuisines and he has successfully organised various food promotions in India and abroad.

After introducing a wide range of food promotions to the Sri Lankans at The Lanka Oberoi, Chef Kishore shared his knowledge of Regional Indian Cooking on the popular TV show "Cook With Kishore" and subsequently launched all the recipes of the cookery programme in the form of a book.

This book is a collection of Regional Indian recipes that have been researched and collected by Kishore himself from traditional homes in different regions during his intensive travels.

The recipes in this book will allow you to dish out various regional Indian preparations with great ease and will give you a taste of regional India. All recipes are featured with corresponding photographs.

This book is one of its kind in Sri Lanka with elaborate and easy to cook recipes. With a wide following, Kishore Reddy can be sure of the book reaching the hearts of thousands of Sri Lankans.

This book is available at all Singer outlets, Keells Super Markets, Vijitha Yapa, M.D. Gunasena, Lake House, Bookland and Barefoot.

The recipes in this book are complete, carefully tested and detailed in the same way as shown on the cookery show, featuring selected dishes from thirteen different regions of India. The originating region of the dish is clearly marked at the bottom of the page along with the category it belongs to, so you may create a menu by choosing each course from a different region (Like snack/starter, rice, meat, seafood. vegetarian, dessert... etc). The recipe and regional index at the end of the book makes searching for your favourite dish easier.

The picturesque recipe section provides you with an idea of what the finished product looks like.

The recipes are easy to follow and all these delicacies may be created with the standard equipment available in a normal domestic kitchen, you will not need any exotic equipment or tools to prepare any of these tantalising treats.
---
New concept blends with tea
Tea. That magic beverage is inseparable from our life. The first thing of any day is tea. The last thing after an exhaustive day is tea. It is tea if you are sick. It is tea if you are happy. No social gathering is complete without a good cuppa. It is everywhere. But have you ever tasted unblended tea'? You probably have not. You wouldn't have because it had never been in the local market before .

Then don't worry. Bungalow Tea is now in the market, the first unblended tea to be available to the local market.

Bungalow Tea was launched on July 7 at a grand ceremony held at Hilton.

Presently local tea market is teeming with blended and export rejects. No wonder you rarely get an opportunity to taste an unblended cup of tea.

Bungalow Tea is fresh, pure unblended tea, hand picked from plantations located above 4000 feet above sea level.

Packed under hygienic conditions your tea comes in plastic bottles sealed by an aluminum foil to maintain the freshness. The handy reusable bottles come in different sizes for your convenience. The packs are in the range of 250g, a 400g promotional pack and 500g bottles.

The price range is 250g bottle- Rs 80/-, 400g bottle - Rs 160/(promotional pack), 500g bottle - Rs 140/-

What is more, with every 400g promotional pack, an electric tea heater is given free.

Ceylon Tea Company has opened an office (for domestic market) at Battaramulla for everyone's convenience. It also has a fully automated packing plant to maintain hygienic packing conditions. The Company is registered with Sri Lanka Tea Board as an export tea packer and at Sri Lanka Export Development Board for exports.

CTC is involved in growing and manufacturing tea, plantation management, value additions, bulk tea supply, exports and marketing tea.

Euro Asia group of companies CEO J.D.C. Perera and Sri Lanka Tea Board Technical Director Asoka Goonathilake were the chief participants at the launch.
---
Russel's Dream Party
The 12th annual awards night fo "Russel's" Tea and Catering service was held at Hotel Janaki recently.

The bands 'The Dream Team' and NiRo' were in attendance and kept the audience entertained.

The most outstanding event for the night was selecting the Russel's Queen. Suranji Weerasinghe was crowned as the queen, whilst first and second runners-up were Merin Dhanapala and Visakha Lakmalee.

Sri Lankan Airlines awarded four return air tickets to Madras for presentation on this Awards Night.

The Best Employee of the year chosen was K. Jeeva Prasanthi. The most outstanding services Steward/Stewardess were S.M. Samantha and K.D. Geethani and the Most courteous Steward was M.A. Hasitha Ruklantha.
---
Top 20 from Annesley and Indrani
Annesley Malawana and Indrani Perera released their latest cassette and compact disc titled ''Top 20" on December 2 at the BMICH.

This was a big day for these two artistes as they performed to a packed audience to the backing of the Gypsies.

Many songs included in the CD were composed by the late Clarence Wijewardene. The music direction was handled by Rajiv Sebastian.

Indrani's younger sister Irangani is also featured in the CD.

The CD and cassette were launched at the BMICH that day and they sang some of the songs on it.

The CD is produced by Sarath Kotalawela for Torana Label.
---
Priyantha's new venture
Priyantha Ranatunga, a make-up artist attached to Swarnavahini intends to turn his new novel 'Ape Kalags Suranganaviyak' into a teledrama, the work on which is to begin soon in Nuwara Eliya and Colombo.

'This is my first novel, I first wrote it as a script but later I converted it into a novel. Later I thought of making a teledrama out of it' Priyantha said.

New teledrama too of the same name and Priyantha will direct his maiden venture.
---
Second CD from Bulegoda
'Oba Malak', the second audio cassette and the CD of Rohan Shantha Bulegoda was released recently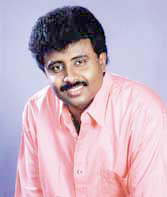 at the Public Library Auditorium.

The song collection contains sixteen songs and the lyrics are by Prof. Sunil Ariyaratna, Bandula Nanayakkaravasam Yamuna Malini Perera, Kumaradasa Saputanthri, Ratna Sri Wijesingha, Mahinda Chandrasekara, Daya De Alwis, Riyensi Nihal, Vipul Dharmapriya Jayasekara, Kalum Shrimal, Samudra Wettasingha, Ananda Hewaranhindage, Shantha Kumara Vithana, Ravi Siriwardena and K.P. W. Priyantha Jayalath.

Rohana Weerasingha, H.M. Jayawardena, Stanly Peiris, Nimal Jayakodi, Navaratna Gamage, M.R. Chulasingha, Shelton Wijesekara and Jagath Wickremasinghe have contributed in music composition for the songs.
---
Rajini : a rising star
Rajini Perera, who has made a name in beauty therapy, has now stepped into the tele-drama field, as an actress.

Among those that she stars in are'Ekata Gatuma', 'Kulavamiya' and 'Thun Avurudda'. The two of them are now being telecast on TV.

At the moment,she is busy involved with a couple of new teledramas yet to be named
---
Leonard blossomed as painter late in life
By Susitha R. Fernando
Till he reached the age of 55, none knew the painter that was in Leonard Jayathilake. He discovered his latent talent only after having travelled thousands of miles to that country called Italy which also gave the world some of the most renowned painters in the history of man.

Leonard Jayathilake lived most of his life in Sri Lanka and was reborn as a painter in Italy in the country where painting was born. When his family-wife and two children-went to live in Italy Mr. Jayathilake was left with no option other than to leave the country he lived and loved. Having served in the Judiciary for 23 years he had retired and was at home.

In 1995, Jayathilake proceeded to Italy where all his family members resided but found that the new home did not suit him though he was only pleased with the beautiful surroundings.

What Mr. Jayathilake saw around him brought pictures of the native countryside to his mind. Enlightened with what he saw and to escape the loneliness and boredom he began to sketch some pictures.

One day his meeting with an old Italian master in painting, while he was drawing outside his room in 'Naples' in Italy, turned out to be an unforgettable day in Mr. Jayathilake's life. 'Renato Vidone' an Italian who got interested in this Sri Lankan's painting encouraged him to paint on canvass with oil.

This was the beginning of his life as a painter. Like an ambassador Mr. Jayathilake carried the Sri Lankan identity to Italy in all his paintings. Jayathilake introduced himself first to friends in Italy both Sri Lankan and Italians by taking part in an exhibition titled "Eliya" (The Light) organised by the "Union of Sri Lankan Jesu Nuovo", an association formed by some of the Sri Lankan youth living there to improve the local talents, in 1995. Out of 46 paintings in the exhibition 14 were works of Jayathilake.

Major paintings including cover page of the souvenir published for the exhibition was done by him.

The drawing he did for the poems and stories written by other Sri Lankan colleagues for the souvenir gave added colour to them.

Preserving the Sri Lankan identity in the paintings he did were acclaimed by many Italian painters.

Mr. Jayathilake took part in the painting competition held in Naples which was an idea mooted by Pope John Paul II.

Competing with some Italian painters including some renowned names in Italy as the only foreigner Mr. Jayathilake won the fifth place in the competition.

His closeness to the Sri Lankan life style was amply demonstrated in his paintings.

He was the first Sri Lankan to hold a solo exhibition in Naples in Italy. At the first exhibition in Naples he had a good response from both the overseas and local community. He was not only a painter but a poet of repute.

"Unlike in Sri Lanka people in Italy value artists despite any racial differences," said Mr. Jayathilake.

When questioned as to how he escaped from identifying himself as an artist, Mr. Jayathilake said "though I was interested in painting I had to forget it since there was no future in being an artist in this country".
---
'Law nam Law': the detective story
'Law nam Law', the latest tele-drama reveals that life is not dependent on money alone. The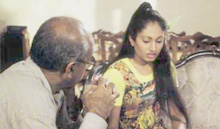 tele-drama is now being telecast every Friday on Rupavahini at 8.30 p.m.

Eureka, Sensay, Reuter, Sando and Batty are teenagers belonging to the same age group, who are always trying to carry out various experiments. One day, Eureka, while dialing a number had been cross-connected to another conversation, and had heard a conversation regarding a conspiracy between one Ronald and his girl friend Ivone, who is a widow and a rich person.

The conversation was to kill a girl, named Sulochana, who is living in London, and take over her entire wealth. This conversation had been recorded on a tape by Eureka, who started to probe this conspiracy with her friends to track down the conspirators.

While both Ronald and Ivone were planning to kill Sulochana, Ronald was appointed as a consultant to the Ronald Wickra–manayake Company. Because of this appointment, the legal consultant of the Company Dalpathado gets angry with Ronald.

In the meantime Sulochana had come to the country and was living alone in a house. Dalpathado, who also knew about the conspiracy had revealed all the details to Sulochana.

On hearing of Sulochana's arrival, Ronald sends contract killers to kill her and her boyfriend Amila.

Meanwhile Dalpathado tries to take over the ownership of the Wickramanayake Company. This led to the contract killers going after Dalpathado.

Will these five teenagers be able to track down Roland and Ivone and will they be able to rescue Sulochana and her boyfriend?. The 22 episode tele-drama is directed by Wipula Sumanasekara, who is also the script writer.

The main roles are played by Tony Ranasinghe, Nilanthi Wijesinghe, Samantha Epasinghe, Janak Premalal, Jayantha Bopearachchi, Bhanuka Manoratne, Rohana Beddage and Gihan Weerasekara.