The face of a gangster
Massive extortion racket busted
By Chris Kamalendran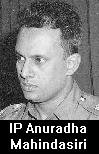 One of the biggest extortion rackets in Colombo was busted this week when the police arrested a 23-year-old youth who led an eight member gang which collected money from businessmen, job agents and wealthy people.
Police are on the trail for another four persons who associated with the gang and are searching for more weapons they used.
The youth armed with a lighter which looked like a genuine pistol walked into job agencies, grabbed 10 - 15 passports and walked away. For the return of the passports he demanded sums up to Rs. 5000 per passport.
But the lighter was not the only weapon he used. He was equipped with a T- 56 rifle purchased from an Army deserter, at least three pistols, and various types of knives. He used them when the need arose.
The weapons were not only those purchased from Army deserters, but also collected from other gangs.
The gang leader also did not solely depend on money collected in this fashion. He was also involved in a 'black-mailing' racket from which he earned money.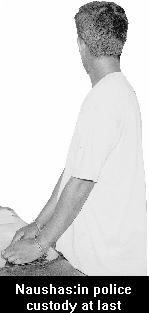 "He gathered information about businessmen and their dealings and if he found that a businessman was involved in shady dealings, he would immediately start demanding money threatening to expose him," IP Anuradha Mahindasiri, Crime section OIC of the Grandpass police station said.
The youth identified as Naushad from Grandpass, had earlier been a member of the notorious underworld gang of the Imithiaz group which operated in the Maligawatta area.
"The gang, which collected large sums of money very often spent its money patronizing expensive prostitutes. They were in the habit of spending over Rs. 50,000 per day in some instances,' IP Mahindasiri who lead Naushad's and his gang members' arrest said.
"The amounts this gang was spending per day was unusually high," he said.
Naushad was also involved in a series of robberies, stealing gold jewellery and cash from houses in the Maradana, Dematagoda, Maligawatta and Grandpass areas, Police said.
The gang had become noted only during the past seven months and very often changed its location soon after committing a robbery.
The breakthrough came when the police started cracking down on criminal elements. The suspect's name had transpired during the questioning of other suspects.
IP Mahindasiri said that due to various other commitments of the police the criminals were able to remain within the city and carry on with their activities.(See box)
He said that usually the criminal commits an offence and escapes to the outstations and returns only a few months later to continue with his activities.
Police are on the trail for another four persons who associated with the gang and are searching for more weapons they used. OIC Crimes ruled out that there was political pressure to secure the release of the suspects.
Investigations are being carried out under the directions of Chief Inspector Ravindra Karawita.
---
Vice thrives while cops hunt Tigers
By Chris Kamalendran and Chandani Kirinde
The crackdown on vice in the city and suburbs have taken a back seat with the police having to concentrate mainly on cracking down on terrorist activities, according to police officials.
However, the heavy police presence in Colombo and constant patrolling has led to a decline in the recorded cases of crime in the city although outside the city area gambling, illicit liquor dens and brothels continue to flourish.
Most of the city police on night patrols concentrate on anti-terrorist activities and questioning suspicious persons and checking out beggars and other homeless persons who sleep on the streets.
"We have to pay more attention to cracking down on terrorist activities as they pose a serious danger to the people," said a police official on night duty in the city centre last week.
The difficulty in getting convictions against those charged for crime such as prostitution, gambling and illicit liquor manufacturing is also discouraging the police.
SSP D. A .De Fonseka who heads the Central Anti-Vice Striking Force said that the large number of Army deserters numbering about 30,000 had been identified as a main reason for the increase in crime rate.
He said most investigations had shown that a deserter had been linked to most crimes in some way.
"They have training in the use of firearms and they want to make easy money," he said.
With regards to the operation of brothels, SSP Fonseka explained that prosecuting persons for prostitution was a tedious task as under the existing law dating back to 1939, only a fine of Rs. 500 or a lesser amount could be imposed on those proved guilty of such an offence.
After such a conviction, most of those found guilty would go back to the business.
He said there was also a major ring operating in Sri Lanka where foreign women were being brought down to be sold as prostitutes. However getting convictions against them was also very difficult as the gangs were well organized as they had travelled from country to country operating in this manner.
Women from Latvia, Thailand, China and India were some of those detected operating in Sri Lanka.
The Anti-Vice Striking Force had detected over 2200 illicit liquor dens, narcotics and illegal weapons last year in many parts of the country.
Of these more than 50 cases involved possession of heroin, which SSP Fonseka warned could become a menace to the youth of the country in the future.
He said police had detected cases where some youth were being offered small quantities of heroin to get them addicted to this hard drug and said addiction to heroin was a hard habit to break unlike in the case of alcohol or cannabis addiction SSP Fonseka said the police depended on the assistance of the public to crack down on vice activity and appealed to them to inform the law enforcement authorities to crack down on such illegal activities.
Since 1996 when the Anti-Vice Striking force was established, prosecutions of those charged for manufacture of illicit liquor has fetched the state more than Rs. 97.7 million in revenue.