---
Sharp Tammy strikes it rich
Tammy Flamer Caldera who won the inaugural ladies final of the eight ball pool tournament claims that her talents in snooker was first spotted by Sri Lanka's world billiards and snoker champion M.J. M. Lafir.
By Jatila Karawita.
Tammy Flamer Caldera the lady who won the inaugural ladies final of the eight ball pool tournament at the Precious Pool Parlour beating Amrita De Seram by 4 frames to 2 says it was by accident that she took part in the pool competition, sans any prior practice, but was glad to have won the tournament as she considers the sport as being quite close to her heart.
'It was by sheer accident that I took part in this tournament. One day when I was at the Millennium Park the man who owns the Precious Pool Parlour and a person with whom I have played snooker and one of my very good friends, Mr. M. J. Chuti Mansoor told me, why not take part in the women's category of this eight ball pool tournament, without batting an eyelid I agreed.
Now when I now look back at this particular competition I tend to think it was not a bad decision at all considering the glittering array of prizes which I received as the winner,' said Tammy with a contented look in her face when interviewed by the Sunday Times in the aftermath of her success at the said pool contest.
Tammy said that it was nothing but her experience in having played snooker in the past which enabled her to withstand the challenge mounted by the other ladies in the women's tournament but mentioned that Amrita De Seram who locked horns with her in the final gave her a good fight but her inexperience in not having performed at the highest level would have gone against her.
'Amrita gave a good challenge to me but I would say it was my experience in having played snooker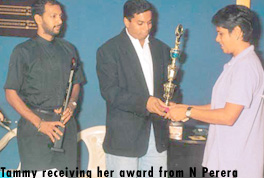 which enabled me to pull it off in my favour.
Amrita, I would say, was a bit inexperienced in the final but I feel that she has a lot of potential to succeed in future contests if she takes part in pool,' said Tammy who quite impressed with the participation of a good number of ladies in the women's pool tournament and was optimistic that the game itself, which has a close resemblance to snooker itself, would catch on with Sri Lankan ladies in time to come. 'You see pool is basically an American game while billiards and snooker is more or less is a British based game.
For Pool the table is also quite small in comparison to the snooker table while the pockets are also bit smaller where the snooker pockets are big.
What I am trying to emphasise here is that whether you are male or female if you have played snooker and mastered the art, pool for instance is no big deal as such as it is that much easier to play this game,'said Tammy who had been living in United States for 17 years before returning to her motherland in the early 90's.
'I was with my family in San Fransisco in the state of California from 1977 to 1994 before I returned home. During that period I was able to have an insight into the game of pool and snooker as well.
There what I found was many ladies tend to take part in pool and they also compete in international tournaments even when it comes to billiards and snooker. The Americans for example have a big liking towards pool and it is hugely popular there.
And it so nice to see, thanks to Mr. Mansoor's Pool Parlour, people in this country have begun to take to the game in their numbers,' said Tammy Caldera who was full of praise to the organisers of the eight ball pool tournament for the excellent arrangements made and was confident the ladies competition in the years to come will be more competitive with more and more ladies vying for supremacy.
'Pool is a fun filled game,when compared to snooker which is more skill based. Due to this fact I am sure more ladies will venture out to compete in the future and the standard of the competition itself is going to improve.
I think even the entries for the ladies section is expected to double next year and I, for one, will have to be in top form if I am to defend my title in 2001 as I expect some of those ladies who played against me to be tougher the next time around,' stated the lady who won the women's eight ball pool competition.
Tammy Flamer Caldera was also quite taken up by the fact that she had been able to win an attractive array of prizes and did not forget to thank the owner of the Precious Pool Parlour M.J. Mansoor, a former Sri Lankan snooker champion, into coaxing her to take part in the tournament which eventually paved the way for her to clinch those prizes.
'For winning the ladies final I was given the Dialog GSM trophy, the Yes FM trophy, a Dialog GSM phone, Zippo lighters from the Zippo Company and last but not least a weekend for two at the Culture Club in Dambulla by Connaissance Group of Hotel and I must also say that even people who were beaten in the quarter finals were also given prizes by the sponsors. That indeed is one way of attracting more people to take to pool,' said Tammy who said that the late great M.J. M. Lafir who is Sri Lanka's sole World Champion in billiards and snooker had told Tammy, when she was in her teens, that she is a natural player and had a natural stance.
'I think it was in 71 or 72 and I was quite used to go to a Casino called Atlanta in Bambalapitiya to watch people play snooker. I even practiced on some days when it was not crowded.
These words like the words of a sage still ring in my ears whenever I take part in competitions and it has, in a way, helped me immensely,' said Tammy Flamer Caldera who hails from a sporting stock.
She finally said that she is harbouring hopes of taking part in future pool competitions whenever time permits her to do so but added that constant practice was necessary if one were to keep performing at the top level continously.
---
'Who decides our Olympic participation'
I write with reference to the article by C. Vijitha Fernando of the Duncan White Sports Foundation, that appeared in The Sunday Times, Sports Plus, of June 4, 2000, wherein he has made certain allegations regarding:
a) "the case of the two swimmers that went to the 1988 Seoul Olympic Games" who, he sates, "bamboozled the then NOC Officials by providing timings confirmed by their respective coaches with no authentication from the controlling organization."
b) "these two swimmers could not even keep the timings they posted for selection, leave alone establishing their personal best, which is often the case at these ideal and adrenalin charged Olympic Games."
With reference to point a), at no stage of their swimming careers did these two swimmers submit false timings to 'bamboozle' officials in Sri Lanka. Neither did they ever use political string-pulling or put pressure on officials of the NOC or NAASU in order to represent Sri Lanka.
To illustrate this point, I place 2 examples before the readers.
(i) The male swimmer, at 17 years, was asked to be the Overall Captain of the Sri Lankan contingent to the 1st SAF Games in Katmandu in 1984. He was then asked by the authorities to meet his own expenses. He realized his parents did not have the finances for this and spoke to the authorities declining his place on the Team, showing signs of having right priorities. He also declined a place in the 1990 Asian Games Team, though selected, as he felt he was not fit.
(ii) The female swimmer was asked to be part of the Team to the 1984 SAF Games. At that time she was 12 years old and her parents declined, on her behalf, since they felt she was too young and furthermore had yet to prove her standard by breaking the existing Sri Lanka National record in her event. Two years later she had reached the 6th place qualifying time for the 1986 Asian Games. Her Sri Lankan coach in Hawaii proposed her name to the Selectors in this country, who nevertheless did not choose her. The President of NAASU asked her parents to approach the Selectors themselves. However they declined saying that her selection must go through the proper channels.
With reference to point b): both swimmers in question were training together and were being overlooked by a Sri Lankan coach in Hawaii prior to the Seoul Games. This Coach was officially ratified by the NOC and NAASU to coach the swimmers and was known by them for his knowledge, skill and integrity.
(i) The male swimmer fell sick prior to his first event, and never recovered sufficiently to prove what he was capable of achieving at these Games.
(ii) The female swimmer did not perform at her best, but this does not mean that her entry timings were false.
The overall swimming results at the 1988 Seoul Olympics, if Mr. Fernando had scrutinized them, showed that many swimmers did not live up to their entry timings. This shows that it was not only the 2 swimmers from Sri Lanka who were not "adrenalin charged." But certainly there were swimmers who improved on their individual timings.
The accusation of Mr. Fernando that these two swimmers resorted to 'bamboozzling' tactics to gain selection for the Seoul Olympics is wrong and unfounded.
Their competence in the annals of Sri Lanka swimming is evident in the fact that, between them, they still hold 14 Sri Lanka records, the majority of which are over 10 years' old!
Tara Bolling
(Swimming Coach)
Sports Editors Note
We are in agreement with most of the replay as Ms. Bolling has revealed more information on the poor performances of her son and niece. In our piece we did not say that timings given were "false" - all that the piece stated was that the timings given by them and/or their coach, could not be defended at near ideal situations, such as the Olympic Games.
The article confined only to the timings at the 1988 Seoul Olympic Games and the other information provided is irrelevant.
Since this replay has raised concern as to the performances of Ms. Bolling's son and niece, a detailed analysis of their timings and performances will be reported in next week's issue.
Let our readers establish the veracity between this article and Ms. Bolling's reply.
C. Vijitha Fernando, Trustee of the Duncan White Sports Foundation, was only responsible for the statistical analysis of this article as they specialize on Olympic Sports, and did not write it exclusively as the reply suggests.
---
Schoolboy Arjuna gets the first half century in Tests
"Bob Willis and Ian Botham were soon amongst the Sri Lanka batsmen and wiped out the top order for only 34 runs. The match, begun with tremendous fanfare, now subsided for Sri Lanka. In this crisis, two young men stood firm. 18- year-old-left hander Arjuna Ranatunga, still at school, joined the gifted Ranjan Madugalle and these two played with so much confidence that Ranatunga's dismissal at 133 for 5 was much against the run of play. He had, in the meantime, recorded Sri Lanka's first half century in Test Cricket. By now, Underwood was at work and Sri Lanka barely managed 218 with Madugalle making the top score of 65.
"England in reply fared little better, leading Sri Lanka by only 5 runs, thanks to a beautifully compiled 89 by David Gower, a somewhat tentative 45 by captain Fletcher and an unbeaten 31 by the dogged wicket keeper Taylor. For Sri Lanka, de Mel, bowling with speed and hostility, finished with 4 for 70. England's No 3, Chris Tavare was greeted by de Mel, first ball, with a nasty bouncer which he narrowly avoided. The next ball by de Mel was a yorker, which bowled Tavare all over the place. Indeed a superb piece of fast bowling. At the end of the third day it was all Sri Lanka, 157 runs ahead with 7 wickets in hand and two days to play. Roy Dias displayed all his classical elegance in making 77 and well supported by a stolid 38 from Sri Lanka skipper Bandula Warnapura, was mainly responsible at this stage, for Sri Lanka's happy state of affairs.
"But alas, England, through the innocent looking deliveries of John Embuery, struck back next day and Sri Lanka lost 7 wickets for 8 runs. Enland needed only 58 overs to reach the required target and Gower, and this time Tavare, aggressive and quite brilliant, saw them home by 7 wickets with a day to spare. Throughout these four days the Press Box at the P Sara Stadium was a hive of activity, as the match was so evenly balanced up to the end of the third day.
"So ended for us our first foray into Test Cricket and, though beaten, Sri Lanka would surely have her day". So wrote Shunith Goonetilleke ending his summing up of Sri Lanka's First Test vs England played at the P. Sara Stadium from 17 - 20 February 1982. He was writing to the John Player Sri Lanka Cricket Annual '86.
Here are the highlights of the match:
Sri Lanka: 218 - Ranjan Madugalle 65. A Ranatunga 54, Underwood 5/28, Botham 3/28 and 175 - R L Dias 77, B Warnapura 38, Embuery 6/33, Underwood 3/67.
England: 223 - D I Gower 89, K W R Fletcher 45, R W Taylor 31n.o., de Mel 4/70, D S de Silva 3/54 and 171/3, C J Tavare 85, D J Gower 42 n.o., GA Gooch 31.
England won by 7 wickets.
Skippered by Bandula Warnapura, others playing for Sri Lanka were Duleep Mendis (Vice Captain), Roy Dias, Sidath Wettimuny, D S. De Silva, Ajith de Silva, Lalith Kaluperuma, Mahes Gunatilleke, Asantha de Mel, Ranjan Madugalle and Arjuna Ranatunga with Anura Ranasinghe 12th man.
The England squad comprised Keith Fletcher (Captain), Bob Willis (Vice Captain), Ian Botham, Derrick Underwood, Graham Gooch, John Lever, Bob Taylor, David Gower, Graham Dilley, John Embuery, Mike Gatting, Chris Tavare, Paul Allott, Geoff Cook and Jack Richards. R Subba Row was the Manager.
Within a span of 18 years we are about to play the one hundredth Test. That will be against Pakistan on 14th June. The venue this time will be the SSC grounds.
Looking back on the early days, hard hitting batsman Duleep Mendis became the first Sri Lankan to reach 1000 runs in Test cricket. Playing his 13th Test, he achieved this feat in the course of a match-saving 124 in the Third Test against India at Asgiriya. It was his fourth Test century. Soon afterwards, Roy Dias reached 1000 runs in Test cricket in the same match, also playing in his 13th Test. Incidentally, the quickest 1000 runs in Test Cricket was recorded by Sir Donald Bradman reaching his landmark in only his 7th Test match when he made a record breaking 334 against England at Headingly in 1930.
The early days
The year the First Test was played (1982) also commemorated 100 years of cricket with England. A 13-member team had arrived in Ceylon (as Sri Lanka was then known) in October 1882 en route to Australia by the P & O steamer 'Peshwar', led by Ivo Bligh. In the team were A G Steel, C T Studd, E F S Tylecote, C F H Leslie, G F Vernon, W W Read, W Barnes, F Morley, W Bates & R G Barlow. The All Ceylon team included Ashley Walker, Lt. George Triscott, Lt. Carden, Capt. Bird, Capt. Hickes, Lt. Sheppard, W H Jackson, R Grindcrod, Cave -Brown, H C P Bell & R H Leslie. The match was played at Galle Face, home of Colombo Cricket Club (CCC), which had been formed in September1832 to promote cricket exclusively, a game of the wealthy British businessmen and military personnel. The majority of players were from the CCC and the team was designated Colombo C.C.
According to reports published in the newspapers of the day - The Observer & The Times - CCC scored 92 in the first innings and England replied with 155. In the second innings CCC scored 16/7. It was really a whistle stop game.
The formation of the Colts Cricket Club, confined to Ceylonese, in August 1873 gave the lead for several other clubs to spring up in Colombo. Players from these clubs came to be selected to form the 'Ceylonese XIs' and by 1920 they were found to be too strong for the Europeans.
The Ceylon Cricket Assocation was formed in July 1922 after which visits by MCC and Australian teams came under its control. The first extended visit by a MCC team was in February 1927 when four games were played. Dr. John Rockwood, the first president of the Assocation had done much to promote the game among Ceylonese. The Assocaition sent the first official team to India in 1932/33.
Cricket was resumed in earnest after World War II and June 1948 saw the establishment of the Board of Control for Cricket in Ceylon. This was really the beginning of a new era.
P.Saravanamuttu who had served as President of the Ceylon Cricket Association from 1937 onwards was the first President of the Board of Control (1948-1950). He was succeeded by A E. Christoffelsz (1950 - 52) when J R Jayewardene took over until 1955. The longest serving President was R P (Robert) Senanayake (1957-1975).
In 1981, as President of the Board, Gamini Dissanayake took the initiative in setting up the Sri Lanka Cricket Foundation with the help of the private sector to foster the game in numerous ways. Encouraging and supporting the game, training coaches, assisting needy cricketers, improving cricket grounds and building cricket stadiums were the main objectives of the Foundation. (DCR)