Hamstring Problems - Part II
By Dr. D. Atukorale
How could we help the injured player?
The injury can be anywhere in the muscle - from its origin to its end at the leg bones. A wise player will stop soon after an injury, as you know a severe injury may take several weeks to heal, why should one convert a small (taking a few days to heal) to a more severe one taking weeks to heal!
Managing Ham strain
Before doing this one must know how hamstring muscle works. Three main muscles - biceps femurs (outer and semi membranosus semi tendinosus (more medial) bend your knee and extend the hip in addition to rotation of the bent knee. This last feature is very important in running and walking.
Soon after injury RICEE regime is a must. This is followed by electrical and other modes of physiotherapy.
a). A continuous passive motion is used extensively. This gives a full range of movement soon. This must start on the 2nd day (see diagram)
b). Stretching through pain free range
Note on Stretching - One must know the correct technique.
1. Start soon after injury if no pain.
2. Stretch slowly up to a point of mild discomfort and STOP.
3. Wait in this position for at least 10 seconds.
4. Next stretch further slowly but stop before pain or moderate discomfort.
5. Keep in this position for up to 90 seconds or more to get best results.
(count to make it easy).
Hallmark of stretching
"It is the duration to which a muscle was stretched and not the DEGREE that is important and safe.
Rest - is important even a tiny break in muscle, bleeds and breaks more if one continued to play. Some continue to play and stop soon (after aggravating the injury of course!) ICE - Cryo therapy - use up to 48 - 72 hours. Wrap in a cloth (or a sock). For hamstring may need up to 20 minutes. Cloth conducts heat. If done well - skin will look pale (and not red). Do not ice areas away from injury site. (cuts down blood to the injury).
If massaging is done, bleeding in muscle injury with more damage, one can only massage the area distal to the tear, which improves lympathic drainage.
Is there any place for ointments/sprayers, heat?
Ointments Absolutely
Sprayers useless
Hot fomentation Yes. From 5th/6th day
Infra red lamps provided acute injury has settled
How does it help?
Promotes blood flow (Duration - maximum 30 minutes - used long will block chemical reactions at the injury site)
Can the player bathe?
Yes
For 1 minute - hot bath
Then for 1 minute - cold bath
This relaxes the muscle and mind while promoting blood supply to injury.
Can the masseur help and when?
Yes! - starting on 4th day he could lift the leg - and massage to help drain the lymph - 1st away from the injury then coming closer to injury. But this must be very superficial. After 02 days of this he could go deeper.
How does this help?
Lymph stagnates with loss of muscle pump so, the waste matter must be helped to be taken away by this massaging.
'Hams Pulls' - This is the other type of injury after exercise and is more severe and comes on suddenly with large muscle tears and bleeding. This (as you will see later) happens when one tries to cut down speed suddenly, using the powerful eccentric forces which soon is followed by maximal shortening (as opposed to lengthening) contractions when the foot strikes the ground. This last contraction unlike the previous one tries to move the thigh faster preventing the knee from damage by over-straightening. Researchers advocate following a hams pull the following the basic procedure based on the observations mentioned above. Stretching downwards - limited eccentric exercises - concentric exercises .
Can the massage help at the wound site?
Yes. Can start softly on 4th day - going deeper on 6th day or so (Note one has to bear the discomfort, though)
How does massage help?
Quickens healing by increasing blood supply, prevents and breaks down scars, and adhesions etc. swelling gets less.
What determines recovery period?
Among others
Degree of damage
Quickness of giving RICEE regime
Efficiency of rehabilitator (Doctor or physio)
Physiotherapy
Is very useful not forgetting the glutal muscles too, the problems of which can predispose to hams - strain.
Physio must include stretching of nerve structures (of spine) correcting the stiffness of lower spine etc. Physio to glutal muscles with the player lying on the side - while tightening the muscles.
Defects of spine (eg. low mobility etc). too are handled at the same time.
When can you exercise the muscle (mobilizing)?
Active exercise usually > 2 days staring with the player moving the muscle through pain free range (see figure) by the 6th day or so, increase this movement to point above this.
Isometric Exercise - Next step will be to move the muscle against physio's resistance. (=Isometric workup).
Here knee joint does not move - Do for 08 seconds; repeat after 16 seconds.
This muscle contraction must stop when you count to 08 - to allow blood to muscle.
Concentric strengthening. Here we contract and shorten the hamstring through its full range against resistance using weights - gives both length and strength to muscles.
---
Countdown to the Olympics 95 days
Chronicling the olympics (Part II)
By Annesley Ferreira
The founder of the modern Olympic movement, French nobleman, Baron Pierre de Coubertin was influenced by the early concept that exercise had to be the basis of "sensible education." Because of the defeat of France by Germany in the war of 1870; driven by the desire to get his homeland regain national pride and strength, formed the background to develop the Olympic Games as the only unifying force for nations to come together in friendly competition, pursued his life's dream to establish the Olympic Games as a permanent sporting event.
It was the ancient Greek Olympic Games that served Baron's ideal - where all athletes trained together for competition.
This was to become the modern "Amateur" ideal of de Coubertin - an indispensable prerequisite, to underline the "noble and chivalrous character" of physical exercise. "Rewards were to come from sporting activities - material gifts, desire for profit and business interest" were prohibited in sports, because the Baron believed that these would prejudice the "coming together of athletes".
With the success of the 1924 Paris Olympic Games and the feverish partisan Parisian sports fans giving little support to other participating teams, Europe and North America had countless editorials published calling for an end to the Olympic Games. The 1928 Amsterdam Olympic Games firmly established the continuance of the games quadrannially.
1928 - Amsterdam: Germany after an absence of 16 years, came second to the United States in the medal count. The games also saw women's eligibility for the first time. Their excellent performances justified the right to compete at future games.
Granting exclusive photographic rights to one company and prohibiting individual photographers led to time-consuming protests, which eventually had to be abandoned. Freestyle swimmer Johnny Weissmuller of the United States (who later became Hollywood's star "Tarzan" actor) and Finnish Runner Paavo Nurmi (who at his third games picked three more medals to bring the tally to 12) were the two most successful athletes. The Amsterdam Games saw many of the new concepts that are still in use today. Lighting of the Olympic flame for the first time, Greece - founders of the original Olympic Games led the parade of athletes into the stadium. Because of ill health, Baron Peirre de Coubertin relinquished the presidency of the IOC.
1932 - Los Angeles: The games of the XXth Olympiad was held amidst the depression in the US, and the geographical distance and isolation of California. Controversy broke out over the prevention of Paavo Nurmi participating for having violated amateur regulations on a number of instances. The Finnish runner had been funded for his travel expenses to participate in track & field championships. The 35-year super athlete thus could not run for the gold in the marathon, which he hoped to win and end his glittering and outstanding athletics career. This legend set 22 world records and won nine gold and three silver medals. However, Nurmi was not banned in his home country and continued to participate in track events for years. For the first time the Los Angeles Games had three level podiums for the medal receiving ceremony. American Milred "Babe" Didirickson gave a fine all-round performance in track, turned to golf - becoming one of the greatest woman players of all time.
1936 - Berlin: The rise to power of Adolph Hitler and the Nazi party engulfed these games. The powerful Jewish lobby, supported by several countries agitated to move the games to another friendly site. The American USOC President, Avery Brundage, who later became the IOC President, rejected the agitation and accepted the German assurances to hold the Games in Berlin. The Olympic flame was ignited by the sun in Olympia, Greece, and was relayed to the impressive 100,000 seat stadium. The undisputed star of the games was American black athlete, Jesse Owens, who won four gold medals: 100, 200 metres, long jump and the 4x100 metres relay events. Germany amassed 33 Golds while the United States got 24 and Hungary 10.
1940 - Tokyo: Cancelled on Account of World War II
1944 - London: Cancelled on account of World War II
1948 - London: London undertook the unenviable task of hosting the games of the XIVth Olympiad after a lapse of 12 years and immediately after the ending of WW II. Following the precedent of World War I, the losers of World War II, Germany and Japan were not invited to the games. The Dutch "Flying Housewife" Fanny Blankers-Koen, making history was easily the star. Mother of two children, won two Golds in the women's 100, 200 metres, 4X100 metres relay and the 80 metres hurdles. Our own Duncan White won the Silver Medal in the 400 metres hurdles event, breaking the existing Olympic record returning a time of 51.8 seconds. Duncan White remains the only Sri Lankan since these Games to have won a Medal at the Olympics. In 1998 the Duncan White Sports Foundation celebrated the fiftieth anniversary of the Duncan's remarkable achievement with the celebrations in conjunction with the golden jubilee anniversary of Sri Lanka's independence.
Duncan White received the second highest national honour of a "Desamani" from Her Excellency Chandrika Bandaranaike Kumaratunga at the invitation of Honourable Lakshman Kadirgamar PC., MP., and Minister of Foreign Affairs, who serves as a Trustee of the Foundation.
1952 - Helsinki: The USSR joined the Olympics for the first time at Helsinki. Though the United Nations had given independent status to Ukraine and Byelorussia, the IOC included them as a part of the USSR. In 1912 the Russians participated as a part of the Tsarist Empire and in Helsinki they were a part of the USSR. The final torch-bearer was the greatest distance runner, native Finn, Paavo Nurmi.
A united German team could not be assembled that left the East Germans at home. The Helsinki Games were by far the best organized to date. The finest achievements were those of Emil Zatopek, the "Czech Express" winning the 5,000, 10,000 metres and the marathon, Bob Mathias became the first athlete to defend an Olympic title.
1956 - Melbourne: For the first and only time the Games were held in the Southern Hemisphere. Melbourne was remote from any point of the globe, thus small participation since 1932. Melbourne suffered two sets of boycotts. Egypt, Iraq and Lebanon withdrew in protest over take-over of the Suez Canal by Israel. Holland, Spain and Switzerland boycotted as protest over the invasion of Hungary by the Soviet Union. East and West Germany participated as a combined Team.
Australian Betty Cuthbert pleased her home crowd by winning three Golds in the 100, 200 metres and 4X100 metres relay events. Soviet Union's Vladimir Kutz stunned the world by taking the 5,000 and 10,000, the titles held by Emil Zatopek. Australian Dawn Frazer began her remarkable swimming career by taking the Golds in 100 and 4X100 metres free style, and one silver in the 400 freestyle. Dawn's countryman, Murray Rose took the 400 and 1,500 metres, since Johnny Weissmuler in 1924.
In association with C. Vijitha Fernando, Duncan White Sports Foundation
Games Nations Competitors Competitors Medals Medals Medals Medals Medals
Olympiad Year City Country When held Representing Men Women Nation Gold Silver Bronze Total
IXTH 1928 Amsterdam Holland May 17 - August 12 46 2724 290 USA 22 18 16 56
XTH 1932 Los Angeles USA July 30 - August 14 37 1281 127 USA 41 32 31 104
XITH 1936 Berlin Germany August 01-16 49 3736 328 Germany 33 26 30 89
XIITH 1940 Tokyo Japan Cancelled World War II
XIIITH 1944 London Great Britain Cancelled World War II
XIVTH 1948 London Great Britain July 29 - August 14 59 3714 385 USA 38 27 19 84
XVTH 1952 Helsinki Finland July 19 - August 03 69 4407 518 USA 40 19 17 76
XVITH 1956 Melbourne Australia November 22 - December 08 67 2958 384 Soviet Union 37 29 32 98
---
Boshan is CEO for tennis
The Sri Lanka Tennis Association in line with its planned restructuring programme has appointed Boshan H. Dayaratne as Chief Executive Officer. Boshan Dayaratne a former No. 1 ranked player in the country, is also one of Sri Lanka's most qualified coaches. Dayaratne recently completed the highly competitive International Tennis Federation Level II Coaches examination. Dayaratne is also the ITF Co-ordinator of the Schools Tennis Initiative. Under this programme approximately 15,000 children are particiating in mini-tennis in Colombo, Kandy and Negombo. The SLTA hopes to identify a number of talented youngsters through this programme.
Dayaratne's organisational ability came to light when he conducted the first mini-tennis tournament in Sri Lanka. This tournament which attracted over 1400 entries was an eye-opener for the SLTA. It showed the SLTA administration, the tremendous potential that existed through mini-tennis in ultimately developing the game of tennis.
Dayaratne said, that his aim was to take tennis to the rural areass and give those without access a chance to reach their potential. "This way we hope we can develop tennis", he added.
---
Chaminda continues to shine in the Wu shu field
"Under the present situation in this country, youths who know how to use their hands to fight can do more service to the country than youths who know how to wield a cricket bat. Therefore, the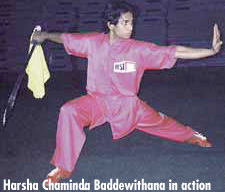 decision by IBSF Sri Lanka has to be applauded and followed by all sectors who has the sense to take a clearer view of the real world."
Wu Shu in Sri Lanka has been undergoing significant changes in recent times. Most of the time, as in any other field, most of the energy of people are spent in criticizing and blaming each other.
A large part of time is spent on interrupting another's progress. That causes the stagnation we can see in almost any department and field in this country. Some people seek fortune, publicity, and titles, and will stoop down to any level to get them, and will fail to do anything with real value meanwhile.
In times and situations like these, it is a rare pleasure to see people like Harsha Chaminda Baddewithana, who quietly continue to do some real service for his chosen field with determination and persistence, who does his work out of real love for it but not out of love for what it can offer in return.
And it is also extremely rare to see companies like IBSF Sri Lanka, who will help some worthy cause without thinking what it can give them in return. IBSF is the first company who has sponsored a Wu shu athlete, a silent proof of their modern thinking and awareness.
Chaminda has been a star in the Wushu field for a long time. An old Nalandian, he was introduced to Wu shu by Sifu Prasanna Jayaweera. Chaminda was crowned the first National School's Wushu Champion in 1991, won National School Game Colours for Wu shu, and then ultimately, became the first ever National Wu shu Champion in Sri Lanka in 1994. People's Republic of China offered him a scholarship in 1994 - the first ever full scholarship in sports - as a tribute and an encouragement to this budding young athlete.
Chaminda studies Wu shu at the Beijing University of Physical Education in China, under this scholarship. This scholarship is the most valuable and important encouragement Sri Lanka has received in the Wu shu filed, ever, from any one. Chaminda has used his opportunity to study Wu shu in China to the maximum.
Chaminda has won many international Wu shu competitions and brought glory to the Sri Lanka's name. Among them, he was presented with the Exhibition Excellence Prize at Shaolin Wu shu Festival in Shaolin, China in 1997, the first time a Sri Lankan athlete won an international award. He is the one and only Sri Lankan athlete who posseses the much coveted 'First Rank Warrior Title' which could be won after strenuous training and examinations, only in China. There are just a handful of non-Chinese athletes who could win this highest rank in Wu shu. Chaminda has a string of credits to his name. The most recent one is his winning the Silver Medal at the Qingdao International Wu shu Competition in China, defeating the Japan National Champion among many others on this way to this glorious win.
He is one of the primary figures in improving Wu Shu in Sri Lanka, through his voluntary teachings to many young Wu shu athletes whenever he gets the chance.
There is not even one person who has visited China regarding Wu shu during the past 6 years, who can honestly say that Chaminda did not help him or her during the visit. No matter what group, colour, club, or gang they belonged to, Chaminda always offered a helping hand to anyone who came to China for Wu shu. What makes him stand apart from the crowd, is his dislike to claim publicity for any deed he has done.
It may be this generosity that has come back to him, in the form of a donation of money to attend Wu shu competitions by the Sri Lanka Branch of the leading steel building structure manufacturer, IBSF - Internationl Building Systems Factory.
After reviewing Chaminda's credentials and achievements, the IBSF Sri Lanka General Manager Mr. Gerard Fernando offered the extremely well-timed helping hand to Chaminda and therefore to Wu shu field. He, on behalf of IBSF Sri Lanka, took responsibility for all Chaminda's expenses in the upcoming Wu shu competitions and champonships during Year 2000.
IBSF Sri lanka recognizes the need for improvement of sports in Sri Lanka. This is their own way of making a difference, making a change for the better, by helping a young athlete to go forward in his field, and in his turn get a chance to help this country in his own way.
Sports will help the youth, keep them fit and sharp, will make their bodies ready for any extreme situation. Wu shu, as a fighting sport, is especially valuable in extreme situations. IBSF supports the sports sector in Sri Lanka, specially the sports which are not given much prominence or encouragement. They took the daring decision to support Chaminda, who has tremendous talent and potential in Wu shu, because Wu shu is a sport which is neglected by most sponsors.
With the help of IBSF Sri Lanka and Mr. Gerard Fernando, Chaminda participated in the "Just Play Cup - Grand Wu shu Festival" in Shanghai, China. Held in May, 2000, this was an open competition, where over 400 athletes from 70 private and public Wu Shu organizations participated.
Competing in the Broad-sword (Daoshu) Form, one of his favourite and best performed events, Chaminda was among the top ten scorers for that event. Chaminda hopes that in the future he will be able to give even more help to the young generation interested in Wu shu in Sri Lanka. He is the best Wushu athlete Sri Lanka ever made. And he wants to make more like himself because that is the kind of youths we need today. Under the present situation in this country, youths who know how to use their hands to fight can do more service to the country than youths who know how to wield a cricket bat. Therefore, the decision by IBSF Sri Lanka has to be applauded and followed by all sectors who have the sense to take a clearer view of the real world.