In black and white
By Ruhanie Perera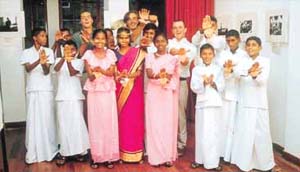 Black and white photographs hung on the wall. Proof that one could take a photograph without the 'click' of a camera. They were not taken by masters, instead they were masterpieces by children, very much a part of the modern world. That was what was so different and in a way incongruous about the whole thing.

Here were the children of the 21st century, capturing perfect moments in time, using a device that looked more like something their great grandfathers would have used.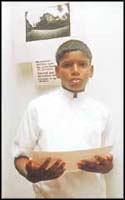 This Photographic Exhibition, which was held at the Alliance Francaise, on April 19, was the final phase of a workshop conducted by the group 'Dialogue de l'Image' for the children of the Brotherhood of Hope Trust.
Francois Perri together with Jean-Philippe Auxemerry and Arthur Despre form the Association 'Dialogue de l'Image' of Paris. These three Frenchman are at present involved in what I felt was a very enchanting as well as inspiring project. The project 'Le sillage de Magellan' (Trip of Magellan) takes these guys on a journey, in their sailboat 'Tiki Yo', that retraces the tour Magellan did many years ago. At each port of call, children are given the chance to attend a workshop, where photographer Francois Perri, teaches them the art of using a simple photographic technique, the stenope, so that they may discover for themselves a whole new world.
Photojournalist FrancoisPerri,has brought light into the lives of children from disadvantaged areas around the world - from Europe to the favela kids in Brazil. This technique he shares with children is about taking photographs with a makeshift tin camera. Although it may seem amazing, this little tin camera has given new life to all the kids who have been lucky enough to work with these Frenchmen.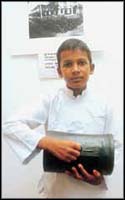 The Brotherhood of Hope Trust from the 'Purnodaya' Centre in Ja-ela, at present looks after around 45 disadvantaged children in the area. Twelve of them were the fortunate ones chosen to be part of this interesting project. Watching the children at the exhibition that day, all dressed up, with shining eyes explaining the photographs they had taken I felt that as far as talent, enthusiasm and satisfaction were concerned, they were in no way disadvantaged. These kids are rich because they now possess the ability to look around and see the beauty in everything that catches their eye, even in things the average person may consider mundane.
Twelve-year-old Jude certainly loved this art he had just learned. "I want to continue with it somehow," he says and then goes onto explain his picture to me. "It's of my class, I wanted to capture this place where I've spent practically all my life." And then this little guy starts talking about angle and light and how to develop a photograph, things I never really stopped to consider when I take a photograph. "The time has to be just right. If there is too much light the photo will be spoilt. If everything is perfect it takes about two minutes to take the picture."
Shantha, Chandani and Vasanthi are teenagers, all interested in sewing and never dreamt that they would ever take photographs. One workshop and here they were in Colombo, with quite a few of their shots on display. Their only fear is that after Francois and his team leave things will die down, "but we hope they won't".
Like Magellan who set off on a journey of discovery, so has the Association 'Dialogue de l'Image'. Only their mission is slightly different. They wanted to reach out to the children of the world and see the world through their eyes-to make the rest of the world see the vision of their children. Like Magellan imagined, they made the children use their imagination so that they would learn to think creatively.
"I'm not a rich man, but this whole experience has made me a rich person," says Francois Perri. "Today these kids maybe poor, but they too are rich in experience. I want them to know that their abundance of talent teamed with hard work will take them places, will make them rich men and women." Maduranga is certainly one of those who has been touched, for he says, "I too will learn more about this, so that I can teach children how to take photographs".
This project which began in 1998 will end in November 2000 with an exhibition of all the photographs at the Louvre in Paris.

---
The little things that matter
It is indeed sad I commented to Anoja that the communication so essential to make a marriage work is lacking. In fact lack of communication is one of the main causes for the break up of marriages. A husband tells his wife the fears he has, the problems in office, and she tells him the difficulties she faces, the worries she has. Sometimes words alone are inadequate and can cause confusion and misunderstanding. When a person is hesitant or afraid, irritated and angry, words get charged with double meaning, sarcasm and anger, so words alone do not succeed in showing your partner that you care. It is in these situations that gestures of caring can help.

Before marriage it was so easy to say 'I love you' and so joyous to see the eyes of the loved one light up with happiness when one by a gesture or gift expressed one's affection. Unfortunately after marriage those little acts of communication are relegated to the background or get lost in the mundaneness of day to day living. In the period when both partners proclaimed their undying love for each other, there were so many ways in which they tried to make each other happy. In a marriage too that is necessary. Gestures of love, little things which matter, words that show you care, are the basis for any marriage to work.

The tired husband comes from work complaining of a severe headache, the girl who in earlier years would fuss, massage his head, do a hundred things to make him feel better, as the wife today dissmisses him saying 'have a Panadol, it will pass'. Sure enough it may.

Yet, the longing that the husband had for some concern and affection will not pass off that easily- he will remain hurt. The wife who has made a special dish and is waiting anxiously for the comments of the husband will remember the hurt of his silence, though he himself unaware of it, will be watching a TV programme. He will wonder why his wife is so unenthusiastic when he comments on the score of some cricketer! These little gestures of love are so very necessary.

"Communication can be in so many ways," I said to Anoja. "It can be remembering that little things matter, a card for a birthday, a gift given for no special reason, spending time to talk of the day that has ended,or even a smile across a room at a social function.

There are so many ways to make each other feel special and cared for. It can also be in the silence of sensing what the other feels, intuitively reading the other's mood and discovering communication by just being together or it can be in a satisfying sexual relationship that expresses in a complex fashion love and caring, acceptance and understanding. Whatever form it takes communication should be the basis of marriage. If it is then the misunderstanding and suspision will get erased." Anoja wisely nodded her head, I hope the day she marries she will remember that love is a plant that needs nurturing for it to live and grow.