---
Rohan's dream...
By Jatila Karawita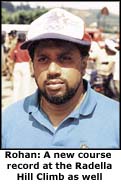 A legend of Sri Lankan motor sports and a household name in the local motor-racing sphere, Rohan De Silva says that his unfulfilled dream is to lead a powerful racing team for Team Mobil.

For the past 21 years, Rohan has been winning almost all the motor racing titles at stake and this year he bagged the Mahagastota Speed Hill Climb for the 11th time. The Mahagastota Hill Climb is considered to be the oldest and one of the toughest in Asia.

"My unfullfilled dream is to manage a very successfull racing team for Team Mobil with budding racing drivers.

Team Mobil has had an abundance of new talent and has been the most successful team this racing season winning super prizes in four out of five events.

Team Mobil dominated the Kotmale, Mahagastota and the Radella Hill climbs respectively and the timings I recorded are the fastest for the three hill climbs. At the same time I was also able to create a new course record for the Radella Hill climb," said Rohan De Silva expressing his delight at the success achieved by his racing team when the Sunday Times met the ace-racing star at his office in Bambalapitiya last week.

Speaking of the impact made by the oil firm Mobil during the racing season for the new millennium, Rohan De Silva was full of praise for the part they have played in the racing arena and said it was a very encouraging and bright sign to see new drivers taking up to racing.

'The idea behind forming Team Mobil was to help budding racing drivers and riders who have that talent but needs the support in terms of financial and technical aspects.

Instead of spending large amount of funds on one or two champions, Mobil has decided to spread the funds among a large number of young drivers to encourage them to continue in motor sports and I as the leader of Team Mobil can proudly say that Mobil has the best technical know-how for Formula cars and the equipment to support Formula racing," said Rohan De Silva who looked a contented man at having skippered a winning racing team.

Rohan who first began his now-famous trail-blazing career in motor sports way back in 1979 at the age of 27 competing in a Fiat 124 at the Katunayake Road Races, has not turned back since, and at the age of 47 he has gone on to create record after recod culminating with the success tasted at Mahagasota early this month.

'When I began racing in 1979 at Katunayake I went on to win all the novices events and that was the last event ever held at Katunayake.

In 1984 I began my career in Formula Ford racing at Mahagastota and I am glad to say that I have virtually dominated the Radella Hill Climb six times, holding the current course record there, besides which I've won the Karandapona, Wace-Park (Kandy) and Kotamale Hill Climbs.

I have also been able to create a class record for Formula Ford at Mahagastota as well as St.James'.

On the race track I have registered the fastest time in Formula Ford at Katukurunda while in the Formula Ford modified section I have won even on the Nuwara Eliya Road Race Track," said De Silva going down memory lane and recalling his numerous feats at racing events.

Speaking of the recently concluded Mahagastota Hill Climb, Rohan said that he was very impressed with the organisation of the whole event but called on the concerned officials to put up more barriers to ensure the safety and security of drivers in the future.

"The Mahagastota Hill Climb, if my memory serves me right, is the oldest hill climb in Asia", he said.

"It dates back to six decades with the first hill climb being staged way back in 1934 if I am not mistaken. To have won such a hill climb was no mean feat,surpassing riders such as Rizvy Farook, Yoga Perera, Suranjith Premadasa, who is the present course record holder, and Romani De Silva, who holds the course record for the Formula Ford event to name a few.

The organising part was all done well by the officials and after a long time a race meet was conducted very professionally.

They were equipped to cope with any eventuality. But one area which they could improve a lot is the surface of the track.

In my view it was only 50 percent smooth and on sides of the road they could add more barriers to ensure the safety of drivers who are reluctant and fear to accelerate for fear that there wasn't enough protection for them, stated De Silva who added that it was a welcome sign to see more and more oil companies making in-roads to sponsor racing teams.

"I feel besides our company Mobil there is Caltex, Castrol B P, Valvoline to name a few who have come forward to sponsor racing teams."

"I think for the Formula Ford car racing event, which is the single seater purpose built racing car, which is also the only genuine racing car meet to be found in Sri Lanka, oil firms are a necesssity to sustain these events in the long run,"said Rohan who thanked his supporters for the encouragement given to him at the Mahagastota hill climb where he got the better of favourite Suranjith Premadasa.

De Silva who has competed for the highest honours in the racing arena during his memorable career alongside such names in the racing world such as Rodney Mason, S.A. Amarasiri, Mahes Gammanpila, Aslam Satar, Ignatius Senevirathne, Ajantha Dinamithra, Mahen Thambiah, Bri Ponnambalam, Sumanapala Mannam-peruma, and last but not least Suranjith Premadsa, called on officials to lay stringent rules at future meets and see that competitiors abide by the specifications of vehicles.

"At the Nuwara Eliya road races I heard there were five protests of competitors trying to win by unfair means.

It is high time that they eliminated guys who resort to such underhand tactics," said Rohan firmly adding that the enthusiasm shown by the new crop of drivers to compete and win well was in the best interest of the sport.

"Guys like Shehan Cooke, Nadira Jinasena, Nihal Weerasuriya, S.A Harsha, Romani De Silva and Rizvy Farook, will no doubt dominate future Formula Ford racing, as it is run according to International standards and Mobil has also decided to sponsor some new racing drivers such as Shiran Cooke, Dinesh Jayawardene, David Wahab, Prasad Chammika, and S.A. Duminda as they have been blessed with the gifted talent to go places in the field of racing in the years to come," he said happily.

Asked to explain his future plans for Sunday Times readers he said one of his burning ambitions is to team-up with Suren Cooke and Bri Ponnambalam and pass on his store-house of knowledge (which he has gathered over a period of 20 years) to the newcomers.

"I want to get together with Suren and Bri and teach these new guys who get into Formula Ford racing the intricacies and the finer points and see to that there are a group of drivers to carry on the flame.

I am also planning to visit the Malaysian Grand Prix with the Mobil Team and run with the Protens team there in October.

Other than that one of my other goals is to one day explore the Mihintale track in the Formula Ford event where I have never raced before,"concluded the racing track wizard.

---
Whatmore can one wish for
Cricket in the sub-continent is different from the rest of the world. It has its own excitement and its own identity and it is as competitive as cricket in the rest of the world. What if the pitches are not as bouncy as in Australia, what if the ball does not swing as it does in England? Watching and playing cricket in the sub-continent is challenging and a joy nevertheless.

Look at Sri Lanka's tremendous performance in Pakistan. They were down and out only six months back and here they were shackling the Pakistanis in their own den. Not many have done that and the Lankan Lions pulled off a great coup by winning the Test and the One-day series quite convincingly.

The Sri Lanka team is a tough cohesive unit and not just a collection of individually brilliant cricketers. Each member has a role cut out and fits into it.

From a disjointed side to a formidable one has been one fabulous transformation for Sri Lanka. Lot of hard work and lot of pain make you realise what it takes to rise from the ashes. Lanka may not have been languishing at the bottom, the fact remains that it was going through a tough time on the cricket field and off it too.

The prime reason for the team revival has been the influence of a good coach. In Dave Whatmore the team has a man with a vision, a man with known qualities to inspire and a man with an ability to get the best out of you. How he has changed the fortunes of Sri Lanka is a great lesson for all.

When Whatmore took over, he marked a few areas he was going to work upon. Fitness was the first priority and he told the boys what he expected. He expected more than hundred percent and got it too.

It is very simple, fitness rubs off on your fielding and this is one lesson the Lankans have tried to remember from the days of their World Cup triumph. A good fielder can paralyse a good batsman and that can happen only if he is fit.

Muttiah Muralitharan, is a supreme example of dedication. One can not see a player as determined as Murali and a player as committed as him. The spin he creates is match-winning stuff.

For one month, the players did nothing but running and endurance work. Then the second month they worked on fitness and fielding because both go together. In the third month, the team worked on the other aspect of the game like batting and bowling.

After those three months of work, the Lankans look such an athletic bunch. Their fitness has improved and their running between the wickets incredible. What a sight it is to watch just drop the ball at their feet and take off for a run.

Strategy has always been forte of Australians and Whatmore worked on this factor very well. He concentrated on the tactic of packing one side, keep one gully and one slip and pitch the ball outside the off stump and even wide off it. They played to a plan, leaving the attacking part to Murali, a magician with the ball. The Lankans bowled within their limitations and the opposition fell into their trap.

Pakistan erred in giving the Sri Lankans slow pitches in the first two Tests. The Sri Lankans thrive on such pitches. The trend changed in the third Test when Pakistan had a pitch with bounce and pace and they duly won the match.

The major factor in Lankan's success was a very sensible selection policy. Just don't discard their players like India or Pakistan does. Lankans believe in persisting with a player, take Marvan Atapattu, he played the sheet anchor role perfectly.

Sri Lankan cricket is an example too. The emphasis is on adopting modern techniques and tactics and then they also have the ability to learn and adapt. This part is very crucial because you have to keep changing your approach according to the situation.

Then the team has a fielding coach. His job is to keep you focused and the players enjoy those sessions because of the various drills. The fielding coach knows he must make the boys enjoy and that is why he has a set of 20 different drills.

Watching the Sri Lankan team, Pakistan has been an enjoyable experience because Jayasuriya and his men have proved that there can be no substitute for hard work. You have to be innovative in today's competitive world and the Lankans have shown that you need talent no doubt but you also need the application to make the optimum use of it. - Ramesh Joseph.

---
Mahanama, an instant success at Fern Tree
By Bernie Wijesekra
The Fern Tree Gully D.C.A cricket tour to Sri Lanka has more than cricket, but to bring about understanding and togetherness between the two countries.

This was revealed to The Sunday Times by the Manager of the Fern Free Gully District Cricket Association Manager Steve Brown whilst they were playing their first game against Bloomfield C and A.C.

"Besides playing three matches and one in Kandy it also attributes promoting tourism, where there is plenty here to see and enjoy", he added. "It's a brainchild of David Cruse - a senior member of the Cricket Foundation of Victoria. Earlier plans were afoot to make this end of the season sojourn to Indonesia. David, a former Sri Lankan, who has close links with his motherland, suggested that we make it to Sri Lanka, instead. It was a meaningful suggestion by him. We are happy to be here, and enjoy to the fullest, barring the humid conditions prevailing this part of the year", Brown added.

Anything special about Sri Lanka cricket? In what way the districts have been helping the local cricketers - in Victoria?

Quite a number of Lankan cricketers have been playing district cricket in the past. Last season, Roshan Mahanama played for Fern Tree Gully 'Footballers' CC. He was an instant success on and off the field with his charming ways. Plans are afoot for Roshan to play for the Club in the coming season. He made a stroke filled 167 against Roeville, the best I have seen, Brown added. Besides, Roshan was awarded the Topline Shield for his prowess - 501 runs - Av. 71.5 in nine games.

The award was presented to Mahanama after the Bloomfield game by Norman Reeves - the President of the FTG and DCA. Roshan, a competent coach, is handling the district under-18 squad. Roshan's visit to play in Victoria attributes to David Cruse's personal interest. That means 'We don't know, who we are until we see what we can do'

There are quite a number of youth players in the 25-member squad. They will learn much from this tour. Besides cricket they will study the way of life, its culture and bridge fellowship between the two countries. This will help to further strengthen its friendly ties.

Among the youth players Simon Anning - a good future prospect. Wicket-keeper Peter Castledine plays with Mahanama.

Keith Thompson is a Board member of Victorian Country Cricket league. He has close links with Sri Lankan cricket and very supportive in its promotion activities. In 1985 he organized a Victorian Country XI match against the visiting Sri Lanka team. Sharon Connolly is a glutton for work. She is an Ex-co. member in the FTGDCA.

Are you going to help promising young prospects here to play in Victoria in the coming season. "This has been done in the past. David will see to this effect. He has more Sri Lankan connections than me", Brown added.

"The tour ends on Sunday. But we take back nostalgic memories of your beautiful country. But will return again to further cement our friendship" Steve Brown said. The short tour ends on Sunday (April 30).

They played against Kandy District Schools XI at Asgiriya on April 27 and against Access S.C. at the NCC on 28th.

Mahanama said he was happy and honoured to have played with Footballers CC. In all probability may play for them in the coming season, but has still not decided due to personal commitments.

---
Sheer speed
Cricket - with Ranil Abeynaike

Since Fred Spofforth terrorized English batsmen during Cricket's birth era - the last quarter of the nineteenth century - pace bowling has developed to the extent that to be a top side good pace bowlers are essential. The Aussie combination of Ray Lindwall and Keith Miller set the stage in the nineteen forties. Since then, many great fast bowlers have graced cricketing arenas around the world.
However, it was when Clive Lloyd decided to fight fire with fire, that the world awakened and the search for pace began. Now there are academies and coaching clinics projected at nurturing and developing the quick men. Speed thrills. Certainly, during the latter part of last year and the early months of this year three absolutely quick bowlers have emerged. The veterans, Allan Donald, Glen McGrath, Courtney Walsh, Curtley Ambrose, Darren Gough, Wasim Akram, Waqar Younis, although still performing admirably, have stepped back to make way for the emerging trio of Shoaib Akthar, Nantie Hayward and Bret Lee. They can bowl as fast as it has been proved humanly possible. 150 kph is the convenient benchmark for the super fast. 100 miles per (160 kph) could be considered the ' Holy Grail". A nice round figure in which no-one has yet punched a hole. The fastest recorded speed was the 99.70 mph bowled by Jeff Thompson in Perth in 1975. The race is now on to break cricket's sound barrier and it is a race that has captured the imagination of players, press and public. Who will reach the post first? The Rawalpindi Express, White Lightning II or the Wollongong Whirlwind ?
Although it is fascinating to watch a spinner weaving a web around a batsman, there is no substitute for the raw animal energy of a rampaging fast bowler. Nothing beats the sight of cartwheeling stumps, or the tension generated by a batsman threatened by physical harm. Also, in general a good fast bowler will wrap up wickets faster than a good spinner.
Back to the question of who will break the 100 m.p.h barrier first. The legendary Dennis Lillee is in an unique position to form an opinion as he has coached all three bowlers. He believes Bret Lee has the edge at present. He says, "Bret has a very good wrist action. He gets more out of his bowling by coming down hard with the wrist. Doing that, and following through, can add an extra two or three kilometers."
Lillee has this to say about fast bowlers. "You can't make someone a fast bowler. You are born to bowl fast, I have no doubt about that. That's why so few come around that are really express. Bowling fast is a combination of good technique, strength and flexibility and good rhythm. The more they have rhythm the quicker they seem to bowl without apparent extra effort. Often the harder they try, the more it slows them down."
Fast bowlers may not be manufactured, but they can be encouraged and television has played its part. So too, videos, books, magazines and newspapers. They have all encouraged youngsters to work hard and attempt to emulate their heroes.
Shoaib Akthar will be 25-year-old on August 13th Bret Lee will turn 24 on November 8th Nantie Hayward is the youngest of the trio, having turned 23 on March 6th. Shoaib, Hayward and Lee are definitely quick, but how much quicker can they get?
To burst through the 100 mph barrier, they have plenty of work to do yet. Three weeks after the Test series against India, back at Melbourne in a One-day International against Pakistan, Lee touched 95.9 m.p.h, his highest speed yet. Shoaib has delivered just marginally quicker. He has been timed at 96.25 m.p.h in Sharjah.
Both men are still seeking an increase of around 4 m.p.h - a good couple of yards of extra pace, in the old terminology. Hayward has even further to stretch. He needs almost another 6 m.p.h. Perhaps, they should look for some wind assistance!
Wellington is a good venue for that. Or should the strength of the wind be taken into account, as it is in athletics? One factor that is on the side of all three players is time. Evidence suggest that the game's greatest speedsters touch their peak around the mid-twenties; when, perhaps, experience binds rhythm to youth's physical prime. Frank Tyson and Jeff Thomson were both at their fastest between 24 and 26. Shoaib, Hayward and Lee bowl at lightning speed. Can lightning strike three times in the near future and shatter the 100 m.p.h speed barrier ?

---
Test Matches No: 4
This remarkable Test will be remembered as long as cricket exists. The Ashes match was Australia's first Test victory in England. And the man who was responsible for it was Spofforth with his magnificent bowling. His match bag of 14 for 90 enhanced his reputation as the greatest bowler in the world.

Australia won the toss, batted first and were routed for only 63, R.G. Barlow claiming 5 for 19. England then replied with 101, which was not very much better. Australia batted very much better in the second innings. Massie was the top scorer with 55, and he and Bannerman put on 66 for the first wicket.

But the rest of the Australians struggled and by mid-afternoon on the second day, Australia were all out for 122, which gave them a lead of only 84 runs.

England were comfortably cruising along with Grace and Ulyett taking the score to 51 after the early dismissal of Hornby and Barlow. But some magnificent bowling by Spofforth and Boyle, backed up by magnificent fielding, England were routed for 77 to give Australia a most unexpected and sensational victory by just 7 runs.

This Test was played at the Surrey Oval on 28 and 29 August 1882.

Scores: Australia 63 (R. G. Barlow 5 for 19) and 122 (H. Massie 55)

England 101 (F. Spofforth 7 for 46) and 77 (F. Spofforth 7 for 44).

- Bruce Maurice